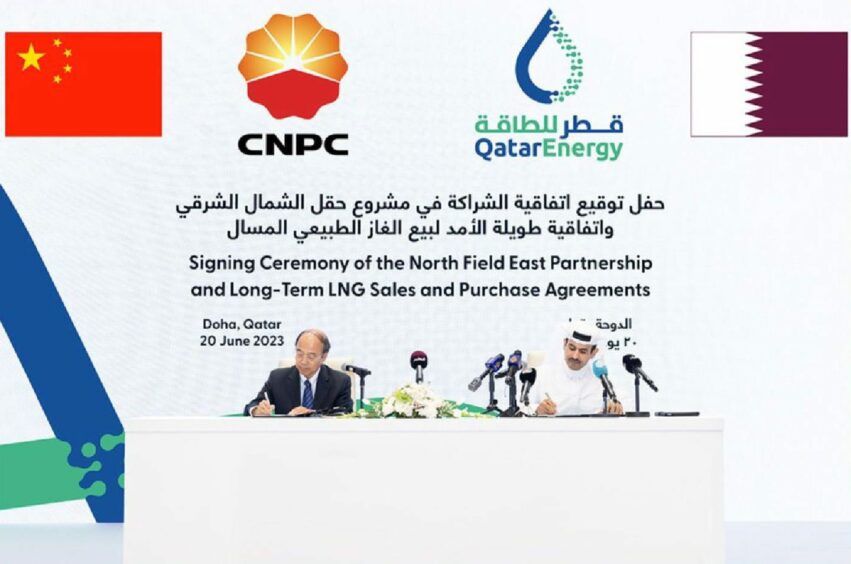 China National Petroleum Corp. (CNPC) has signed up to take 4 million tonnes of LNG from Qatar and a stake in the North Field East (NFE) project.
The deal matches an earlier agreement between Sinopec and QatarEnergy (QE).
The LNG supply deal will run for 27 years, QE said, and covers the delivery of NGE volumes to CNPC's domestic terminals. The Chinese company is also taking a 5% stake in one of the NFE trains.
QE president Saad Sherida Al-Kaabi signed the agreements today in Doha with CNPC chairman Dai Houliang.
Al-Kaabi said CNPC was a valuable partner for the NFE project. The deal builds on the "excellent relations" between China and Qatar, he said.
"These agreements demonstrate our unwavering commitment to our customers and partners and to our shared ambition for a sustainable future facilitated by a cleaner and more eco-friendly energy source that would catalyse substantial socio-economic development."
QE and Sinopec struck their deal in April this year. The agreement saw Sinopec taking a 5% stake in NFE and 4mn tpy of LNG for 27 years. Sinopec was the first Asian shareholder in NFE.
Qatar's NFE project should begin producing in 2026. It will produce 32mn tpy from four mega trains. Other companies also invested in the project include TotalEnergies, Shell, ExxonMobil, ConocoPhillips and Eni.
QE took final investment decision (FID) on the LNG plan in February 2021. Adding this development, and the North Field South (NFS) facility, will take Qatari production to 126mn tpy.
Recommended for you

Qatargas rebrands under QatarEnergy umbrella