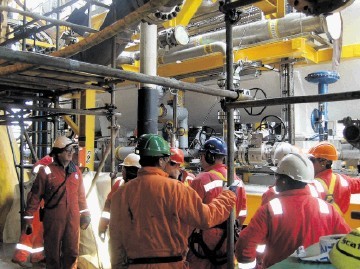 North Sea oil and gas production will collapse as early as 2020 unless the basin sees greater investment, an industry expert has warned.
Adam Davey, the economics and market intelligence manager for trade body Oil and Gas UK (OGUK) issued the stark warning on the publication of the group's annual Activity Survey for 2016.
Davey, who wrote the report, said he expects oil and gas production to keep increasing until a peak in 2018.
It will a continue a trend which saw production rise almost 10% last year – the first rise in 15 years. This was a result of record investment in years preceding the oil price crash as well operators making efforts to increase production efficiency since the downturn.
But with investment in new North Sea projects expected at just £1billlion this year – compared to an average of around £8billion over the last five years – the oil and gas production was likely to taper off dramatically.
Meanwhile, capital investment fell back to £11.6billion this year and will continue to fall, he said.
He said: "Forecasts for beyond 2020 are dependent on investment now. "Without investment over the next 24 months we will face another production collapse at the start of the next decade.
"We need to invest to sustain the production upturn that has been achieved into the next decade and continue it into the next century."
He said although there were only 13 exploration and appraisal wells drilled last year – a 45 year low – explorers found 150million barrels of oil equivalent, which was the best rate in a decade.
He added: "Opportunities do exist – we have been told there are over £30billion worth of potential opportunities sitting on company business plans that are not yet sanctioned. We need to work to get these across the line."
OGUK has urged the UK Government to reduce or remove on a permanent basis all "special" taxes levied on oil and gas producers and on new discoveries over the next five years as a means of stimulating exploration
Deirdre Michie, the chief executive of OGUK said yesterday said the industry needed to intensify its efforts to cut costs to $15 per barrel, but renewed calls for government to help boost confidence through creating a "low tax, high activity province".
She said: "The fiscal changes made last year were very welcome and did make a difference.
"But lets be clear, the environment has significantly changed since then. It really was so last year.
"We also know as an industry we have been accused in the past of crying wolf when it comes to fiscal asks.
"But let's not forget the lesson in the tale, 'The boy who cried wolf'. Indeed the wolf did turn up."
Recommended for you

Avalon: Ping Petroleum pushes back investment decision on North Sea oilfield