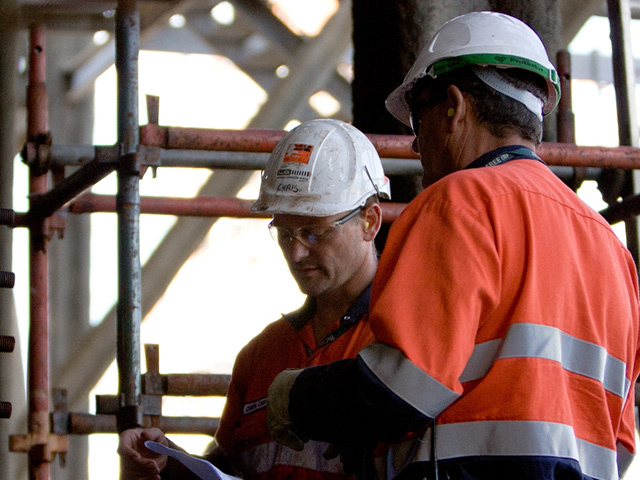 Wood Group said it was "extremely disappointed" with the outcome of a ballot by employees working on Shell assets on whether to take strike action.
Both RMT and Unite members backed a vote in support of both strike action and action short of a strike after negotiations broke down between both sides last week.
Unite said the ballot had show members voting "overwhelmingly" in support of the move.
Wood Group denied that any new terms and conditions would include a sweeping 30% pay cut across the employees impacted.
North Sea strike action: What we know so far
Dave Stewart, chief executive of Wood Group's eastern region business unit, said: "Reaching a resolution, which meets our mutual goal of safeguarding these jobs in the North Sea now and in the future remains our commitment and we will continue to engage fully in discussions with our employees and the unions.
"We are extremely disappointed with the outcome of the ballot. Throughout the extensive consultation with our offshore employees we have been fair and transparent, addressing every significant concern that our employees and the unions have expressed. We have met with the unions 11 times, and also with shop stewards and communication representatives. In addition, senior management have visited all those platforms involved to engage directly with the workforce.
"Safeguarding long-term employment opportunities for our employees on these assets is our priority and proposals regarding changes to terms and conditions have been reviewed with this as our firm focus.
"The unions have acknowledged this is a challenging time for the industry. We fully honour the Offshore Partnership Agreement in place with the OCA and many of our offshore employees working on these assets are paid significantly above the agreed rates.
"We have listened to our employees in the consultation process and the terms and conditions offered are above the original proposal. At no point did the terms and conditions proposed include a sweeping 30% pay cut across those employees impacted. Around a third of those involved will experience no reduction to their base salary. The average reduction to base salary experienced by those employees involved in this consultation will be 3%.
"We have also made significant changes on all three areas which were raised as a concern through the consultation: life assurance, mobilisation expenses and have agreed a separate working group to look at sick pay.
"We are committed to continuing to engage openly with our employees and the unions with a view to reaching a positive resolution."
Recommended for you

'Staggering situation' as UK regulators not investigating North Sea rig incident