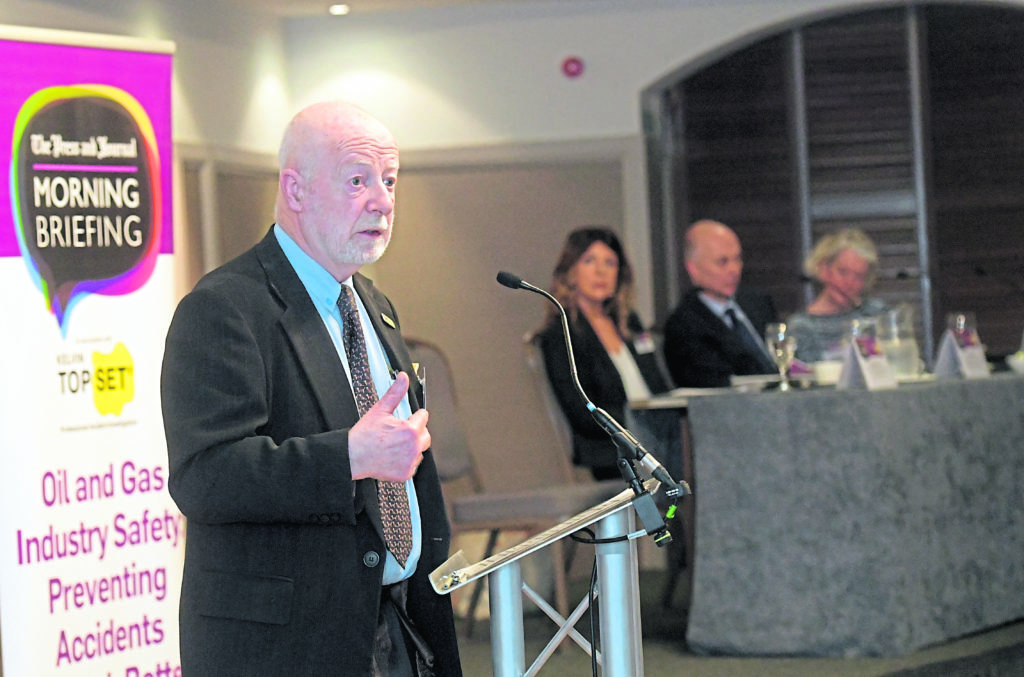 The oil industry's cultural diversity can be a double-edged sword if key safety messages are blocked or lost in translation, guests at The Press & Journal's Morning Briefing heard yesterday.
Panellist Rona Jamieson, partner at Burness Paull, said having people with different backgrounds was a "great asset" to the sector, but can increase the "risk of communications problems" and serious offshore incidents.
Ms Jamieson also feels the potential for confusion offshore has increased in recent years due to a move away from "traditional owner-operated models".
She warned that the adoption of more complex management arrangements – involving several parties, sometimes with competing interests – meant there was a greater chance of the "ball getting dropped".
The lawyer urged leadership teams to practise what they preach and "empower" workers to speak out if they identify a safety issue.
The event – Oil and Gas Industry Safety: Preventing Accidents Through Better Communication – examined why communication breakdowns happen offshore, and how they can be avoided.
Other panellists included Kelvin TOP-SET managing director David Ramsay, Oil and Gas UK health and safety manager Trevor Stapleton and Step Change in Safety head of communications Kirstin Gove.
Ms Jamieson told the audience at the Marcliffe Hotel: "When employees feel undervalued they disengage and are less likely to make the effort to address their own poor behaviours or challenge colleagues when they see things happening that shouldn't."
The only way to empower the workforce to challenge colleagues is to truly listen to them, she said.
Ms Jamieson added: "Cultural issues play a part too. The oil and gas industry is global, which is one of great things about it – there's great diversity.
"But that asset can also increase the risk of communications problems. What's seen by one person as straight talking and robust can be seen as rude or bullying by others.
"That can lead to a reluctance to challenge colleagues' actions and ask questions to clarify instructions."
A self-confessed cynic, Ms Gove said that − during her time in journalism − she formed the opinion that oil companies claiming safety was their "number one priority" was nothing more than a public relations exercise.
But she admitted to having been "proven wrong" by colleagues at Step Change, and commended them for their "tireless" and selfless efforts to improving offshore safety.
Mr Stapleton, a former offshore installation manager at BP, said taking a hands-on approach was important for making sure new employees understood the culture they were expected to adopt on an oil platform.
Mr Stapleton also said he enjoyed the challenge of overcoming language barriers and making sure he had succeeded in getting his point across.
Mr Ramsay said communications was all about personalities and how people relate to each other.
He prefers to have mixed gender teams when investigating an incident "because men and women think differently, so you get a better view".
Furthermore, he stressed the importance of "looking at things in an unusual way" to make sure a particular message has "landed and been understood", particularly with groups of people from different cultural backgrounds.
Commenting on the event, Mr Ramsay said: "We are pleased to have worked closely with the Press and Journal to address this important topic, and it was great to see such a good attendance.
"We all know how important communication is, yet we all can get it wrong, at times.
"The combined experiences and insights of the panellists made for a thought-provoking session. Attendees, hopefully, took away at least one good idea they can implement in their organisation for positive change."