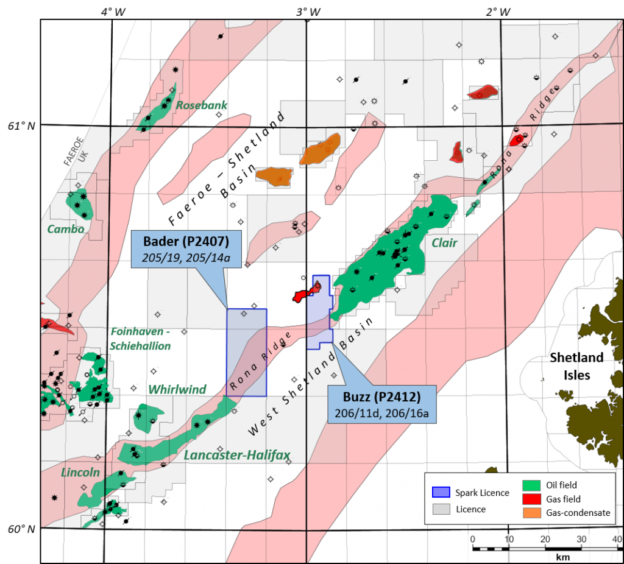 Australia-based Spark Exploration is aiming to find partners in the first half of this year for its West of Shetland licences, which potentially contain north of a billion barrels of oil.
The newcomer has been "targeting the largest players in the region, and a couple who aren't in the region" in its farm-out process for the licences, which are adjacent to Hurricane Energy's flagship Lancaster development and BP's Clair field.
Managing director Matt Szwedzicki said there has been "a lot of interest" since launching the process in July, supported by BMO Capital Markets, particularly from companies who have been closely watching the work of Hurricane, pioneers of the fractured basement play in the UK.
He said: "We're about as confident as we can be in terms of well location and everything else so we're ready to move to that next step, which really is planning the drilling.
"To do that we want to get set up in the right partnership so the idea is we would find a partner and move on that reasonably quickly.
"We had a lot of interest shown from a large range and they're all of very significant size."
Spark, based in Perth, Western Australia, was incorporated in the UK in 2017, picking up their licences the following year in the Oil and Gas Authority's 30th offshore round.
The firm was attracted to the region by the work of Hurricane Energy at its huge Lancaster field, last year hitting first oil and first revenues via its Early Production System.
Mr Szwedzicki said Hurricane had "ticked box after box" in overcoming uncertainty around the untested fractured basement plays in the region.
Spark describes its key asset, named Bader, as  being "the most analogous" to Lancaster which neighbours it and sits on the same geological feature known as the Rona Ridge.
Bader is estimated to have mean recoverable prospective resources of between 676million and 1.28 billion barrels of oil.
BMO Capital Markets pitches Bader as a "continuation of Hurricane's Lancaster‐Halifax mega‐closure that contains a  c.900m oil column" with a "64%" chance of success.
Another target- Buzz – neighbours BP's Clair field, where a third phase is currently being considered after first oil at the Clair Ridge mega-project in November 2018.
Mr Szwedzicki said Spark is testing the "tipping point" where investors will decide to partner-up.
He added: "It's one of those plays where the longer they watch it, the more it is de-risked but, at the same time, potentially the value has gone up.
"There's a window to deal on this relatively quickly and chase it before the rush, so to speak."
Spark's core of five founders plus various senior management are based in Perth, with plans to "ramp up" their presence in London and Aberdeen as plans progress.
Mr Szwedzicki added that two of the technical directors spent the majority of their careers in the UK and Norway with the likes of Enterprise Oil and Faroe Petroleum, amongst others, giving them experience in the West of Shetland region.
He said the team is "in awe" of the work of Hurricane Energy, adding that they've shown "there's some really big potential plays still to be found and explored for in the UKCS".
However, where Hurricane has been successful at Lancaster there were mixed results with its recent three-well Greater Warwick Area campaign with Spirit Energy.
Mr Szwedzicki said that campaign, which saw Hurricane's share price drop sharply following the publication of results from the third well, meant the "sentiment probably suffered a little bit" on fractured basement, but "the reality is they've proven a big amount of oil in the GWA area"  and that it can "flow well" on the Lincoln prospect, one of the three targets.
He added that fractured basement has the potential to take off in a similar way to shale in the US.
"In the US shale was really a dirty word up until it started to work and then all the big companies came in and it became a really exciting opportunity and a game-changer", he said.
"I'm not sure if that will happen with fractured basement but it certainly has the potential and it's something to be really excited about.
Although it took "a lot of wells to crack the formula" on shale, Mr Szwedzicki hopes the work of Hurricane will benefit everyone in that fractured basement play.
One "headwind" in the way of Spark's process was the amount of high-profile deal activity in recent months, with large portfolios up for sale.
He added: "In the last few months we've been talking to companies and a lot of them have been busy putting in bids for the 32nd round, Siccar Point was up for sale, Spirit Energy was up for sale, some of the US portfolios were just being closed.
"A lot of these guys have been distracted on big transactions in a busy period.
"We're hopeful that as 2020 opens some of that dust will settle and there'll be a lot more traction with some of these smaller than multi-billion-type portfolios that have been for sale recently."
Recommended for you

West of Shetland: The projects in the UK's oil and gas hotspot