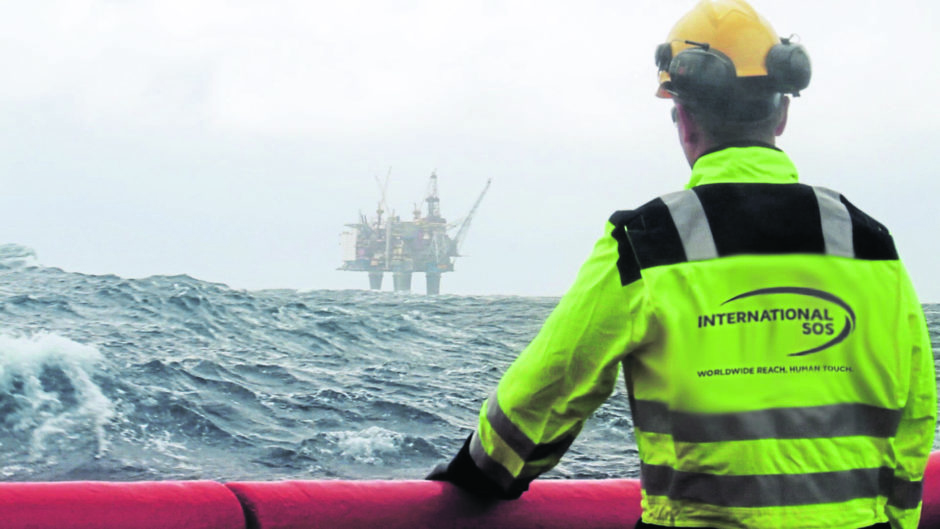 Aberdeen occupational health firm International SOS has seen its fair share of M&A activity over the years.
Now one of the leading healthcare providers to remote locations, its buy and build strategy in the north-east started in 2009 with the purchase of Abermed.
This has since continued with the recent acquisition of Iqarus which completed in December, meaning the business now provides services to 150 offshore locations and employs around 600 people.
Newly-appointed general manager of the North Sea area, Lawrie Campbell, has been overseeing the latest business development having joined International SOS in 2014 to run the former Abermed business.
And he says the latest acquisition has gone really well.
The former royal marine and politics graduate said Iqarus, which also has a business in Dubai, will be renamed in Aberdeen and work is now ongoing to decouple the firm.
He said: "I joined International SOS in 2014 to run the business here which was previously called Abermed, having acquired it in 2009. I have since returned to bring the Iqarus acquisition into International SOS.
"It was being run as a joint venture between the Iqarus start-up and International SOS as a minority shareholder but now we've pretty much taken the whole thing.
"It has gone very well. Iqarus has a business in Dubai which will continue to trade as Iqarus and the Aberdeen business will run as International SOS.
"The deal completed in December and Iqarus will be rebranded. We are in the process of decoupling the Iqarus business in Dubai and Aberdeen and will be plugging the Aberdeen business into International SOS by the end of March."
Mr Campbell said that while the business has grown through M&A buy and build there were no immediate plans to acquire any more companies in the north-east.
However, he said the firm currently partners with a number of businesses which allows them to benefit from the sharing of data.
He said: "There is a big play right now on health data. We now have the largest data base of health information of people who work on remote sites or challenging industrial environments. We have digitalised all of our records on all of our remote locations including all of our offshore sites."
Mr Campbell said at the same time as integrating Iqarus to International SOS they want to take the leadership position on the prevailing health risks around mental health and the cardiovascular disease within the oil and gas industry. He said it has been through the sharing of the data that they have been able to notice a worrying trend.
He said: "Mental health and cardiovascular disease are definitely the two main areas we have identified as being problems within the workforce and we want to take the lead on that agenda in this market while stabilising the service."
Mr Campbell said the recent coronavirus had also kept staff busy with an increasing number of oil and gas firms operating out of Aberdeen who have interests in China.
He said: "There is increasing Chinese interests in Aberdeen – if you look at CNOOC, Repsol Sinopec and the Chinese investors in some of the other companies there are Aberdeen firms who want to know what to do with people who have travelled in and out of China in the last month or two. This is where we are able to call upon real experts in some of these fields who have been involved in everything from Sars to Ebola."
Mr Campbell confirmed there will be no changes to staff terms and conditions, nor will there be any redundancies as a result of the change and added they would be pursuing a growth agenda with further investment, particularly in the "centre of excellence" in Aberdeen.
International SOS is the world's largest medical and travel security services firm, which count nearly two-thirds of the Fortune Global 500 companies as clients, and take around five million assistance calls every year.
In 2008, the firm launched a strategic alliance with Control Risks – to offer combined medical and security services – and acquired MedAire, a provider of remote medical services for aviation and maritime.
In 2009 it acquired a majority stake in Abermed, in Aberdeen, and in 2010 it developed a strategic alliance with RMSI, an international rapid deployment medical and rescue service, with activities in Iraq, Afghanistan, Sudan, Somalia and Pakistan.
In 2011 it merged with VIPdesk, a North American provider of concierge services, customer care and loyalty programs, acquired the medical supplies division of SMI (Service Médical International), acquired of L.E. West, EMC, Shenton Pharmacy and Nutracare Pharma, and launched a joint venture in Brazil with International Health Care.
In 2012, it acquired EMSM, a concierge and lifestyle company in South Korea and the following year acquired Norwegian companies SBHT, KBHT, Haugaland HMS and Nordic Medical Services (NMS), and partnered with Aerosafety, a medical and aviation safety equipment company in Brazil.
In 2014, it launched Response Services Australia, a provider of emergency response, rescue and recovery services, entered a partnership with AMAS medical Services in India, acquired Aeromed in Mozambique, and created strategic partnership with Western Africa Rescue Association (WARA), a clinic and medical services company in West Africa.
In 2016 it entered a strategic partnership with Everbridge.
Recommended for you

International SOS – Heart Health