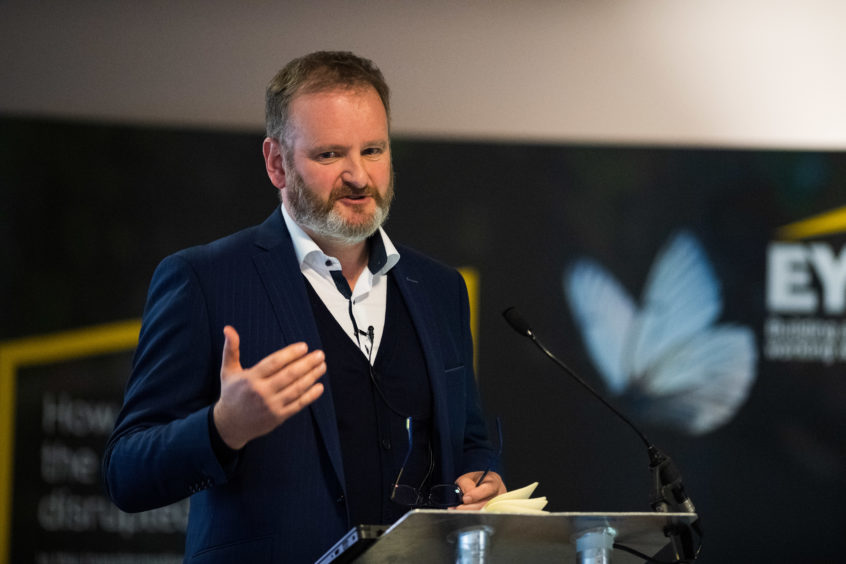 The UK North Sea offshore industry can weather a raging storm in global oil markets, a leading expert said yesterday.
Derek Leith, the Aberdeen-based global oil and gas tax leader at professional services giant EY, said an international pact to cut crude oil output by 10 million barrels per day (bpd) from the start of next month would help plug a huge gap between supply and demand, and "get the whole thing back into kilter".
His prediction of "some volatility" but a return to more stable oil prices longer-term came just hours after the US benchmark, West Texas Intermediate (WTI), hurtled into negative territory for the first time.
Global benchmark Brent crude is unlikely to suffer the same fate as it is less vulnerable to storage capacity constraints, he said.
Mr Leith's view was backed up by Aberdeen University petroleum economist Alex Kemp, who said it would "require something cataclysmic" for the Brent price to fall below zero.
Meanwhile, First Minister Nicola Sturgeon pledged to discuss extra support for the North Sea oil and gas industry.
But she failed to outline specific measures when asked about the impact of plummeting oil prices.
Thousands of oil and gas workers around the world have lost their jobs or are being furloughed due to the impact of Covid-19.
A glut of oil, largely driven by a plunge in demand as much of the world remains in lockdown in an attempt to halt the spread of the virus has sent oil prices plummeting.
History was created on Monday night when the cost of a barrel of WTI, also known as Texas light sweet crude, plunged below zero and kept heading south.
One desperate trader offloaded 11,000 contracts for May delivery WTI for lower than minus $40 a barrel, effectively paying to get rid of the oil rather than face the prospect of not being able to store it.
Brent crude, for many years acknowledged as the global benchmark, fell to a 19-year low yesterday as weak sentiment spread across the markets.
But Mr Leith said supply and demand conditions specific to the US meant the sudden plunge in the WTI price should have little direct bearing on the UK oil and gas industry.
While storage capacity is fast running out in the US, where most produced oil is currently ending up in rapidly filling facilities in Cushing, Oklahoma, the global situation is less critical, he said.
He added: "Global capacity for storage is about 6.7 billion barrels and only about 63% of that is in use at the moment. There is still storage available.
"That would mitigate against a complete collapse for Brent."
The world's major oil producing nations were in no hurry to cut output as the coronavirus pandemic rapidly dried up demand, with a price war between Saudi Arabia and Russia getting in the way of a deal agreed just over a week ago.
Mr Leith said: "The situation was exacerbated by no-one really understanding what the impact of Covid-19 was going to be."
That impact is likely to mean a demand slump of around 25% globally during the second quarter of 2020, reducing to a single-digit drop over the whole whole year, he said.
While the 10m bpd cut – about 10% of global production – will not come close to bridging the supply-demand gap during the second quarter, it should start to rebalance the market and boost oil prices after May 1, he added.
Monday night's WTI crash was caused by "financial traders coming up against a wall" as time ran out for May delivery deals in an increasingly vulnerable US market, Mr Leith said.
Paul de Leeuw, director of the Energy Transition Institute at Robert Gordon University, in Aberdeen, said: "Unprecedented, unbelievable, off-the-scale can't really sum up what happened to oil prices in North America on Monday.
"Although there has been talk about negative oil prices for months, nobody really predicted anything on this scale.
"With significant oversupply in the market, storage in many places at capacity, refining capacity limited and no easy way to export, those who committed to take delivery of the oil production during May 2020 suddenly faced a really difficult decision – either take delivery of the physical oil and try to find a way to market or mitigate their exposure and pay people to take the oil off their hands.
"The impact of paying people to take away the product paved the way for negative oil prices, which in turn sent shockwaves around the world.
"Social media was literally buzzing as the news emerged and it was no surprise to see markets reacting across the world."
Ms Sturgeon said she was looking at what action to take to help the Scottish oil and gas industry and would raise the issue with the UK Government.
When asked at her daily coronavirus briefing to detail support the Scottish Government would be offering, the first minister pointed out that most of the economic levers – such as taxation powers – that can be used to help the oil and gas industry were held in London.
She said talks were being held with various sectors, including oil and gas, to "make sure we are using all of the resources and levers we have at our disposal".