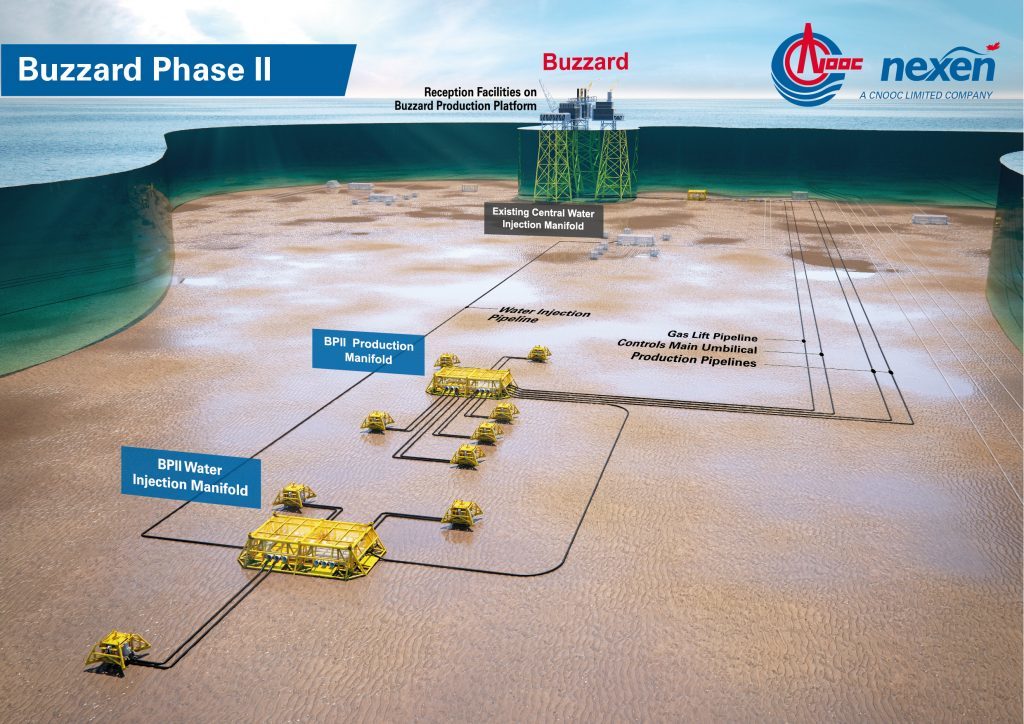 CNOOC has confirmed the deferral of Buzzard Phase 2, a major project to extend the life of one of the North Sea's largest-producing oil fields.
As late as April 29, the Chinese operator had been aiming for first oil from Buzzard's second phase in the latter half of this year.
However, the firm has now said the project would be "postponed to 2021".
First sanctioned in 2017, CNOOC – then Nexen UK – said it was a £500million-plus project which would extend the production life of the Buzzard field by up to 10 years.
The UK business said it has been deferred due to factors including the impact of Covid-19 on safety measures, both onshore and offshore, as well as postponement of the Forties Pipeline System shutdown, to which key project activity had been aligned.
However progress is being made, it added.
A spokeperson said: "Despite the challenges of Covid-19, we are delighted to have safely continued with drilling activity on the COSLPioneer, the topsides module is now mechanically complete and significant progress is being made with the subsea bundle fabrication.
"We look forward to working with our partners to safely deliver this major project."
Buzzard Phase 2 is the only one of CNOOC's projects globally that was due for 2020 first oil to be deferred.
It is the latest in a line of North Sea projects being pushed back in light of the oil price crash, brought on by Covid-19.
Buzzard was the largest discovery in UK waters for 20 years when it was found in 2001 and went on to become the largest-producing field in the region after starting up in 2007.
Once at a peak of more than 220,000 barrels of oil equivalent per day (boepd) in 2009, production has decreased to 85,500 boepd as of May 15, according to Oil and Gas Authority (OGA) figures.
However, it is second only to Total's huge Culzean field, which started up last year and is now at 101,000 boepd, in terms of the UK's largest-producing fields.
Buzzard Phase 2 is a bid to go after additional reserves to the north of the main field with a subsea development tied-back to it, with peak production of 37,000 boepd.
The first stage includes installation of a subsea manifold, a new processing module for the platform and drilling of four production wells.
At the time of sanction in 2017, then boss Ray Riddoch said: "There are not too many elephants out there to shoot any more so we have to be skilled at going after smaller targets in an economic manner."
However it was CNOOC that proved themselves wrong with the discovery of Glengorm two years later, a 250million barrel project in the Central North Sea, the largest find for the UK sector since 2008.
Buzzard is 43.2% owned and operated by CNOOC. Its partners are Suncor Energy (29.89%), Chrysaor (21.73%), Dyas (4.7%) and Oranje-Nassau Energie (0.46%).