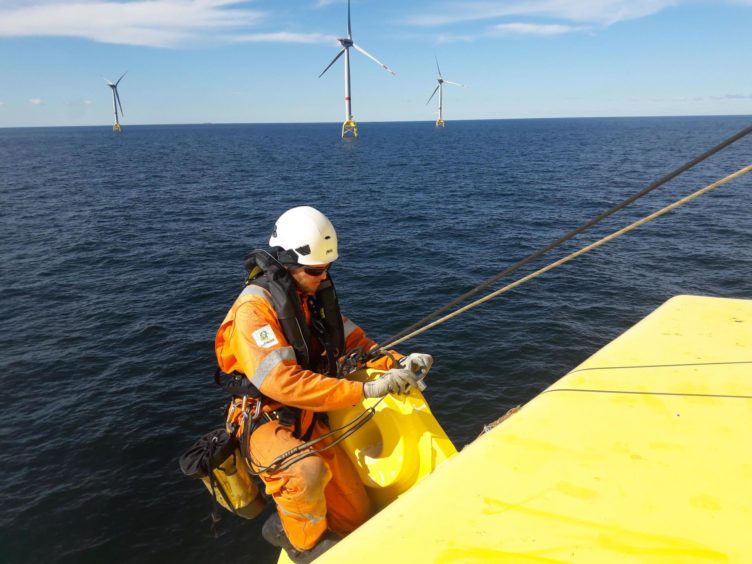 New contracts, renewals and the opening of a new Aberdeen base have been flipping the fortunes of Bilfinger Salamis after a stark start to 2020.
The energy services firm has potentially not been as "hard hit" as some in the sector.
It specialises in asset integrity and maintenance, areas that operators "have to, and are, continuing to spend money on", according to managing director Sandy Bonner.
On that front, 2020 has been a "huge year for general inquiries and tendering", with "four or five major contracts" up for renegotiation or renewal.
"As I sit here now, I can genuinely say that we've done really well in retaining those and with picking up some more work", Bonner said.
"We genuinely haven't lost anything significant so it is now just a case of trying to get as many mobilisations and primed for next year's turnaround."
The names of the operators Bilfinger has won these deals with have to be kept confidential, but they do show a spread of assets across the North Sea they'll be working on.
This, in turn, has allowed the company to get 300 workers back from the furlough scheme and redeployed offshore.
This good news follows some darker times earlier in 2020 for the firm, with employee disputes over furlough and redundancies.
Bilfinger had a particularly strong 2019, with highlights including work on the hookup for the Total Culzean platform.
The positive outlook continued into the first quarter, before Covid struck.
Although work is seasonal for contracting firms like Bilfinger Salamis, the company had to make 180 people redundant as work dried up. It predicts 2020 will be marked by a significant year-end loss and a 50% cut in revenues.
For Bonner, who has been with the company for 25 years, it has hit harder than the last brutal downturn of 2014-16.
"I think the impact is wider, because it has affected everyone around Aberdeen, whether it is taxis, hotels, aviation, decommissioning. Everybody is affected.
"I think previous downturns were dependent on oil price, but this time you've got the oil price decline, uncertainty with Brexit, the political landscape in the US, and on top of that a pandemic where we've been adapting to guidelines as it evolved."
It has been "hugely challenging", he said, with management calls on an almost daily basis to keep on top of frequently-changing Covid guidance and to stay up to speed on operators' mobilisation and testing plans.
Now back up to 1,500 staff, and with the Forties shutdown on the way, work being awarded, and potentially even a vaccine, the 2021 outlook is altogether brighter.
"We are confident we will have a better year next year," he said. "The work needs to be done, maintenance, asset integrity, repairs need to be done.
"If the vaccine starts to roll out in Q1, then you would think that would help operators' confidence with regards to doing more work.
"I will say I don't think it is ever going to be the way it was five or 10 years ago with lots of new construction work."
To that end, Bilfinger has been making moves for some time to fill gaps by working in the offshore wind and decommissioning sectors.
Renewables is an "obvious market for us to continue to grow in", Bonner said, referring to the transferable skills of a company that employs a high number of rope access technicians.
Bilfinger has already had success in Yarmouth, Denmark and the Baltic states with offshore wind deals, such as on the Sheringham Shoal wind farm.
"What we are focusing on now, like every company in our sector, is moving away from fossil fuels," Bonner said. "Still continuing to invest in the region, but looking to get into clean energy.
"We've got more decommissioning work now, we've got more asset integrity and advanced inspection work, and we're obviously chasing more work in wind and renewables and that might hopefully fill the gap that you won't get through new construction or hook-ups or drilling."
Bonner said Bilfinger Salamis needs to "capitalise" on that experience as the government unveils pledges for 40GW of UK offshore wind by 2030, with fresh investment going into upgrading UK ports for such work.
The firm has opened a brand new logistics facility at Core 3 at Murcar, a few minutes away from its head office in Bridge of Don.
The site has 30 staff – with plans for up to 70 once Covid restrictions ease – and houses its rope access and inspection kit, as well as demo areas, classrooms and meeting facilities.
"That's an investment for the next 15-20 years and it gives us growth to expand in those areas," Bonner said.
"Plus it's not far from the Western Peripheral Route, the heliports, and in between Peterhead and Aberdeen Harbour so we're going to do testing and customer demos, it's got a bit of conference space and that which we can use once we can invite clients back again.
Decommissioning is another market that is "accelerating", according to Bonner.
He rattled off a list of projects from this year alone: Voyageur Spirit, Banff, Tyra, Ninian North, Enquest Producer, the Brents, to name a few, while Brae Bravo is in planning.
"There has been quite a bit of movement in the last year," he said. "The market has shifted."
Part of that comes down to large heavy-lift vessels which can execute operations in a matter of seconds (after extensive planning), Bonner said.
"We have a part to play in that," he said. "We were involved in major projects in the last three, four years or so.
"With some government support, then hopefully topsides will come to UK ports.
"We've got cleaners, riggers, scaffolders, all types of trades. We've got asbestos licences and other things.
"There's lots of different trades that are equally applicable to the decommissioning market if they come into UK ports."