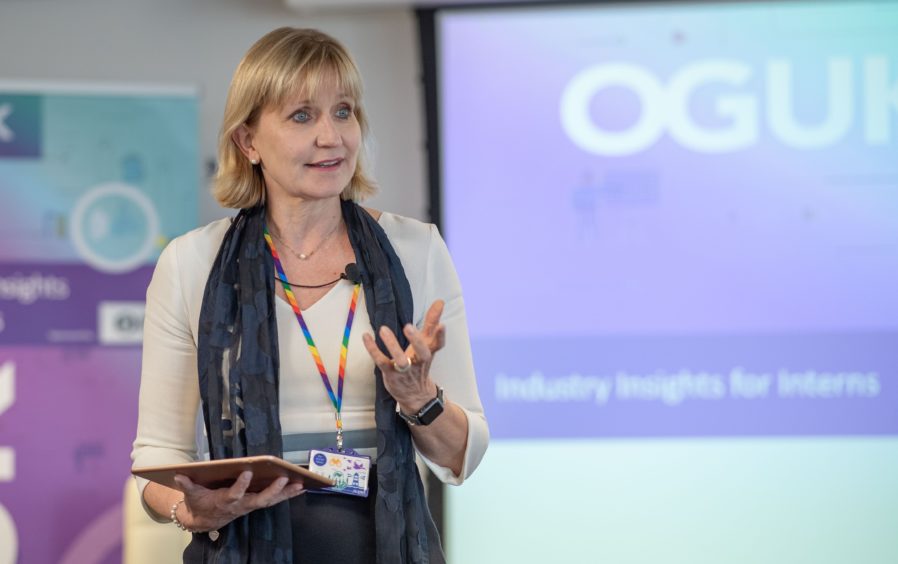 Reflecting on Oil and Gas UK's prediction that North Sea projects could take up to three years to return, the industry body's chief executive, Deirdre Michie, said, "we have to start the year more positively than that."
Since the data for OGUK's "Autumn Snapshot" was compiled (covering Q3 2020) there's been news of vaccines for Covid-19 – a cause for celebration in what has otherwise been a brutal year for the sector.
"Our latest business outlook spoke to the fact companies think that actually it's going to take another two to three years for activity to come back," Michie said.
"If we'd spoken mid-year, we'd still have been hoping that it would come back in 2021.
"Having said that, I think we have to start the year more positively than that because we will have the triage of vaccinations, testing, better treatments. I think we will start to see activity picking up because we will start to see demand picking up."
It's still "really difficult" to say whether another warning from OGUK – that the industry would lose up to 30,000 people by October 2021 – will come to pass.
Latest estimates suggest around 8,000 jobs have gone since the start of the pandemic. Just a fortnight ago Aberdeen and Grampian Chamber of Commerce said one in five contractors are expecting more cuts in 2021.
There's no getting around it – "It has been a tough year without a doubt," Michie said.
"This downturn has been extraordinary because it has come at us from every angle. It has come at us personally, operationally and economically, and it has come at all other sectors at the same time.
"When we were going through the last downturn, that wasn't the case. It was very focused on this industry, whereas this is across the piece and that does make it feel different and particularly challenging."
Michie, who had a 25-year career with operator Shell before coming on board as OGUK chief executive in 2015, said the important step now is that the industry "accelerates what we can, where we can" in the recovery phase.
There isn't "one big lever" on that front, it's a host of measures like improving visibility of work for the supply chain, supporting the OGA's decom loan fund proposals, working on a sector deal and lobbying for industry-wide testing for Covid to stimulate activity for jobs.
It is hoped the North Sea Transition Deal will accelerate action to support jobs and help meet the industry's efforts to support the country's progress to net zero.
At time of writing, the deal is still being negotiated with the UK Government, though "new energy sectors" like carbon capture and storage and hydrogen opportunities are expected to feature prominently – areas that are "highly transferrable" for oil and gas workers.
"We think it offers a real opportunity for the sector to continue to contribute to security of supply while generating jobs, reducing its own carbon footprint and helping to support the UK in its ambitions to become net zero through this industry contributing to things like carbon capture and storage and hydrogen," Michie said.
"There are lots of opportunities for our sector to contribute to the solutions that are going to be needed in a net zero context. I see that as very exciting and a real opportunity.
"We have to accelerate that with pace because of where we are, because it can be a contributor to generating jobs and to the greening of the economy."
Accelerating the green opportunities – thereby creating work – is directly linked to the net zero goal, which will be extremely difficult for the industry to achieve without a strong supply chain.
"That recovery piece is key and needs to be as short as possible so we can make the next step to accelerate the net zero piece," Michie said.
OGUK also sees a strong role in encouraging its members to get after offshore wind opportunities too as the government plans 40GW of capacity by 2030.
"If we're going to look at, for example, electrification of our offshore platforms, the link with offshore wind is obviously very strong in helping to provide that electrification," she said.
"They're inextricably linked so, from our point of view, the fact that our members are already progressing this agenda – operators, and supply chain – is absolutely what they should be doing."
Amid this pandemic, OGUK also announced in June the sector's plans to slash its emissions by 50% by 2030 and to cut them by 90% by 2040.
The net-zero target comes at a time when the sector is making less noise about maximising economic recovery – the raison d'etre for the sector, OGUK and the OGA as they emerged from the last downturn.
The wave of protests in the North Sea and ashore, and the relentless pressure on climate change, is no doubt playing a role there. But what does it mean for some of the larger undeveloped discoveries still out there? Is there still appetite to develop the heavy oil projects like Bressay, especially considering that net zero is now part of the OGA's regulatory regime?
"I absolutely hope so, but they're going to have to be done really thoughtfully in terms of their carbon footprint," Michie said.
"We do need the oil, we do need the gas, we have the Committee on Climate Change stating the fact that, 2050 and beyond, there's still going to be significant demand for oil and gas, but it has to be delivered in a net zero context.
"It is all very doable, but it is challenging."
The fact that even OGUK, a trade body, hasn't been left unscathed is testament to how deep the Covid crisis runs.
In its accounts, published in September, the group warned of a risk of losing some members due to the financial constraints of the downturn.
OGUK has indeed lost some members, but thankfully managed to bring new ones on board, offsetting the losses.
Feedback this year, particularly with the reformation of the pandemic steering group helping navigate the crisis, has been "particularly supportive".
That is, perhaps, one positive to take from this year – a time when "people have lost their jobs, a lot of families are under a lot of pressure and the supply chain is under a lot of pressure".
So are there any more positives to be taken? Michie points to the work of the diversity and inclusion taskforce, carrying out crucial work at a time when Black Lives Matter put the issue in the spotlight.
Another is the continued emphasis on climate change, but perhaps most importantly, the sector kept production going.
"We kept supporting the UK in terms of its security of energy supply – that's a major one," Michie said.
"Folk went to work to support this industry and we came together to help do that.
"I think that's really positive and big thanks and kudos to all those folk who went out offshore to keep production going.
"I think that's a big deal."
Recommended for you

Training for a changing industry