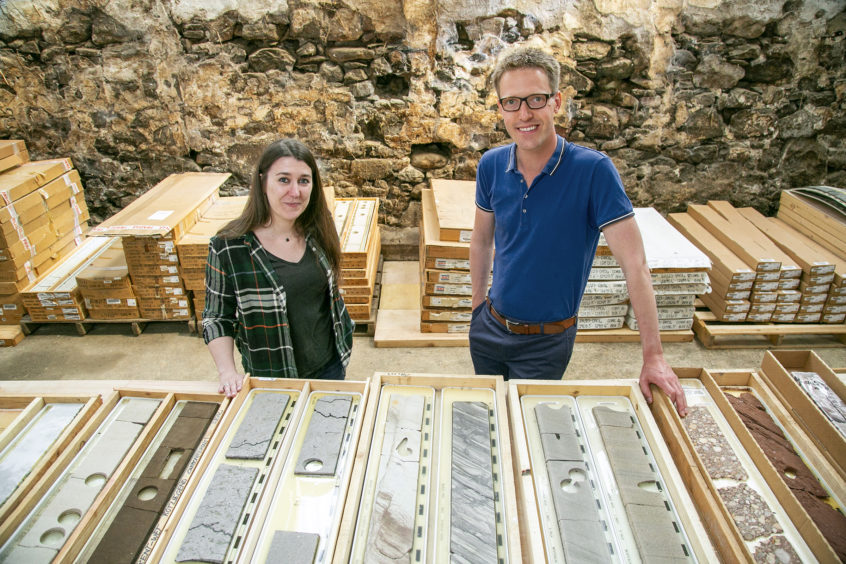 The head of a small North Sea start-up company has said he is "frightened" by rising export costs due to Brexit.
North Sea Core, based in Aberdeen, reported a surge in export taxes this week, double that of shipping costs, using a courier company to send materials to the Netherlands.
The business, with just three employees after officially starting trading last year, is now also having to deal with complex paperwork to ship to the EU, which inundates the small team.
Director Henk Kombrink said: "Around 50% of our shipments go abroad, at least, and now finding out how much more difficult it turns out to be and how much more costly it is… honestly, it really frightens me."
The business is "very much focussed" on customers in Europe, such as universities and other institutions in Germany, Italy and France, alongside other regions like Saudi Arabia, Canada, Australia and the US.
Despite a trade deal being agreed for Britain's departure from the EU, there will still likely be rising costs, with disruption for small firms making exports, according to the Federation of Small Businesses (FSB).
North Sea Core, which sends out geological material drilled out from the seabed, operates in a niche market so it believes customers will pay a higher price despite Brexit, "but it does have a knock-on effect on our margins", Mr Kombrink said.
He added: "We have never been faced with these issues before. Now all of a sudden we are so that, to me, suggests there is a lot of things that are unclear, even to big shipping companies", Mr Kombrink added.
"I don't have another explanation. This is Brexit. This is our new reality."
The courier, UPS, told Mr Kombrink the rise in costs was due to an import tax it was asked to levy.
He said was "difficult to blame a company like UPS" as they are trying to comply with post-Brexit rules.
North Sea Core is ran by Mr Kombrink, as well as geoscientist Kirstie Wright, who said "the impact of this on our ability to continue to distribute geological materials is really rather worrying".
The firm has one other employee, as well as a group of industry volunteers who provide assistance.
FSB north-east Scotland development manager David Groundwater said: "Unfortunately, we're likely to see a lot of disruption for small firms that trade with Europe.
"While firms can take some action to mitigate the impact – by consulting the information we provide or getting support from Scottish Enterprise – there's still likely to be increased costs.
"We need to see decision makers in London and on the continent reduce trade friction however they can. We can't afford to see good businesses go under, especially at the moment."
UPS said it is directing customers to its Brexit Resource Centre to keep up with latest regulations.
A spokesman added: "We navigate the regulatory complexities of global trade daily for our customers so that they can focus on their businesses."