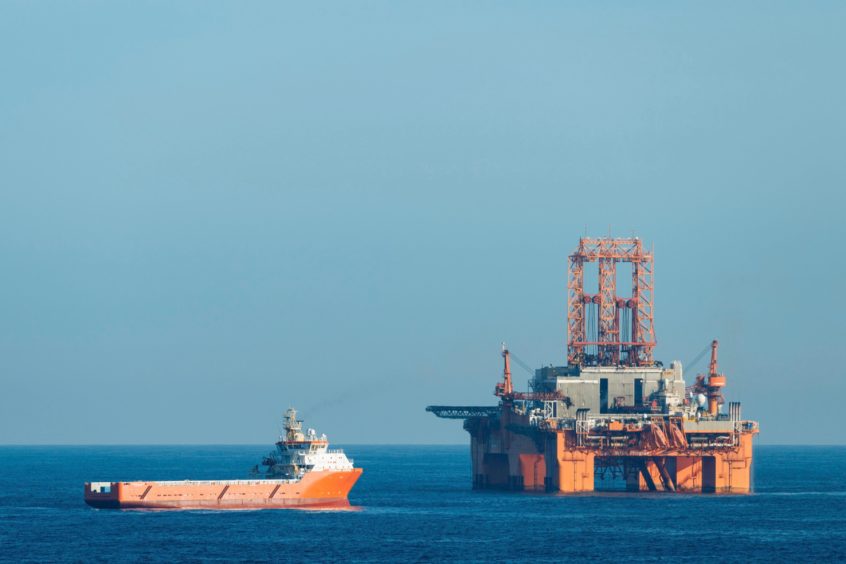 A new survey has highlighted a "significant improvement" in confidence levels among North Sea oil and gas contractors who are also increasingly looking to weigh in for the energy transition.
Three-quarters of oil and gas supply chain firms said they expected to move into renewable energy work over the next three to five years.
This is the highest level recorded since the question was first posed in Aberdeen and Grampian Chamber of Commerce's oil and gas survey in 2015.
For the 33rd poll — conducted in March, with the results published today — researchers took in the views of 100 contractors and operators employing 27,400 people in the UK.
It was produced in partnership with Fraser of Allander Institute, part of Strathclyde University, and accountancy firm KPMG.
In a sign of the shifting times, and amid a climate crisis, contractors predicted oil and gas activity would account for 68% of their activity by 2025, down from the current average of 86%.
Martin Findlay, senior partner at KPMG in Aberdeen, said the industry was "on the cusp of transformation" and that many of the survey's findings pointed to a "collective sense of anticipation" about the energy transition.
He said: "The common misconception is that oil and gas is the cause of much of the climate crisis we face, when it's actually often the driving force behind a potential renewables revolution."
However, companies will have to go further in firming up their own decarbonisation plans.
Almost two-fifths (38%) indicated that whilst they were committed to being carbon neutral, they had not set a deadline for achieving this. A further 30% do not have a carbon neutral target.
Mr Findlay said he expected more companies to address this in the short term.
Doing so could prove vital for winning work. Over the next 12 months, 37% of firms expect to "evaluate" their suppliers' carbon footprints when awarding or renewing contracts.
Mr Findlay also said he was "incredibly reassured" to discover that the supply chain had a more positive outlook.
In the latest oil industry survey, 39% of respondents said they were more confident compared to a year ago, while 33% were less confident.
In the 32nd survey, published in November 2020, 78% were less optimistic, putting sentiment at its lowest level since the 2015 downturn.
Companies' recruitment plans reflect this upturn, with almost half of contractors saying they intend to hire new talent in the coming year.
This will come as a boost, but, with offshore activity levels remaining subdued, it won't undo the damage done during a harrowing last 15 months for the oil and gas industry.
The Covid-19 outbreak and a slump in commodity prices last year led to sweeping redundancies, with one trade union boss estimating in December that 12,000 UK oil and gas jobs had been lost in the previous nine months.
Vaccine rollouts and international oil and gas production curbs have helped lift and stabilise prices, while the agreement of a North Sea Transition Deal with the UK Government in March has improved the mood.
The deal was hailed for recognising the UK oil and gas industry's role in the transition to net-zero.
As part of the pact, industry agreed to set near-term emissions cuts, while Westminster pledge to provide financial support for companies eager to get involved in decarbonisation projects.
However, a majority of survey respondents said they expected the UK Government's decision to pull the plug on financing and support for overseas fossil fuels projects to have a negative impact on their export activities.
Smaller companies can keep accessing funding for a one-year grace period to help them adjust, while suppliers with "credible" transition plans can continue to benefit from UK Export Finance support.
The Scottish Government outlined plans for a similar move earlier this year.
Mr Findlay said withdrawals of support were "always unwelcome", but that businesses would find a way to adapt.
"Those with a track record of working internationally will still be able to do so on their own wit," he added.
The pandemic is likely to have a big impact on working habits, with 83% of firms saying they would consider a more flexible working policy.
Shane Taylor, policy manager at the chamber, said: "The significant shifts in office usage and ways of working make it clear that our wider asks for a business rates review, reflecting the impact of the pandemic, need to be taken forward by government."
John McColl , OGUK's supply chain manager said: "It's encouraging to see growing confidence in our supply chain particularly at a time when many people remain worried about their future.
"OGUK's recovery group is working hard to revive businesses and help our supply chain reap the net-zero opportunities ahead.
"This report shows an industry well on the journey to produce cleaner oil and gas while also pioneering the technology needed to meet our climate goals."
Recommended for you

Regulator buoyed by interest in Faroe Islands oil and gas prospects