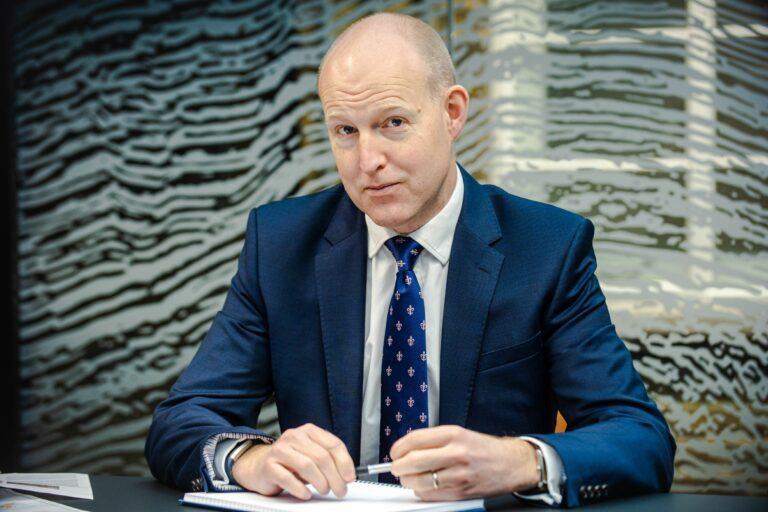 Years have passed since the last exploration well was drilled in the Southern North Sea, and Deltic Energy is hoping to lead a fresh wave of activity.
The company, which focuses on building up and proving "overlooked" prospects which are then farmed out, has a trio of targets in its sights with its partners Shell and Capricorn Energy.
"The last exploration well that was drilled in the SNS was in 2019," said chief executive Graham Swindells.
"All being well, it's possible for us to be drilling three exploration wells in the next year, year-and-a-half, between Selene, Pensacola and potentially Plymouth, depending on how things go with Capricorn."
The first of those is Pensacola, a well with mid-case recoverable resources of 309 billion cubic feet (bcf) of gas, which is expected to be drilled in the second quarter of this year, with a rig contract expected to be announced soon.
"The main sentiment for us is excitement," Swindells said.
"Planning is such that we remain on track to drill that well before the end of the next quarter and we're very excited about the prospect of drilling what we hope will be the first of many exploration wells going forward."
Shell farmed in as operator on both the Pensacola and Selene prospects in 2019, at 70% and 50% respectively.
A well investment decision had been expected on the latter in 2021, however that's now expected "in the coming months" according to Swindells and, subject to that, sees "no reason why that well shouldn't be drilled before the end of next year".
In 2020, Deltic announced a 44% increase to estimates of overall gas in place thanks to new seismic data, though it has been delayed by Covid.
"Given the scale of that prospect, it's a 300bcf prospect, 70% chance of success, it's in close proximity to existing Shell infrastructure and we're confident that's a well that will and should be drilled."
More recently, in November last year, Deltic farmed out of five licences to Capricorn Energy.  Work then got underway almost immediately on new seismic over the Plymouth prospect, which Deltic's team has boldly likened to Cygnus, the UK's largest-producing gas field.
The seismic data on that is due back in the second quarter ahead of drilling, Deltic hopes, by the end of next year.
Having been able to bring in reputable partners has allowed them to build this "conveyor belt of opportunities", though Swindells is clear that Deltic continues to see its role as finding value in the early stages and building up prospects, rather than taking a project through operatorship itself.
"It's very important as we try and create that portfolio – recognising that exploration by its nature is inherently risky –that de-risks the whole proposition, but also brings that third party validation or endorsement of the fantastic work that our technical team do, bearing in mind a level of due diligence that Capricorn and Shell go through."
As he points out, exploration is inherently risky and Swindells concedes "there's an element of trepidation" and "the outcome of these wells will be critically important" to the company.
But overall he's confident about the position and bullish about the need for more Southern North Sea (SNS) gas to be extracted, particularly given market conditions and its value to net zero – as a transition fuel and as a blue hydrogen feedstock.
That, he hopes, will be enough to dissuade climate protestors when these schemes come through to development, which he said is on Deltic's radar.
"We've been very careful in terms of who we've chosen to partner with. Both Shell and Capricorn are, certainly as far as we can tell, are extremely committed to the energy transition, and any developments will be made in a manner which is entirely consistent with net zero and the energy transition.
"Fundamentally I see the SNS is potentially undergoing something of a renaissance. You see developments like IOG's development coming into first gas, you see Tolmount being developed. The availability of infrastructure is there from a drilling perspective.
"I think the future of the SNS is very bright. I think we see it attracting investment, both in terms of late life assets as well as exploration."
Recommended for you

Shell pushes on with CCS in Southern North Sea transformation