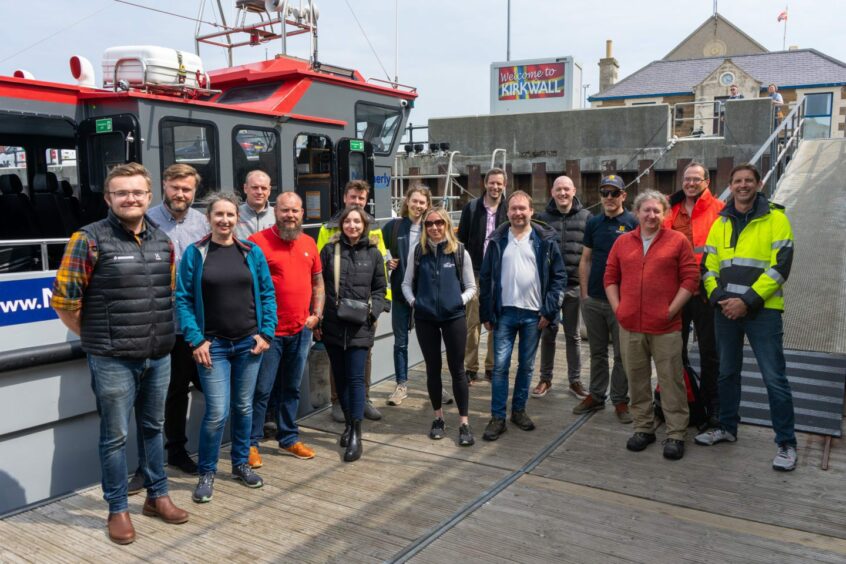 A Scottish wave and energy storage solution – that can be used to power subsea assets – was put on show for the oil and gas industry last week.
Representative from the likes of Harbour Energy (LON: HBR), Bridge Petroleum, and Serica Energy (LON: SQZ) made the trip to Orkney to observe the Renewables for Subsea Power (RSP) demonstrator scheme.
The £2 million project combines Blue X, a wave energy converter built by Edinburgh's Mocean Energy, with Halo, an underwater battery system from Aberdeen's Verlume.
The two technologies were deployed in the seas off Orkney earlier this year, and are now nearing the end of a four-month test programme.
During the trial they have delivered low carbon power and communication to subsea controls equipment deployed by Baker Hughes, as well as a resident underwater autonomous vehicle (AUV) provided by Transmark Subsea.
RSP aims to show how green technologies can be combined to provide reliable green energy to subsea assets.
Developers hope the solution will offer a cost-effective alternative to umbilical cables, which are carbon intensive and take time to procure and install.
"The day went really well,"s Mocean Energy managing director Cameron McNatt said.
"There is growing interest in the oil and gas sector in routes to decarbonisation and the day was an opportunity to showcase our technologies to potential customers alongside our existing project partners, and to share our exciting growth plans.
"We plan to launch our first commercial product – the 20kW Blue Star – in 2025 and are now seeking early adopters worldwide.
"We hope the day demonstrated the capabilities of these combined technologies and their capacity to decarbonise oil and gas operations in the near term."
Also in attendance at the industry demonstration were representatives from PTTEP, Thailand's national oil company, and Baker Hughes
The Orkney deployment is the third phase of the Renewables for Subsea Power project – each stage has been supported by grant funding from the Net Zero Technology Centre.
Consortium partners include Harbour and Serica, alongside Mocean, Verlume, Transmark Subsea and Baker Hughes.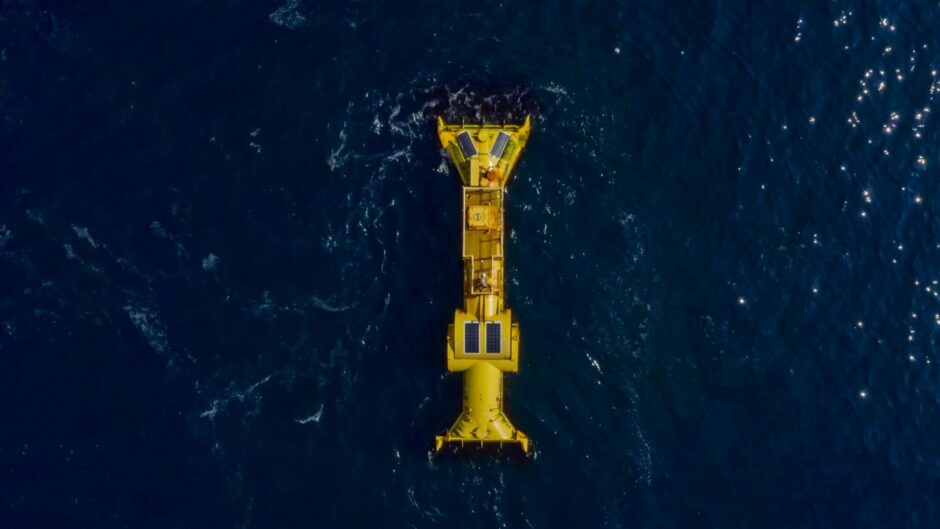 The current test programme will "raise the system's technology readiness level to 7", meaning it will have been "completed and qualified" through "test and demonstration".
In 2021, Mocean Energy's Blue X prototype underwent a programme of rigorous at-sea testing at the European Marine Energy Centre's Scapa Flow test site in Orkney.
Andy Martin, chief commercial officer at Verlume added: "Renewables for Subsea Power is a world-leading project which is crucial to enabling the future of subsea electrification in offshore operations.
"It was great to welcome representatives from across the sector to discuss the magnitude of the project and to showcase in-person the activities that are taking place in Orkney.
"Verlume's Halo plays a key role here by providing a reliable, uninterrupted source of power to overcome the intermittency of renewable energy to deliver energy security and ultimately facilitate the integration of green energy into subsea projects of the future. The successful testing of the resident AUV and docking unit will also pave the way for decarbonising inspection routines."
Nigel Money, managing director Transmark Subsea said: "The Mocean industry day was a great opportunity for Transmark Subsea to demonstrate our autonomous underwater vehicle's (ARV-i) capability in open sea with stronger currents, reduced visibility and greater depths.
"The company representatives were able to try flying the tethered version of the ARV-i as well as seeing the video captured during our recent testing where 50 successful autonomous docking and un-docking manoeuvres were carried out on the Transmark dock mounted to Verlume's Halo.  It was great to see the enthusiasm there is for the project from industry.
"The project demonstrates how renewable power generation and energy storage can be used to provide power to subsea infrastructure and facilitates resident autonomous vehicles at any place in the open sea. It was also great that our development partner, Boxfish Research New Zealand, was able to join as well."
Recommended for you

UK Government backs Port of Aberdeen's multi-million-pound shore power project