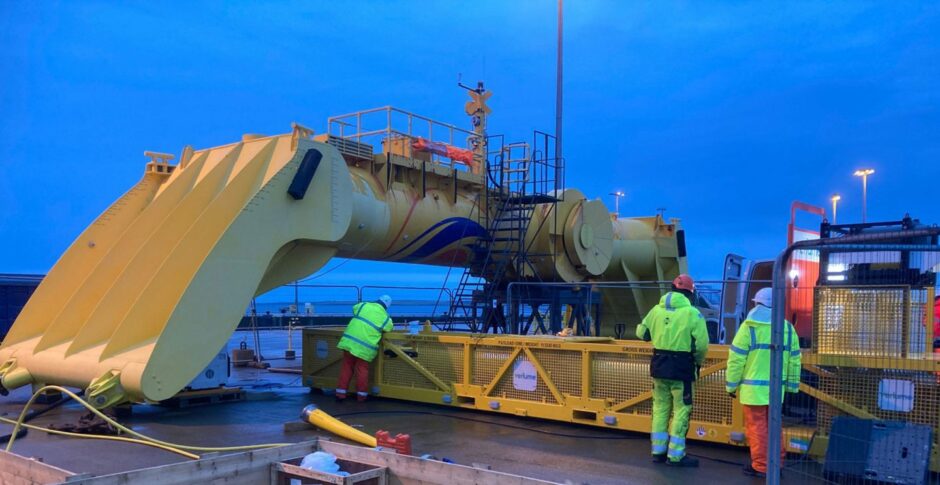 An initiative aiming to demonstrate the ability of green energy to power subsea oil and gas infrastructure is taking shape in the north of Scotland.
Work has taken place in recent days to combine Verlume's Halo subsea battery with Mocean Energy's Blue X wave energy converter, as part of the Renewables for Subsea Power (RSP) project.
Representatives from both companies, as well as RSP partner Baker Hughes, were on hand to carry out system integration checks at the European Marine Energy Centre in Orkney.
Having passed "without major issues", they are now waiting for a suitable weather window to deploy the system.
Once in the water, and if everything goes to plan, the Halo-Blue X generator will supply sustainable power and communications for "over-the-horizon" operation of Baker Hughes' subsea assets.
Blue X was brought ashore in 2021 after a successful five-month test period at EMEC's Scapa Flow test site.
Mocean managing director, Cameron McNatt said: "The project is progressing really well, and we are on the cusp of deployment. The team including Mocean Energy and partners Verlume, Transmark Subsea and Baker Hughes were in Orkney last week carrying out system integration tests, which passed without major issues.
"With our marine operators Leask Marine, we will deploy the complete system offshore as soon as we have a suitable weather window, planned for this weekend or next week.
"The RSP system will then be tested offshore, demonstrating localised sustainable power and wireless communications for over-the-horizon operation of subsea assets over a period of at least three months."
Launched in 2020, the RSP scheme is co-funded by the Net Zero Technology Centre (NZTC).
As well as Baker Hughes, Mocean and Verlume, it also brings together North Sea oil giant Harbour Energy, Serica Energy and Transmark Subsea.
Should the demonstrator project be a success, it could pave the way for green energy to be supplied to subsea equipment and autonomous underwater vehicles.
Last year, Edinburgh-headquartered Mocean Energy, Verlume and Baker Hughes agreed a memorandum of understanding (MoU) to collaborate on opportunities for integrated wave power and energy storage.
Over two years, the partners pledged to share capabilities on deployment of "reliable, uninterrupted power supply".
In a recent post on LinkedIn, Mocean said: "Verlume's Halo subsea battery has just arrived in #Orkney, where it will join our Blue X wave energy converter in taking a dip in order to demonstrate a complete solution as part of our collaborative Renewables for Subsea Power project.
"We are extremely eager to share more on the progress from the final part of our project as the deployment is taking place, and we would like to thank our trusted partners Leask Marine and Heddle Construction for their invaluable part in the operations!"
Recommended for you

Verlume plots recruitment drive following 'tenfold' growth in orders