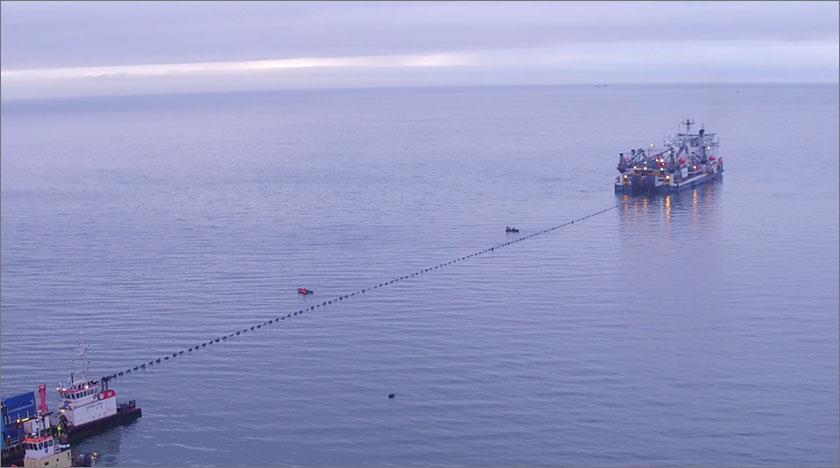 The UK government unveiled a fresh attempt to bolster security of critical energy infrastructure like gas pipelines.
The release of an updated National Risk Register by Deputy Prime Minister Oliver Dowden reflects concerns that heavy reliance on gas supplies piped from Norway via subsea links leaves the country's energy network vulnerable.
Downing Street is worried about the potential threat from Russia, and malicious use of drones to disrupt vital transport, cables and other infrastructure.
The government is urging businesses and local authorities to make use of the online tool, which lists about 90 main risks and includes some previously classified information, to help in planning responses. The announcement comes as Dowden highlights progress at the offshore Dogger Bank wind farm off England's northeast coast, which eventually will have capacity to power more than six million homes.
Energy security was thrown into sharp focus last September, following explosions that hit the Nord Stream 1 and 2 gas links running from Russia to Germany. The damage exposed how vulnerable Europe is to attacks on its infrastructure, including oil and gas pipelines, power lines and cables carrying data and financial information.
Thursday's announcement follows a commitment by Prime Minister Rishi Sunak earlier this week to grant hundreds of new licenses for oil and gas production in the North Sea. Sunak defended the move as a contribution to improving energy security, though opponents suggested that it showed the governing Conservatives were softening climate protection polices.
Energy and climate have risen up the political agenda following Russia's invasion of Ukraine and the cost-of-living crisis, with critics warning that the UK has failed to invest sufficiently to enhance energy independence. The register also details risks such as terrorism, cyber attacks, disruption to oil trade routes, pandemics, industrial action and environmental hazards.