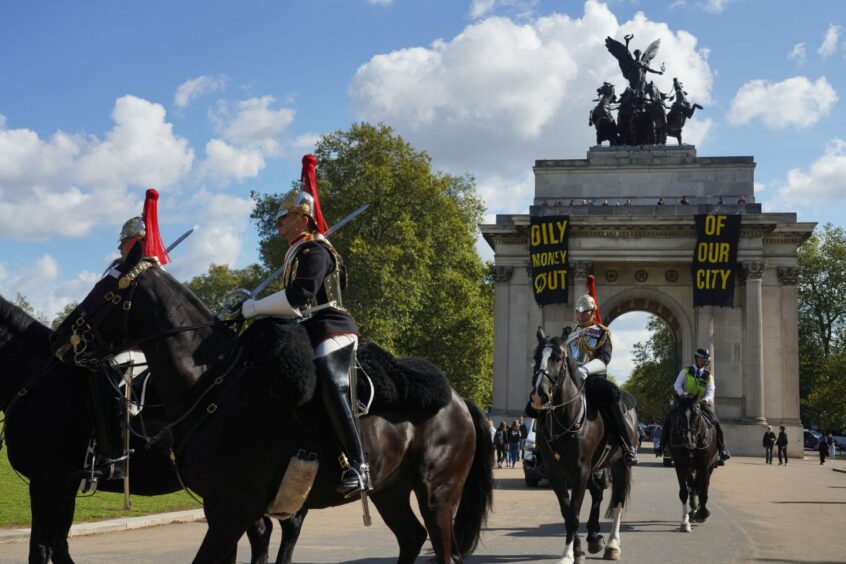 Campaigners unveiled banners during the Changing of the Guard procession on Friday in protest against a major oil and gas conference held next month.
Fossil Free London draped two banners over Wellington Arch, near Buckingham Palace, during the Changing of the Guard procession demanding "oily money out of our city".
The formal ceremony, held every other day, occurs as the group of soldiers currently protecting Buckingham Palace are replaced by a new cohort.
The action comes ahead of the Energy Intelligence Forum event, one of the largest gatherings of oil and gas executives and financiers. Previously named the 'Oil & Money' conference, it takes place from 17th–19th October Intercontinental Hotel on Park Lane – just a few minutes' walk from Wellington Arch.
Delegates and speakers are set to include UK Energy Minister Graham Stuart, the CEOs of Shell, Equinor, Total, and Saudi Aramco, and Abu Dhabi National Oil Company CEO Sultan Al Jaber.
Al Jaber will also serve as President of the COP28 climate negotiations when the UN conference begins in the UAE at the end of November.
Friday's stunt is part of a series of smaller protests which activists say are intended to culminate in three days of action to block the summit.
The group recently crashed a speech by Science Minister Michelle Donelan, disrupted Sadler's Wells ballet and the National Portrait Gallery over their sponsorship arrangements, and dropped a banner off Westminster Bridge.
The Metropolitan Police had no comment on Friday's protest.
Joanna Warrington of Fossil Free London said: "The bosses of these giant oil companies will be schmoozing with the president of COP28 and the UK's climate minister at the Oil & Money summit. It's an oily stitch-up!
"The fossil fuel industry sits at the polluted heart of the climate emergency. We want them and their oily money out.
"Out of our politics. Out of COP28. Out of our lives and futures. That's why we're targeting the biggest annual gathering of fossil fuel companies and inviting everyone concerned about the climate emergency to join our disruption at Oily Money Out."
Recommended for you

Greta Thunberg denies a public order offence after central London protest