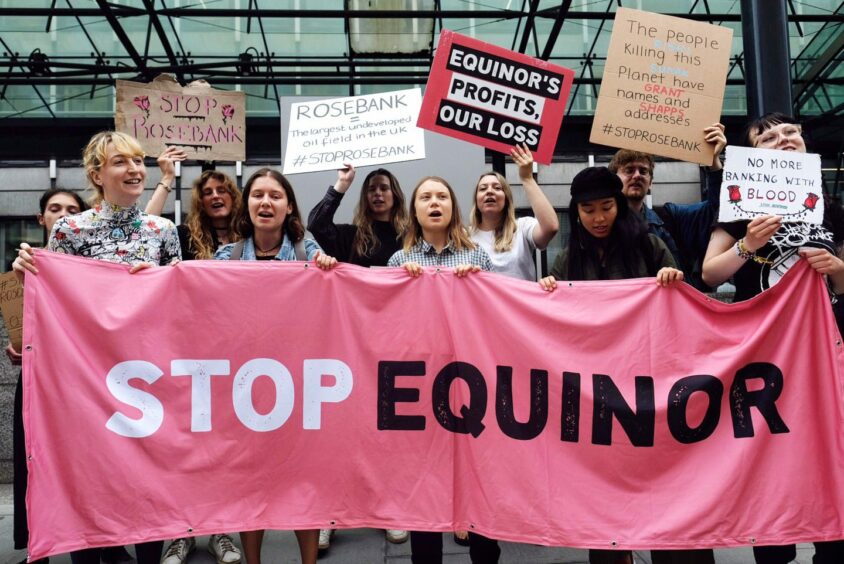 Environmental campaigners have vowed to take legal action following the decision by UK regulators to approve the Rosebank oil field.
Norwegian state-backed firm Equinor and Ithaca Energy will jointly invest £3.8 billion to develop the Rosebank project, the UK's largest undeveloped oil and gas field off the coast of Shetland.
Campaign group Uplift said in a statement it had written to the North Sea Transition Authority (NSTA) and the Secretary of State to outline its belief the Rosebank approval was unlawful.
Executive director of Uplift and climate lawyer Tessa Khan said the approval confirmed UK Prime Minister Rishi Sunak "couldn't care less about climate change".
"There are strong grounds to believe that the way this government has come to this decision is unlawful," Ms Khan said.
"We shouldn't have to fight this government for cheap, clean energy and a liveable climate, but we will."
Rosebank "incompatible" with climate targets
ClientEarth lawyer Sam Hunter Jones said approving Rosebank risked pushing the UK away from meeting its carbon budgets and international commitments.
"The government is already projected to miss its climate targets and this approval will only make the government's task more challenging while doing nothing to bring down people's energy bills," he said.
"Like the government's recent policy rollbacks, this decision risks putting the UK even further off track from meeting its legal targets."
Uplift said the approval decision was incompatible with the UK's climate targets and argued regulators had failed to assess the environmental impacts created by burning Rosebank's oil and marine environmental impacts of the field.
Additionally, Uplift said regulators had also potentially failed to ensure a "transparent and participatory decision-making process".
Ms Khan said approving Rosebank would do nothing to lower fuel bills or boost UK energy security.
"Most of this oil will be shipped abroad and then sold back to us at whatever price makes the oil and gas industry most profit," she said.
"People in the UK overwhelmingly support moving to cheaper, cleaner renewable energy.
"This government should be prioritising making sure no pensioner, or family with small children is living in a cold, damp home this winter, not handing billions in tax breaks to obscenely wealthy foreign companies."
In addition to the potential climate impact, Uplift said the Rosebank project could damage the Faroe-Shetland Sponge Belt, a protected area in the North Sea, potentially harming its "fragile and significant ecosystem" and the marine life it supports.
Latest in series of environmental challenges
Environmental campaigners have launched a series of legal challenges against North Sea in the past year.
Greenpeace and Uplift joined forces to lodge a High Court challenge against what they called the UK government's "reckless" decision to proceed with awarding new exploration licences as part of the 33rd Licensing Round.
Greenpeace also applied for a judicial review of the UK Government's decision to approve Shell's Jackdaw project.
The Jackdaw challenge is currently on hold pending the outcome of another related case currently before the Supreme Court, which could also set a precedent for any challenge to Rosebank.
Regulator process a "wave-through test"
Although environmental groups are vowing to continue their fight against the Rosebank development, legal avenues to challenge the approval could be limited.
Senior lecturer in energy law at Aberdeen University Dr Daria Shapovalova told Energy Voice there were three primary grounds for any potential challenge to Rosebank.
These include the non-incorporation of downstream emissions in the environmental impact assessment (EIA), potentially inappropriate consideration and consultation on protected sites and the non-transparent application of the Climate Compatibility Checkpoint.
Additionally, the outcome of the Finch case currently before the Supreme Court, which is considering the inclusion of downstream emissions in the EIA process, would affect any potential legal challenge.
As a result, Dr Shapovalova said it was too early to say whether any legal challenge over Rosebank would be successful.
While it remains to be seen whether the Rosebank approval will eventually be overturned, Dr Shapovalova said the wider UK regulatory approval process was in need of reform.
"The regulatory processes around the approval of fossil fuel projects were not created with climate change in mind," she said.
"The Climate Compatibility Checkpoint was an excellent initiative that, if developed and implemented with more rigour, could have placed the UK as a leader in climate-conscious energy project regulation.
"Instead, it emerged as a non-statutory and non-transparent wave-through test."
"Lowest emissions possible" from Rosebank
In a statement, Equinor said Rosebank is being developed in compliance with the North Sea Transition Deal.
Equior said the deal "acknowledges that whilst there is a continued, though over time reducing need for oil and gas, the remaining demand for oil and gas must be met with the lowest emissions possible".
Equinor said for every £1 invested in the UK in oil and gas, the company will aim to spend over £2 in renewables, CO2 capture and storage, and hydrogen.