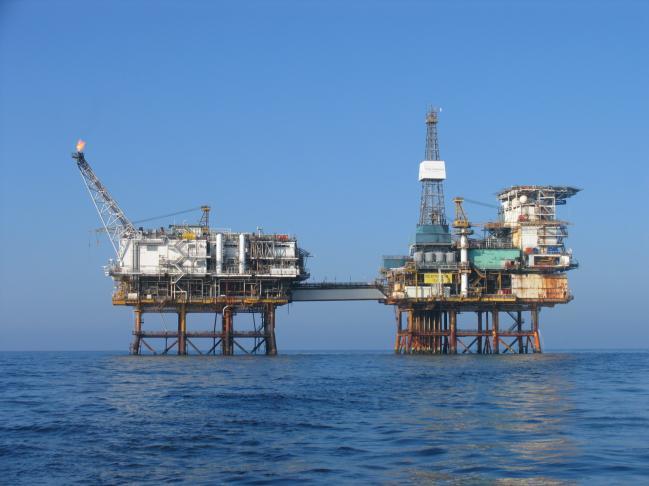 Repsol Sinopec Resources UK (RSRUK) said it is "exploring" removal options for the jackets and topsides of the Beatrice field.
The Aberdeen-headquartered company said the work was not expected to start until 2024, however.
RSRUK was providing an update on its decommissioning of the Beatrice field, which stopped producing in 2015.
The field was served by Beatrice Alpha, a complex made up of two bridge-linked platforms, and the Bravo and Charlie rigs.
Alpha is currently the only manned installation.
RSRUK said it had plugged and abandoned all wells on Charlie without incident and ahead of schedule.
On Bravo, seven out of eleven are complete.
A 30 well campaign on Alpha is currently planned to begin in 2022 and is expected to last three years.
An RSRUK spokesman said: "We will look to take lessons learned and adopt a similar strategy used for Bravo and Charlie on Alpha, given the success of these campaigns."
RSRUK wants to remove the topsides, jackets and wind turbines and decommission the subsea infrastructure – a project expected to last until 2027.
RSRUK had to come up with a new decommissioning plan after the Ministry of Defence backed out of an earlier agreement to reuse the field's installations for military training.
Beatrice, located about 14 miles off Helmsdale, was discovered in 1976 by Mesa Petroleum and came on stream in 1981.
Ownership passed through a series of companies, including BP and Talisman Energy.
Spanish firm Repsol bought Talisman's global assets, including its 51% interest in Beatrice operator Talisman Sinopec Energy UK, now RSRUK, in 2015.
Beatrice's output peaked at 54,000 barrels of oil per day in 1985, with production ending in March 2015.
Recommended for you

Repsol Sinopec gets rap on knuckles over failure to keep wells in good condition