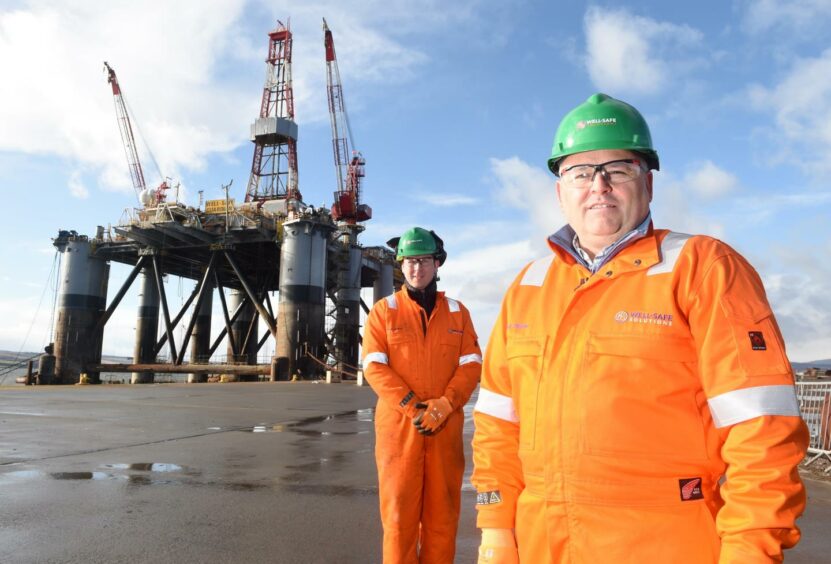 North Sea decommissioning is estimated at £46billion and the regulator recently warned that the industry may fall short of its cost cutting target. However, "groundbreaking" deals are emerging which could make significant headway.
Accounting for roughly half of all decommissioning costs, well plugging and abandonment (P&A) has been identified as a key target area, with multi-well, multi-operator campaigns an important lever to reduce costs.
But when the Oil and Gas Authority's (OGA) decom report was published in July, the regulator highlighted that these are yet to become mainstream, pointing to problems including a lack of collaboration and delayed planning activity.
However, Phil Milton, chief executive of Well-Safe Solutions, said: "I think we're starting to make progress, the awards that we've released show a move towards that.
"I think momentum will hopefully continue to build in that direction."
Evidence of decommissioning in action would seem more abundant than ever: Taqa has been hard at work on dismantling the Brae Bravo installation, Ardyne landed an 86-well contract with EnQuest in September, and operators are finally joining the (P&A) club to reduce costs.
That's what they've been doing with Well-Safe Solutions as the specialist decommissioning firm has, in recent weeks, announced headline-grabbing contracts for a multi-operator campaign in 2022.
The deals, with Repsol Sinopec and CNR International have arrived "at a really important point in the company's history", said Milton as the Aberdeen-headquartered firm, established in 2017, aims to build momentum.
To understand the significance of getting operators to collaborate, be flexible and try out a new innovative contracting model, the issue needs to be viewed industry-wide.
Earlier this year the OGA warned that the sector is on track to miss its 2023 target to cut the cost of removing the North Sea's oil and gas infrastructure by 35% to £39billion, citing aforementioned issues on collaboration and planning.
Getting this figure down from the current £46billion estimate is in operators' interest and that of the taxpayer who provides relief against these hefty decommissioning bills.
The issue of decom rebates is also moving more firmly into the public eye: A court case involving the UK Government and the Paid to Pollute campaign group is set for December 8.
So, when Well-Safe unveiled its win for a fully inclusive well decommissioning contract with Repsol Sinopec at the Buchan and Hannay fields in September, with a flexible schedule allowing CNR International to join the P&A club two weeks later for Kyle and Banff, industry heads praised its ability to deliver efficiencies.
Milton hopes that, now the door is open, there could be more firms that choose to step through.
"I think the fact that they now see that campaign building, there is a potential opportunity to join that campaign if it is the right thing for their particular requirements and fits with their timeline.
"Conversations have been positive. I think once a campaign is in place it is easier to join one than to start one, so what we've seen with the two companies that have committed to it already have given us a great opportunity."
Beyond North Sea
Well-Safe is actively recruiting and, by year's end, the decommissioning specialist expects to be at 200 staff and plans to continue to increase that headcount.
When it was established in 2017, the firm said it hoped to create 400 jobs and Milton said that the company is on target in terms of its recruitment plan.
On the new contracts, he added: "We always had confidence and belief in the model.
"The vision was very clear in the business from day one, our investors and shareholders in the business were always incredibly supportive and aligned with that vision. I don't think that's ever faltered, we've stayed true to what we set out to achieve in August 2017."
And having found success in the North Sea, chief operating officer Matt Jenkins is hoping they can take the show on the road.
He said: "As well as the North Sea, we're seeing a growing interest in our services from jurisdictions across the world.
"We're having detailed conversations with operators in South-east Asia, Australia and North America, for example – all those places which have significant and detailed regulatory processes that mirror North Sea guidelines.
"They have plans to undertake their own decommissioning and P&A in place and are reaching out for real-life experience and advice to help them understand what opportunities are there. We have sown plenty of seeds and they are coming to fruition – it just continues to grow."
Having now landed decommissioning contracts for the Well-Safe Guardian, the firm is now in "the final push towards mobilisation" for its second rig, the Well-Safe Protector, which was recently refurbished at Invergordon.
Well-Safe's story may evidence that operators are willing to try out new innovations and that the right contracts and agreements can be made, but the issues the OGA referred to have been made manifest in other parts of the decommissioning industry.
Just two days after it's decom cost report, Fairfield Decom, another specialist, announced it would cease trading.
At the time, managing director Graeme Fergusson said that "despite the industry calling for innovative decommissioning propositions, there is a discernible gap between the rhetoric and the reality", and that without a firm commitment from an operator, numerous offers fell at the final hurdle.
But Fairfield's late-life operation and decommissioning model differs significantly from that of Well-Safe, and Milton stuck to his guns, commenting only on the experience of his own business.
He said: "In terms of our customers, it's taking time to understand what the services that Well-Safe as a company can provide, and package them up into different options for different companies.
"Some companies like Repsol, with the Buchan and Hannay, wanted a completely integrated solution where they were effectively handing all the deliverables to Well-Safe. While others are maybe more of a halfway house right through to some companies looking for engineering project management support.
"The key thing for us is having that flexibility within our technical and commercial models to allow us to deliver what our customers want."
Prize
With potentially £46billion in decom opportunities up for grabs, and a wave of work underway, there is a prize to be had that the supply chain appears to reaping.
Historically decom has been viewed as an item that can be kicked into the long grass with fluctuations in the oil price.
At time of writing, Brent Crude is surging around $85 per barrel amid a global energy supply crunch and Milton expects the increased price will help clients to deliver decom.
"A lot of our customers have decommissioning plan in place. They have a plan that's already agreed and a number of them are working towards delivering that plan in line with the timeline they set out.
"The commodity price increase obviously assists the operators to facilitate those plans alongside any capital investment plans they may have on their existing facilities. So I think it will help to deliver projects that are already scheduled to be delivered."
The CEO also believes, perhaps contrary to some perceptions, that decommissioning is an exciting area with "an opportunity of longevity" that may not necessarily be the case in other parts of the industry, playing into the firm's recruitment plans.
As for prospects for the coming year, he added: "We certainly feel an awful lot more positive as a business going into 2022 than we did coming out of post-2020 and into 2021.
"The impact of Covid and the commodity price crash was significant, not just on our industry but across the global picture.
"So we're a lot more positive, I think the contract awards have come at a really important point in our history as an organisation and really allows us to move into 2022 on a very positive note."
Recommended for you

Well-Safe Solutions signs global decom deal with BP