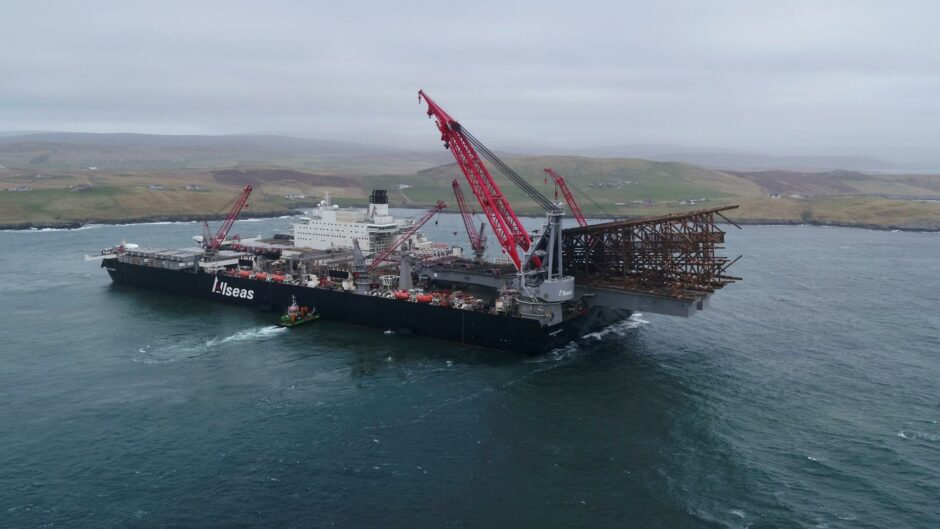 The jacket that supported the Ninian Northern platform for decades has completed its trip from the northern North Sea to Shetland for decommissioning.
The 8,500 tonnes, 83-metre-high steel structure was dropped off by the Allseas' Pioneering Spirit vessel at the deep-water port in Lerwick earlier today.
It follows the removal of the jacket in a single lift from the field, 100 miles north-east of Shetland.
It is the first time the Pioneering Spirit, the world's biggest offshore construction craft, has operated at a quayside in a UK port.
In order to clear space for the jacket, the vessel will lift steel support structures, used in delivering CNR International's Ninian Northern platform for decommissioning, onto a barge for removal and re-use.
It will then transfer the jacket from Allseas' Iron Lady barge to the quayside at Lerwick Port Authority's Dales Voe base.
The structure will be loaded-in to a heavy-duty pad developed in 2020.
There it will be decommissioned by waste, water and energy management services firm Veolia and logistics company Peterson, marking the largest project the port has taken on to date.
A fleet of support vessels, including tugboats, a workboat and barges will also aid in the delivery of the jacket, which will be dismantled over the course of eight months.
Calum Grains, chief executive of the Lerwick Port Authority, said: "The size of the jacket and the scale of the support fleet is another demonstration of the harbour's established capacity to handle large – and even bigger – decommissioning projects.
"So, too, is the scope to accommodate the 382-metres long and 124-metres wide Pioneering Spirit in maneuvering in the voe and operating directly at the Base, a significant milestone for Lerwick and the UK industry.
"That ability, and the competitiveness of the UK decommissioning and renewables industries, will be further enhanced by our project for an Ultra-Deep-Water Quay at Dales Voe, which we are continuing to progress."
Ninian Northern was installed in 1978 and started up production in 1980, peaking at 90,000 barrels a day, before shutting up shop in 2017.
The installation arrived at the Dales Voe yard for decommisioning in August 2020.
Safety concerns were flagged last year after the legs were blown off the platform to bring it down to ground level.
But CNR defended the move, hailing it as a decommissioning "innovation".
Ninian Northern is the first of several major jacket removal and installation commitments for Pioneering Spirit in 2022.
The vessel will lift and transport more than 123,000 tonnes of structures this year, utilising both its jacket lift and motion-compensated topsides lift systems.
Allseas President Edward Heerema said: "CNR International's decision to select Pioneering Spirit for the Ninian Northern jacket removal demonstrates the industry's confidence in Allseas' innovative engineering solutions and further reinforces our reputation as a frontrunner in the global offshore energy market.
"With the successful removal of the Ninian Northern jacket, Allseas has realised its long-term vision of a vessel that provides the offshore industry with a total solution for offshore work."
Recommended for you

Allseas founder and president to step down