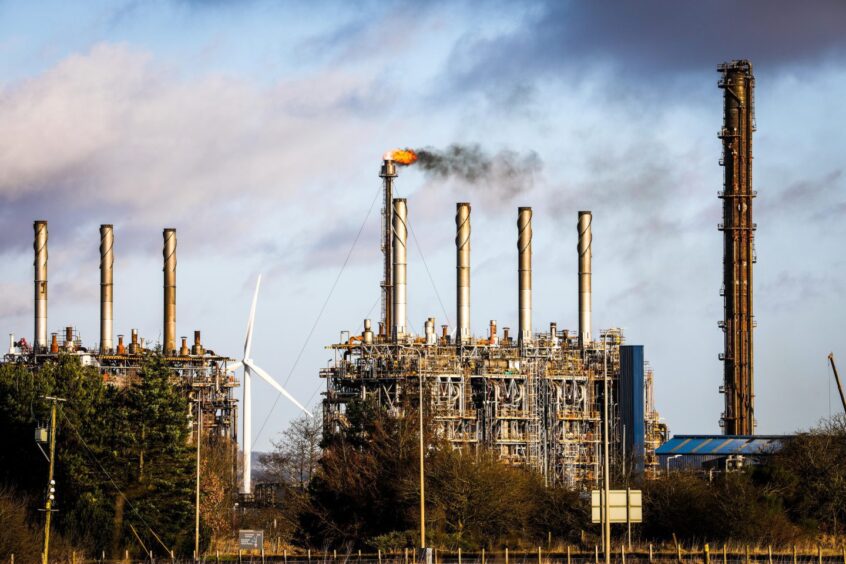 Around 150 Kaefer contractors based at Shell-operated energy plants in Fife and Aberdeenshire have voted to take a week of strike action in a dispute over a cost-of-living payment.
Unite Scotland said 75% of the maintenance and repair contractors based at the Mossmorran Natural Gas Liquids and St Fergus gas plants supported striking between November 27 and December 4 following a ballot.
In addition, the union said a continuous overtime ban will be in effect for 12 weeks commencing with the start of the strike action.
Unite said the dispute centres on the contractor Kaefer not providing a cost-of-living payment for 2023.
The union said the Kaefer workers are covered by the National Agreement for Engineering Construction Industry (NAECI) and received a pay increase of 2.5% for the year.
However, while other workers covered by the NAECI secured a supplementary cost-of-living payment of an extra £1 for every hour worked between January and June this year and 75 pence for each hour worked from July, the Mossmorran and St Fergus Kaefr employees did not.
Union blames Shell for dispute
Unite blamed the operator Shell (LON: SHEL) for the stand-off, pointing to the oil giant's billions in profits this year.
Unite general secretary Sharon Graham said Kaefer had left union members with "no option but to take strike action".
"The company along with the operator Shell, who ultimately funds any deal, have refused to make our members any offer never mind a fair one," Ms Graham said.
"Shell is awash with money and is experiencing a multi-billion pound profit bonanza, funding a cost of living increase for our members would not even scratch the surface of its profits."
Unite industrial officer Bob MacGregor said the Kaefer contractors "deserve a fair pay rise" as Shell are "amassing billions in profit".
Mr MacGregor said the union would not rule out taking further action unless "Kaefer get back round the negotiating table to make our members a cost of living payment".
Unite said the Kaefer contractors involved include scaffold inspectors and supervisors, riggers and rigging supervisors, forklift drivers, general assistants and mechanical supervisors.
"Without these essential workers production at the Mossmorran (Natural Gas Liquids) plant and St Fergus gas plant would be severely impacted, and could not be operated safely," Unite said in a statement.
In response to the statement from Unite, a spokesperson for Kaefer said: "We confirm that Kaefer employees currently contracted to work at industrial sites in St Fergus and Mossmorran, and who are members of the union Unite, have advised us that they intend to take industrial action following a ballot over further requests for "cost of living" pay increases.
"Kaefer is satisfied that the current payment terms and conditions at both sites are above industry average, and it has been communicated to employees that there are no options available to increase pay further.
"In addition to site payment terms, all site based Kaefer personnel have received paid
performance incentives this year.
"Kaefer remain open to ongoing discussions with our employees and Unite union representatives to resolve this situation."
Meanwhile, a spokesperson for Shell said: "We continue to encourage constructive discussions between Kaefer and the union to understand their members' concerns and to explore potential ways forward."
"Safety is always our priority and we would not run any plant if it was not safe to do so."
Recommended for you

Kaefer contractors launch strikes at Shell Mossmorran and St Fergus gas plants