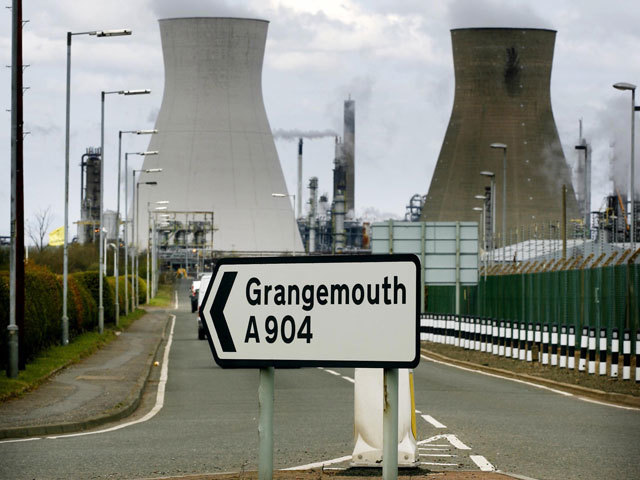 GMB Scotland has said a "failure of government" is the cause of a major reduction in North Sea oil flowing through the Forties Pipeline System (FPS).
Earlier this week, Ineos chairman Sir Jim Ratcliffe also took aim at UK politicians as flows through the FPS were revealed to have tailed off by 40% in six years.
One of the main arteries of UK hydrocarbon infrastructure, the FPS transports about 40% of UK North Sea oil and gas to shore and into the Ineos-led refinery complex at Grangemouth.
Responding to the announcement by Ineos, GMB Scotland senior organiser Gary Cook said the reduction in oil flowing through the FPS was both "alarming and predictable".
He blamed governments on "both sides of the border" for failing to give clear direction on the future of UK offshore industries.
Forties flow reduction a "failure of leadership"
"That failure of leadership has meant a complete absence of industrial strategies capable of harnessing our skills and expertise in oil and gas to deliver renewable energy and create supply lines protecting and creating thousands of skilled jobs," Mr Cook said.
"Instead, we have warm words from politicians and more promises of green jobs tomorrow while losing skilled jobs today.
"There is absolutely nothing just about a transition if it is built on lost jobs and hollowed-out communities."
Mr Cook said the UK will need oil and gas "for decades to come".
"(We) must act with vision and urgency to protect those supplies while building the industries and supply lines needed to deliver Net Zero and the thousands of skilled, union jobs that must come with it," he said.
Ineos blames 'punitive' taxes for Forties decline
Ineos contends the tail-off has been caused by a combination of "punitive windfall taxes and negative signals from politicians" on the future of the North Sea.
In a statement on Wednesday the group's founder and chairman, Sir Jim Ratcliffe said: "The UK's total lack of an energy policy is completely irresponsible.
"Whilst the rest of the world is encouraging local oil and gas production, the UK seems intent on destroying it through high taxes and disincentives, making us totally reliant on overseas supplies and losing billions in potential revenue."
Ineos blames the energy profits levy (EPL) for a corresponding decline in investment in new North Sea fields, claiming taxes are set so high there is "no cash left for new production."
The problem is exacerbated by "mixed messages" from politicians over the future of the basin, Ineos said.
Several producers have taken a similar line, with companies such as Harbour Energy blaming the tax for job cuts while EnQuest bosses said it the region was now "completely uncompetitive".
However the EPL does also include generous rebates for firms investing in new projects and offshore decarbonisation projects between 2022 and its expiry in 2028.
Rosebank approval welcomed by GMB
Earlier in the week, GMB general secretary Gary Smith welcomed the decision by UK regulators to approve development of the Rosebank oil field.
Mr Smith said the UK "must be honest" about where it would source gas supplies needed "up to 2050 and beyond".
"Sourcing this securely from domestic supplies is so much better than doubling down on our dependence on imported gas, especially in an increasingly volatile world," Mr Smith said.
"Taking responsibility for more of our own gas supply will support good union jobs, both directly and in the wider supply chain.
"Crucially, it will also unlock investment for the carbon capture and clean power developments we need to confront the climate crisis."
Though welcomed by unions and oil and gas firms, environmental campaigners criticised the decision to approve Rosebank.
Campaign group Uplift has vowed to take legal action to prevent the Equinor and Ithaca Energy project from going ahead.
Recommended for you

UK government plans new oil and gas 'price shock' tax mechanism post-EPL