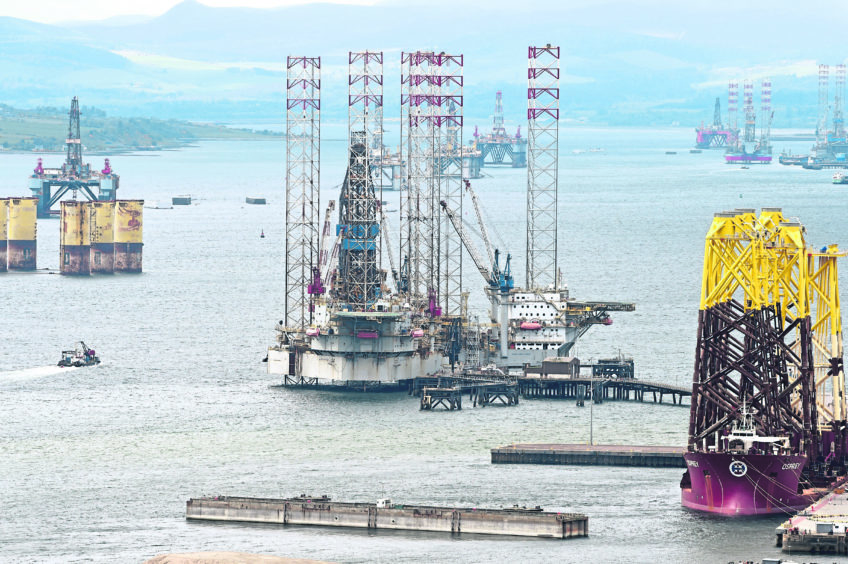 Use of offshore drilling rigs globally has seen the largest monthly drop in 20 years, according to analysis from Rystad Energy.
The oil downturn, and Covid-19 more generally, has created a "really challenging environment" causing use of jack-up rigs to drop 7% between March and April, according to the analyst firm.
With only a marginal recovery in the period since, utilisation of offshore "floaters" like semisubmersible rigs and drillships, have also seen a major drop.
Oddmund Fore, vice president of oilfield service research at Rystad, said: "The past four months has seen a lot of bad news hitting this market with delays in drilling programmes and cancelled contracts.
"We've basically seen the largest drop in 20 years in rig utilisation of 7% from March to April.
"This reflects the tough situation with Covid-19. Not only are we seeing less activity but there's also a matter of getting crew through to the rigs, we have all these quarantine rules, so it really has been a challenging environment."
Mr Fore was speaking during a "deep dive" market analysis session hosted by the Norwegian analyst firm on Tuesday.
It comes as several major rig operators have entered Chapter 11 bankruptcy in the US, while complaints around oil rigs being laid up in the Cromarty Firth have spiked in recent months.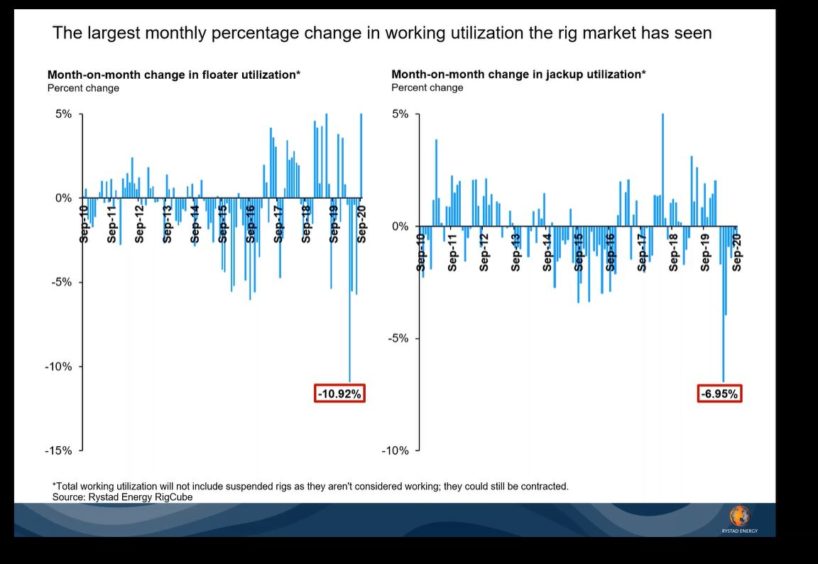 Mr Fore highlighted that another "real challenge" is the "fermentation" of buyers for floaters since the last downturn in 2014, dropping from 65 down to 30 today.
Therefore "attrition and consolidation" in the fleet is vital in order to bring "pricing power" back, which may mean "less companies, also less units, but then better units remaining after the current downturn".
Rystad said around 62 floater rigs should be put into retirement between now and 2023 in order to help bring day rates up and make the market commercial.
Mr Fore said Rystad "expects that to play out as part of the restructuring we now see amongst the big companies".
Rystad said 40 such rigs could come from Transocean, Seadrill, Noble Drilling and Diamond Offshore, all of whom are currently undergoing restructuring, save for Transocean.
Mr Fore added: "Maybe we should also end up seeing three to five players, not 11, rig companies. That could be the main ones to really take the customer base and ride the comeback, with a few niche players on the side.
"I think that will happen, I think that's also crucial to get back on the higher rates."
Rystad also said that certain vessels could become unavailable quickly as the oil price eventually recovers.
Mr Fore said: "When oil comes back up, we see an increase in sanctioning of these projects.
"We could also end up to see some of these units might be sold out and add further upwards pressure on rates for the ultradeepwater units but also the drillships, more specifically."
It echoes similar comments from fellow analyst firm Bassoe Offshore in August that UK firms might "struggle" to find vessels for work due to a backlog being met in 2021.
However both companies are agreed that consolidation of the global rig fleet is needed in order to improve the long-term market outlook.