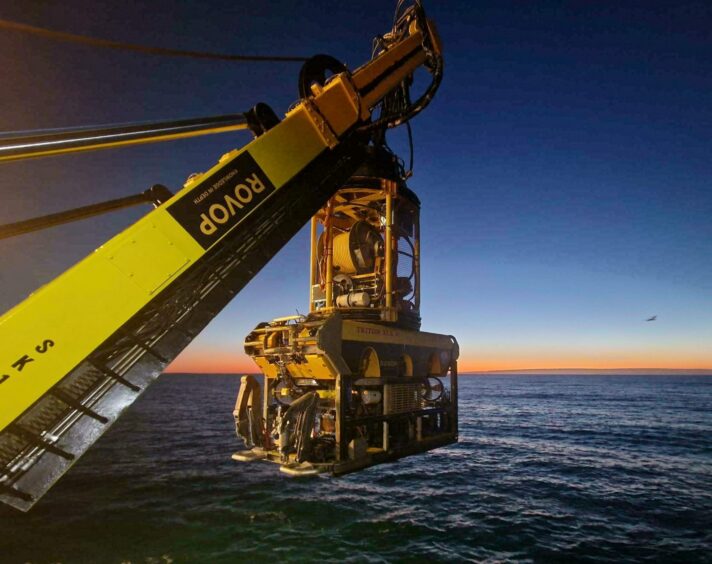 Aberdeen-headquartered subsea remotely operated vehicles (ROVs) supplier ROVOP released its financial results today, achieving £53 million in global revenues.
The revenue result reflected a 31% increase on the previous year, with earnings before interest, taxes, depreciation and amortisation of £11 million (up 57%).
Headcount also increased by 17% across the year, with 38 new hires joining the business to take the total number of employees to 266.
The results follow the first year of operations after private equity firm Bluewater took full ownership of ROVOP last year.
ROVOP chief executive officer Neil Potter told Energy Voice the business was performing well and continues to go from "strength to strength".
"We are building relationships and the market is obviously moving significantly in the right direction for subsea, so it's a strong positive [result]" Mr Potter said.
"We've been building this story over the last two to three years and we see this as a continuation of it."
ROVOP hails 'strong financial performance'
ROVOP said the "strong financial performance" has come from several key factors including a favourable market, growth in its existing customer base, geographical diversification and investments in its fleet.
In terms of market conditions, ROVOP said overall demand for its services increased rapidly reflecting significant activity levels across the energy sector.
he share of work delivered in the energy transition sector, including projects such as offshore wind and cable lay, accounted for 25% of total revenue, which Mr Potter said he expected to remain relatively constant.
"There's still a very significant element of oil and gas work going out there for ROV providers," he said.
"So I see both sectors growing more or less at steady rates so it's a positive time that two key drivers are seeing upward trends."
Growth outside Europe
Additionally, revenue from international projects outside of Europe rose by 33%, a trend Mr Potter said he expects to continue.
"In terms of where we're seeing our customers operating in the next 12 months, we would expect that there will be a higher percentage that will be beyond Europe," he said.
"We're seeing significant expansion opportunities on the global stage."
Mr Potter said ROVOP's model is to secure relationships with marine vessels and then support them wherever they operate.
Fostering those key relationships has also driven revenue growth, ROVOP said.
The share of vessel deployments with its key customers has increased, with the company's four largest clients commissioning ROV services onboard 18 vessels.
Responding to the increased demand for its services, ROVOP said it invested £3 million into its fleet in 2023. The company now has 43 systems in total.
Earlier this year, ROVOP secured $25 million (£20m) backing from multinational private-equity fund Cordiant Capital, which the company said helped support investment in new work-class ROVs planned for the near-future.
"Our workforce is increasing and our fleet of ROVs is at its highest number ever with the majority deployed out in the field across the globe," Mr Potter said.
ROVOP secures new multi-year contracts
Meanwhile, in August ROVOP signed a five-year contract for an undisclosed fee with Energean for work in the East Mediterranean.
The agreement was its first dedicated field support award from an exploration and production company.
While the agreement represented a first for ROVOP, Mr Potter said the company was relatively agnostic to the type of opportunities it follows.
"The greatest significance (of the Energean contract) is that it's a multi-year contract and therefore it's a significant reflection of their belief in ROVOP's ability to deliver," he said.
"Our pilots are typically capable of operating across all of the sectors and all of the aspects of the sector, whether it be subsea construction, renewables or field support, we don't have a particular strategy to pursue a given sub-sector."
Looking ahead to 2024, Mr Potter said ROVOP was looking to scale the business to achieve "considerably beyond 20% growth" into 2024/2025.
"We're seeing very strong demand in the marketplace," he said.
"We're looking at the option to invest in new equipment to allow us to scale further, so we're certainly very positive about the forward look for the sector and for ROVOP's position in being able to support that future growth.
"And that's across both elements of the sector, whether that be renewables… or oil and gas, both elements are actually projected to grow quite significantly, not just over the next 12 months but over the next 24, 36 months."
Recommended for you

ROVOP founder named chairman of subsea tech firm HonuWorx