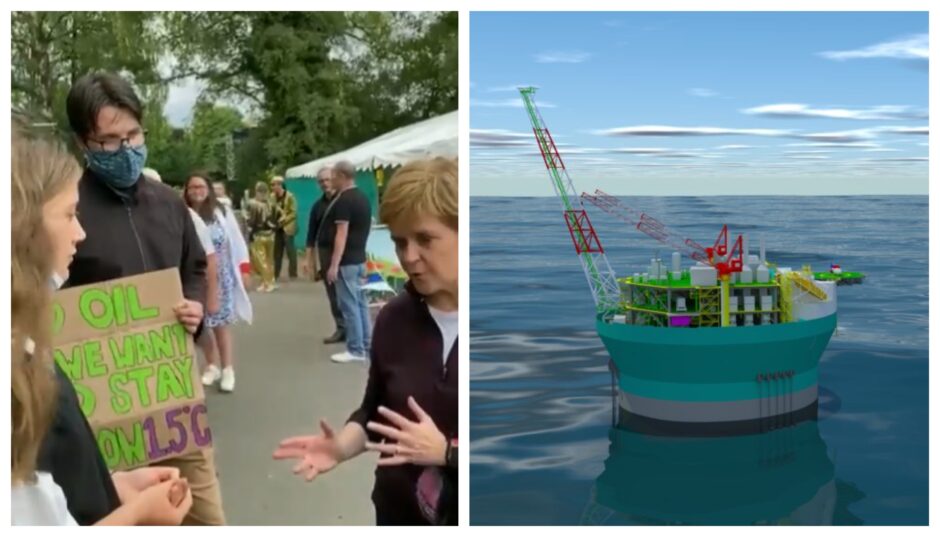 Nicola Sturgeon has asked the UK Government to "reassess" oil and gas licences already issued – including the controversial Cambo development.
She has written to Prime Minister Boris Johnson to say that the Westminster government should review oil and gas licences already issued but where field development has not yet commenced, in light of this week's UN climate change report.
Previously, the first minister had stopped short of unequivocally condemning the proposed development, despite being confronted by protesters while visiting the Govanhill Carnival in her Glasgow Southside constituency on Saturday.
The final decision on the oil field will rest with the UK Government but if given the greenlight, Cambo could yield as many as 255 million barrels of oil over its lifetime – and produce an estimated 132 million tonnes of CO2 emissions.
Prime Minister Boris Johnson has previously said that the UK "can't just tear up contracts" for Cambo.
Although licences are a reserved matter for the UK Government, Greenpeace and Friends of the Earth Scotland said Ms Sturgeon's statement did not go far enough to condemn the project.
The industry has agreed new "climate checkpoints" for future oil and gas projects via the North Sea Transition Deal and operator Siccar Point energy has previously said the project is "designed to reduce emissions from the outset".
OGUK
Will Webster Energy Policy Manager of trade body OGUK, said: "Regarding Cambo and other future oil and gas investments, it is already demonstrated in projections by both government and independent agencies that these are compatible with net zero.
"This includes meeting residual oil and gas demand and taking account of the emission reductions the sector has already committed to, for example, in the North Sea Transition Deal. Overall such new investment will be more than offset by assets entering decommissioning.
"We have a robust regulatory system, ensuring transparency and challenge that is aligned with net zero, through the legally binding changes made in February 2021 to the Oil and Gas Authority's responsibilities, and which are already a requirement on the entire industry."
Mr Webster added that OGUK "appreciates the ongoing support from both governments" and recognition of the industry's role in the energy transition.
Siccar Point
Operator Siccar Point Energy and partner Shell declined to comment on the new development.
However, last month, CEO Jonathan Roger said: "(Cambo) will secure UK supply rather than rely on imports from less regulated countries, whilst creating more than 1,000 direct UK jobs and thousands more in the supply chain.
"The development has been designed to reduce emissions from the outset and will be built 'electrification' ready with the potential to import renewable power when it becomes feasible in the future."
WATCH: We and @StopCambo just challenged @theSNP leader @NicolaSturgeon on her refusal to stop the Cambo North Sea oil field.

Big corporations profit from dirty energy and politicians like Nicola Sturgeon let them get away with it.

We're here to put a stop to that. ✊ pic.twitter.com/Q3ilmhkA3C

— Green New Deal Rising (@GNDRising) August 7, 2021
Scottish Labour's net zero spokeswoman Monica Lennon had written to Ms Sturgeon urging her to publicly oppose the development after a landmark UN report found it was "unequivocal" human activity is responsible for global warming.
The report, by the Intergovernmental Panel on Climate Change (IPCC) – the UN group on the science of climate change – warns climate change is already causing chaos in some areas and may take hundreds or even thousands of years to reverse.
On Thursday, OGUK published a workforce report showing that the industry had lost 35,000 direct and indirect jobs over the course of 2020.
Gary Smith, general secretary of the GMB Union, said the country's politicians are "failing to recognise" the country's reliance on domestic supply to avoid carbon-heavy imports.
He added: "Rather than political posturing, our leaders need to take responsibility and properly collaborate on a credible energy and industrial strategy, ensuring affordable and secure supply, while stopping the mass export of the green jobs we need to support the delivery of our net zero targets."