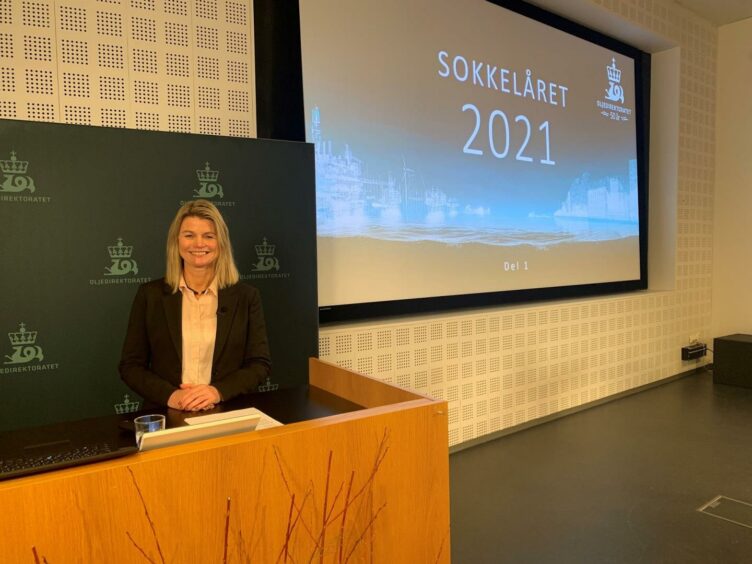 Ongoing demand and high commodity prices have seen annual state revenues in Norway from oil and gas rise to historic levels.
The Norwegian Petroleum Directorate said much of the additional returns were due to record-high gas prices, but that it anticipates "stable, high production" to continue over the next few years.
In addition to 94 currently producing fields, new discoveries and several incoming field developments in would lead to a production increase leading up to 2024, NPD director general Ingrid Sølvberg said in a presentation Thursday.
Total oil production in 2021 amounted to 642 million barrels, alongside 113 billion cubic metres (bcm) of gas, the NPD said. Combined, this represents daily output of around 4 million barrels of oil equivalent per day (boepd), a minor increase on 2020.
Five fields also saw production start-up over the last year; Duva, the restarted Yme field, Solveig and Martin Linge in the North Sea and Ærfugl in the northern Norwegian Sea.
The agency also pointed to Johan Sverdrup, where Phase 1 of development is now in full operation, with Phase 2 scheduled for start-up later this year. At its peak, Johan Sverdrup will account for 35% of oil production on the Norwegian shelf.
Tax incentives
Temporary changes to the country's petroleum tax regime have "most likely led to an increase in project activity," the NPD noted.
While it conceded that many projects would have been carried out without the tax package, it says some may have been postponed.
As it stands, eight development plans (PDOs) were submitted in 2021, and NPD expects "dozens" more this year.
A total of about NOK 150 billion (£12.6bn) was invested in fields and the development of discoveries on the Norwegian shelf in 2021, less than the previous year.
The Norwegian Petroleum Directorate's (NPD's) forecasts show an additional reduction in investments in 2022, before they are expected to increase again leading up to 2025.
This chimes with a note from energy researchers Wood Mackenzie, which said investment in the sector appeared likely to dip slightly next year to £12.3bn, its lowest since 2003.
However, the fall will be short-lived with a record number of FIDs on the table, Wood Mackenzie said. It forecasts up to 25 projects across the Norwegian Continental Shelf could get the green light in 2022, worth more than $30bn, as the incentives make the country a "global hotspot" for investment.
NPD said continued investment would ensure "high and profitable production" out to 2030, at which point current trends suggest production will decline.
Meanwhile, while production is rising, NPD said CO2 emissions were falling, mainly as a result of the use of power from shore. Its objective remains to halve emissions by 2030 compared 2005 levels.
Exploration
Wildcat wells in 2021 yielded 18 oil and gas discoveries, the agency added, from 40 exploration wells (31 wildcat wells and 9 appraisal wells). Two additional discoveries were made in production wells with exploration targets.
In total, these discoveries added 510 million boe of resources, the highest annual rate of addition since 2014.
The NPD expects between 30 and 40 exploration wells to be drilled this year, Sølvberg said.
The last year also saw new exploration acreage offered to 30 across a total of 61 production licenses in the Awards in Pre-defined Areas (APA) round, while seven companies were offered interests as part of its 25th Licensing Round.
In addition, Ms Sølvberg said there was "significant interest" and a large number of applications made as part of the 2021 APA round, and that awards would take place in a few weeks.
Mapping of CCUS opportunities also continues, and NPD estimates there is now room to store 80 billion tonnes of CO2 within the shelf – the equivalent of 1,500 years of Norwegian emissions at the current level.
Many companies are now looking for CO2 injection acreage, and the agency received applications from five companies following the announcement of two areas in 2021.
Recommended for you

Norway's cash flow from direct oil and gas ownership hits record