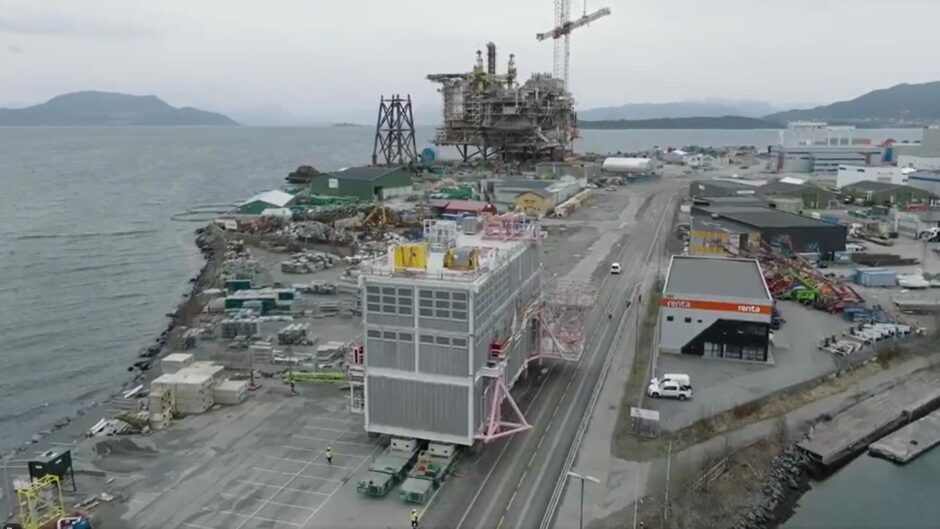 Aker Solutions has shared footage of its operation to move one of the mammoth offshore power modules bound for Equinor's Troll field.
Described as "the offshore equivalent of an electrical power plant", the module is central to the Troll West Electrification project (TWEL) and recently set sail from Aker Solutions' (OSE:AKSO) Stord yard.
A video posted by the company shows the 1,000-tonne M50 module as it was transported around one mile through the yard to the quayside earlier this month, before it was floated out to the Troll field about 40 miles west of Bergen.
Measuring 32m long, 23m wide and 18m high, the video highlights the scale of the job. M50 is one of four modules shipped to Troll West between April and May this year.
The TWEL project will see the fossil fuel-powered generator module at the Troll B field replaced with electricity from shore, enabling full electrification of the Troll C platform, and partial electrification of Troll B.
A power cable from Kollsnes, Norway, will connect to the Troll B station and a second cable will power-up Troll C. Troll A – which came on stream in 1996 – was the first electrified installation on the NCS.
The subsea cable to the B and C platforms will have a landfall at Kollsnes in Øygarden west of Bergen, while a high-voltage subsea cable will run from Kollsnes to Troll B, and one from Troll B to C.
In addition, the two gas export compressors on the C platform currently driven by gas turbines will be replaced by electric motors.
Infrastructure at Kollsnes onshore and a cable out to the platform will be designed for a possible full electrification of Troll B in future as well.
However Equinor announced this weeks that ambitious plans to partially power the fields using floating wind – dubbed Trollvind – would be postponed "indefinitely".
Equinor postpones Trollvind floating wind project 'indefinitely'
Equinor had targeted a final investment decision (FID) this year, ahead of a potential start-up in 2027. However it this week that due several challenges including technology availability, rising costs and a "strained timetable" meant the scheme would be shelved.
Troll is a major part of Norway's export strategy, supplying 40% of the gas it sends to Europe. Powering the fields from shore are set to reduce emissions at the platforms by an estimated 500,000 tonnes of CO2e per year.
Aker Solutions secured a contract from operator Equinor covering engineering, procurement, construction and prefabrication of systems, and installation at the platforms offshore in 2021. Siemens Energy was brought in to supply packages for the electrical transmission, distribution, and power management system.
Recommended for you

Equinor postpones Trollvind floating wind project 'indefinitely'