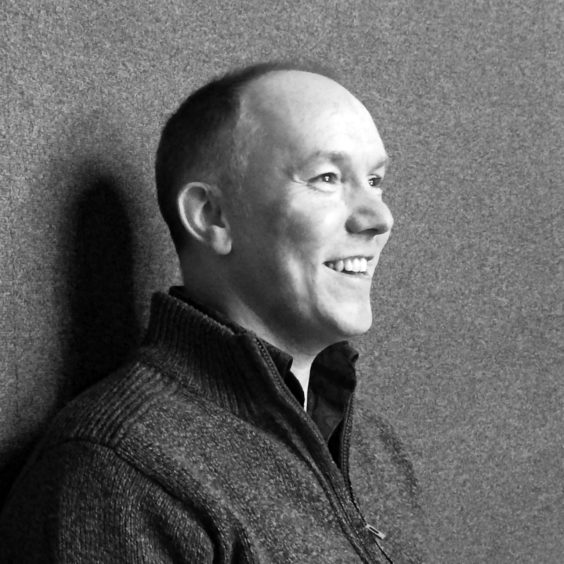 We live in an age of disruption. Our daily lives are being transformed through the application of robotics, artificial intelligence, nanotechnology, 3D printing and the internet of things.
Companies like Netflix, Apple, Bitcoin, Amazon, Uber and Tesla have totally disrupted every economic sector from entertainment and telecoms to finance, retail and transport.
All these disruptors have one thing in common: they achieved their world-beating edge through design-led innovation that harnesses technology to provide the very best user-experience. But while they are certainly disrupting old business models, it could also be said that they are winning by delighting their customers.
The history of disruption, or delight, is the history of design-led innovation: no more and no less.
That is something we at Elevator believe in passionately. It is why our accelerator programmes are currently seeking to identify and nurture Scotland's next generation of design-led innovators.
Steve Jobs, founder of Apple, once observed that many people wrongly believed that design referred to how a product looked. "But, of course," he added, "if you dig deeper, it's how it really works."
In other words, design is about understanding the problem from a user's perspective and delivering the right experience. You could go further and say that, today, there is no meaningful distinction between business strategy and it is the development of the product or service taking a 'Humancentric' approach that counts. The successful companies of tomorrow understand this.
Look at any industry sector – from computing to finance to healthcare ­– and you will see this design-led innovation in action, almost as a form of commercial and technological Darwinism.
The successful products, services and apps of tomorrow simply delight the end-user. They solve a problem and provide a benefit. And they do this by determining the challenge and then designing the elegant solution with the user at heart.
Scotland is justly renowned for its inspiring history of innovation in science, technology and engineering. The sheer volume of major innovations created by Scots, from the telephone to the television, is enormous. Where we sometimes struggle, though, is in our ability to market and capitalise on those technologies.
It is not enough to design and produce a superior product; you have to market the hell out of it. The history of high-tech innovation is littered with killer applications that died for want of marketing or were picked up elsewhere. LCD technology, developed in Dundee and globally exploited by Tokyo, is a case in point.
If we want Scotland's high-tech economy to thrive then we also need a new generation of commercially minded marketers and business developers – the hustlers to go alongside the hackers.
At Elevator we recognise that it takes a team to bring a product to market. The classic design dream team of Steve Jobs and Steve Wozniak at Apple was precisely that combination of hacker (technological wizard) and hustler (marketing genius).
The push on teams is big for us. The solo founder has his or her work cut out. Solo operators typically take three times longer than teams to progress in their business or to raise finance. When I founded games company Red Lemon back in the dot.com era of Web 1.0 in 1996, I realised I couldn't do it on my own. As an artist/designer I needed to collaborate with a programmer and project manager to ensure success.
Beyond strong teams, world-beating companies share another key factor for success: they emerge from ecosystems rather than just a cluster. Ecosystems are dynamic and complex systems that foster innovation. They are interactive and based on trusting, sharing, collaborating, experimenting and growing together. They are also mutually inter-dependent, sustaining and resilient.
It is staggering that 86% of the world's innovation comes from just eight centres – including Silicon Valley, London's Tech City and Boston – which all function as ecosystems.
Sweden is rated as one of the most innovative countries in the world with Stockholm creating more unicorns – start-ups worth more than $1 billion dollars – than anywhere apart from Silicon Valley. Spotify and Candy Crush are just two of its successes.
At Elevator we are fostering that ecosystem of design-led innovation across Scotland with our accelerator programmes.
From the work that we do at Elevator to the programming academies of Code Clan to the UK's largest technology incubator, Codebase, Scotland has the vital elements in place.
We have seen Edinburgh become a global hub for Fintech. In Aberdeen, innovators realise that data is the new oil. They are discovering ways of turning crude data into refined data. The city is becoming well known for its automation.
In Dundee, digital technologies are transforming the med-tech and drug discovery business using Artificial Intelligence to condense the time to bring new drugs to market.
Scotland is even emerging as a centre for Space technology with companies such as Skyrora, Orbex and Alba Orbital all capable of channelling Elon Musk-like ambition.
All of this will thrive or not, depending on how we harness and commercialise design-driven innovation. Design-focused innovation relates to the real world. It asks fundamental questions like: Who is the customer? What pain are they experiencing? What are they trying to achieve in life and how does our product or service help them?
Elevator engages with this. We constantly challenge the companies on our programmes about their decisions and strategies. 'Why?' is a question they are constantly asked. They must be curious and analytical, open-minded and hard-working, but most importantly they must validate every action and decision.
The philosophy is very much 'fail fast and fail forward' – a version of Facebook's earlier mantra of 'move fast and break things'.
As a social enterprise, we don't take equity stakes and there is no extra cost for participation in our programmes. We also don't have a magic wand. The acceleration is done by the founders themselves, not by us.
We provide the ecosystem, the environment and the enlightenment. To use an analogy from our fast-growing Spacetech sector, we provide the launchpad and the fuel, but the company sets the destination and pilots the craft. We put them in touch with the agitators and mentors – a whole blend of techniques and contacts.
It is a fully collaborative way of working. We connect all the dots, making the entire journey to commercial success for companies as clear and easy as possible. It is not just one solitary, finite programme and then the wilderness. It is connectivity, commitment and support along the way.
Elevator is the heart of the country's entrepreneurial ecosystem and so are the companies we work with. There is no reason why Scotland should not join Sweden or Silicon Valley or South Korea as one of the global hubs of design-led innovation and success.
Our accelerator programmes are aimed at start-ups and growing companies looking to maximise their business potential. Our next series of flagship programmes run from September 16th until December 11th in Aberdeen and Dundee, alongside The Famous Grouse Idea Centre Accelerator powered by Elevator. Our inaugural ONE Digital Accelerator powered by Elevator runs at the same time.
Register your interest for our next cohort intake, once registered you will receive a link via email to complete the application process. If you have any queries, please contact Andy Campbell via Andy@elevatoruk.com
Recommended for you

Gigawaters S2 #1 – The Future of a Sustainable Scotland