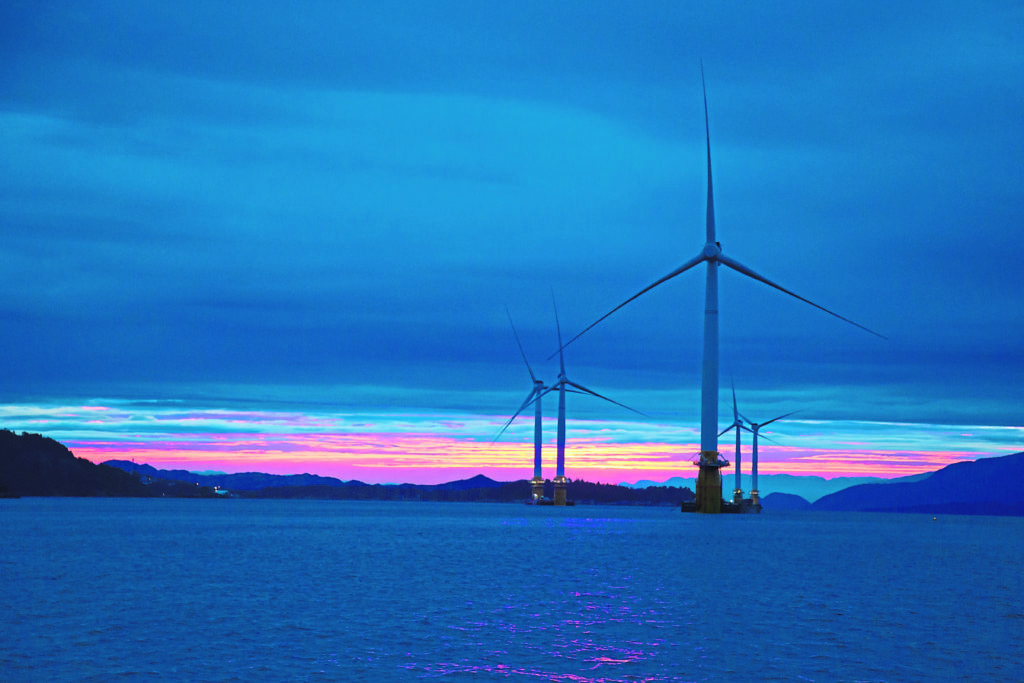 As the UK and other countries seek to seize the potential in Floating Offshore Wind (FLOW), the nascent technology offers diversification opportunities for the oil and gas industry and the supply chain.
Along with offshore expertise more generally, the UK oil and gas industry has experience of adapting to similar technological change – including the development of Floating Production Storage and Offloading vessels (FPSOs) – as a cheaper, more flexible alternative to traditional fixed production platforms.
Renewables can take advantage of this wealth of experience, while oil and gas operators can deploy this experience at the same time as entering the renewables space. The potential to redeploy existing oil and gas industry expertise around floating technology into areas such as FLOW offers a way in to the market at an exciting point in its development
According to the UK government's energy white paper published in December, the UK currently supports around 10GW of offshore wind generation – the largest installed capacity in the world. The white paper set a new, increased target of 40GW of installed capacity by 2030, of which 1GW is planned to be FLOW.
FLOW can be installed further out to sea and in deeper waters than traditional fixed offshore wind arrays, meaning it can take advantage of stronger winds. Although the nascent technology is currently considerably more expensive to install and maintain than its fixed counterpart, experience with onshore wind and solar shows how quickly these costs can drop as the technology matures, and given the right support.
Against this backdrop, it is significant that for the first time the UK government will allow FLOW to compete for support by way of Contracts for Difference (CfD), when CfD allocation round 4 is expected to open for bids. The government plans to establish a separate funding pot for fixed offshore wind and has introduced a separate definition for FLOW, which will compete against other less established technologies such as geothermal, tidal stream and wave power in pot 2.
Inspiratia tracked 11 FLOW deals last year with a total disclosed transaction volume of $1.1 billion – a record number, according to the publication. Of these transactions, the majority were located off the coasts of France, Norway and the UK.
The shift in emphasis from fixed to floating equipment mirrors the experience of the oil and gas industry, with FLOW replicating many of the advantages to the offshore wind industry associated with FPSOs over fixed production platforms. Potential developers of these projects can apply the same logic around cost advantages, flexibility and access to resources to encourage early investment in FLOW.
While there are costs associated with any emerging technology, part of the popularity of FPSOs stemmed from the cost savings against permanent structures like fixed production platforms, with FPSOs capable of storing processed oil and gas which is then offloaded on to tankers for onwards transportation to refineries. FLOW developers can similarly benefit from lighter, more cost effective equipment which can be assembled in port and towed to site rather than relying on large, expensive installation vessels to transport and erect heavy fixed bottom turbines.
The ability to assemble FLOW equipment onshore means minimising highly weather-dependent operations like offshore heavy lifts and assembly, saving time and costs, and reducing safety risks for offshore workers. Maintenance can also often take place in safer onshore conditions.
Floating vessels are capable of going further offshore to take advantage of stronger, more consistent winds than their fixed-bottom counterparts, and are less reliant on favourable seabed conditions. This increased flexibility again reflects the oil and gas sector's experience of FPSOs.
We are already seeing traditional energy companies announce their commitment to clean energy as part of their diversification plans, a shift that is likely to gain further momentum as part of the UK's transition to a net zero economy by 2050.
Collaboration is already starting to happen in the sector. Last June, the Oil and Gas Technology Centre announced it was partnering with Catapult – Offshore Renewable Energy's technology and innovation research centre – to create a new Energy Transition Alliance (ETA), which will work with the energy industry on research projects aimed at accelerating the transition to low carbon energy. Among the initial priority projects identified by the ETA was a UK supply chain-specific floating wind foundation competition, to stimulate innovation in this area and ultimately drive down costs.
The project was welcomed by UK energy minister Kwasi Kwarteng and Scottish energy minister Paul Wheelhouse, both of whom emphasised the need for cross-sector collaboration as part of a "just transition" for the sector.
The UK's expertise in offshore oil and gas is recognised as world-leading. The challenge now is to redirect some of that expertise into an emerging floating offshore wind market with the associated benefits for the environment, the economy and jobs.
Recommended for you

Belgium's Bekaert acquires Dundee moorings firm in floating wind play