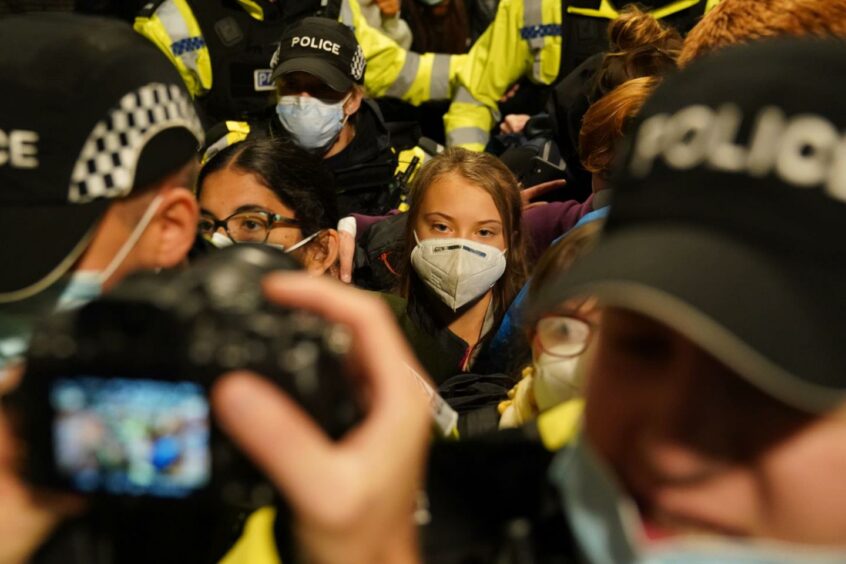 Cut it whichever way you like, little genuine forward progress was made at COP26, in my opinion. At best the outcomes are fragile.
Small-island Indo-Pacific peoples living barely a handful of metres above the highwater mark were left high and dry, pushed aside by large, self-interested nations and Big Biz interests that, frankly, didn't appear to give a stuff about whether they disappeared beneath the waves or not in a few years.
To quote Greta Thunberg, the young Swedish environmental activist who has galvanised millions of young people around the globe with her calls for action on climate change, this really was business as usual, delivered with buckets of greenwash and "Blah, blah, blah".
My wife, who is an academic specialising in transport and went to a couple of meetings in the Green Zone, expressed disappointment. Thin on the ground in terms of meaningful content, it was mostly poster-based and lathered with greenwash. Expensive bordering on pointless.
A particularly disturbing aspect of COP26 was the level of attendance from lobbyists, all determined to paint their industries as converts to the cause of climate change while at the same time making damned sure that as little as possible was going to stand in the way of their self-interest.
Data analysis of the UN's provisional list of named attendees by Corporate Accountability, Corporate Europe Observatory (CEO) – entitled Glasgow Calls Out Polluters and Global Witness, reveals the scale of pressure that corporate actors with a stake in the continued burning of fossil fuels were able to bring to bear on the politicians and their advisers at the Glasgow talks.
Researchers counted the number of individuals either directly affiliated with fossil fuel corporations, including the likes of Shell, Gazprom and BP or attending as members of delegations that act on behalf of the fossil fuel industry.
The analysis reveals:
If the fossil fuel lobby had been a country delegation at COP it would have been be the largest with 503 delegates – two dozen more than the largest country delegation.
Over 100 fossil fuel companies were represented, with 30 trade associations and membership organisations also present
Fossil fuel lobbyists dwarfed the United Nations Framework Convention on Climate Change (UNFCCC) present by around two to one.
The fossil fuel lobby at COP was larger than the combined total of the eight delegations from those countries worst affected by climate change in the last two decades – Puerto Rico, Myanmar, Haiti, Philippines, Mozambique, Bahamas, Bangladesh, Pakistan.
27 official country delegations registered fossil fuel lobbyists, including Canada, Russia and Brazil
Meanwhile, the countries on the climate change losing wicket rightly criticised their access to COP26 as being unequal; citing barriers to participation, amidst vaccine apartheid, costly travel restrictions and a lack of safeguarding guarantees.
Perhaps the most obscene aspect of COP26 … the one that ultimately branded it a failure in the minds of dedicated climate activists … was the cop-out final pact wording regarding coal, the filthiest hydrocarbon fuel on the planet unless you include the oil sands of Canada and Orinoco Belt of Venezuela where uber-heavy oil … basically bitumen … is "open-cast" excavated.
A last minute intervention by India forced a watering down of the resolution language as applied to coal, from "phasing out" to merely "phasing down".
I've been trying to puzzle that one out ever since as both point to a broad direction of travel downhill, except that we're headed for infinity and not a clearly labelled STOP sign.
That is interesting in itself as every energy transition attempted by mankind since coal displaced biomass (trees) as the primary source of energy and which fuelled the Industrial Revolution that was started in the UK, Continental Europe and the US over the period roughly 1760 to around 1840 has never been completed.
However it is only in the last 50 years that humankind has started to recognise the impacts of this sequence of fuel transitions as catalysts to anthropogenic climate change.
Go find Peter Tertzakian's seminal book, A Thousand Barrels a Second, to discover more about this sequence of transitions and how they came about.
Returning to COP26 and the phasing down and not out of coal, the statement made was more of a declaration than a firm commitment.
Don't forget, several countries signed on with reservations. The world's six largest coal producer/consumers – China, India, US, Russia, Japan, and South Africa – did not sign, although they consume 80% of the world's coal.
Imagine if a cornerstone objective of COP26 had been to kill off Big Oil, reserving the planned execution of King Coal for a future COP. Why? Perhaps because it is the most pervasive fossil fuel industry of all and hardest to tackle?
All hell would have broken loose and COP26 would have swiftly become a total train-wreck, aided by the UK's own considerable self-interest because of the North Sea.
Big Oil wields far more power than King Coal and is being left more or less alone, not that anyone's going to admit that.
And making sure those fossil fuels get heard even before planning for the next COP gets under way – COP27 is scheduled to be staged in Sharm El Sheikh, Egypt in 2022 – will be a phalanx of lobbyists doubtless already prepping themselves as to whom their key political targets are likely to be next time.
Recommended for you

Royal Opera House drops BP as sponsor after 33 years