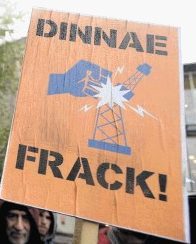 A green group said today that new research into fracking delivered damning evidence against the use of the technology in Scotland.
Friends of the Earth (FOE) Scotland said the studies, published today, showed the economic benefits of shale and coalbed methane developments would be negligible, contributing just 0.1% of GDP on average.
The group said unconventional oil and gas industries would put climate change targets further out of reach, worsen traffic congestion, and create air and water born environmental hazards.
It said public support for fracking was at an all-time low and backed Scottish people to oppose the technology during a public consultation slated for next year.
Mary Church, head of campaigns at FOE, said: "Fracking is bad for the climate, bad for public health and won't do much good for the economy. That's the damning verdict of the independent studies published by the Scottish Government today, echoing the concerns of communities across the country.
"The economic case for pursuing an unconventional gas industry in Scotland simply doesn't stand up, while the risks of doing so could be utterly devastating for communities and the environment. No state has had a moratorium on fracking, looked at the evidence and decided it's a good idea.
"Support for fracking is at an all-time low. People just don't want this dirty, dangerous industry. We are confident that when the Scottish people are given a chance to have their say in the forthcoming Government consultation, the answer will be a resounding 'no' to fracking."
WWF Scotland's director agreed that permitting fracking would probably lead to climate change targets being missed.
Mr Banks said: "According to the independent research, the direct emissions from the production process of an unregulated fracking industry alone could potentially add more than 10% to our current annual climate emissions.
"And that's before you consider the climate science, namely that the vast majority of known global fossil fuel reserves need to be left in the ground.
"With the World Meteorological Organisation having just revealed that the world has experienced its hottest five-year period on record, it's clear that there should be no role for new fossil fuels in Scotland's energy future. "
Recommended for you

Oil and gas 'muscle memory' will give Scotland edge in hydrogen, says Matheson