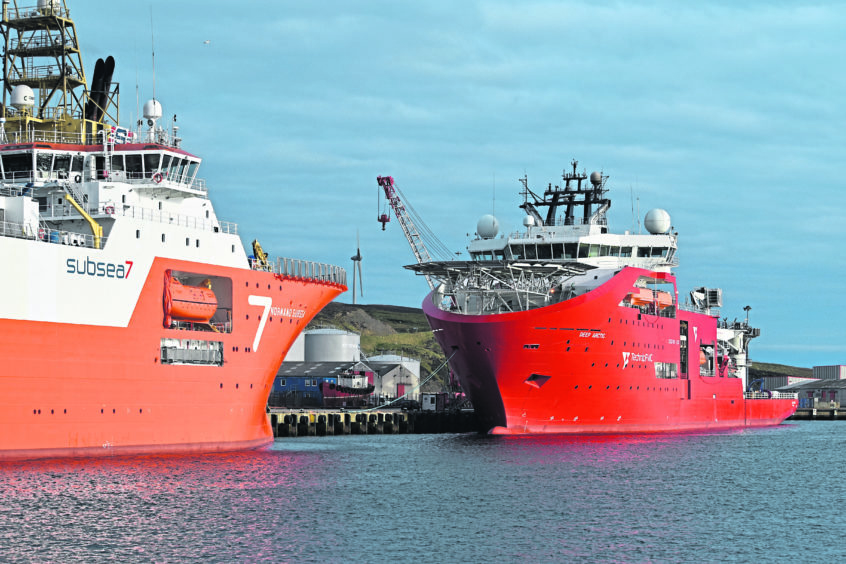 Lerwick harbour continues to add to its reputation as a leading support hub for the oil and gas industry in northern waters through its contribution to the offshore sector's operations west of Shetland.
The industry's gradual recovery from a lengthy downturn meant the focus of the harbour's input to west of Shetland activity in 2019 largely concentrated on serving contractors undertaking maintenance projects.
These included Normand Subsea making calls for maintenance support at the Glen Lyon and Foinaven fields, while Lerwick harbour's Greenhead base was used by Skandi Africa, working at Total's Greater Laggan Area.
Captain Calum Grains, Lerwick Port Authority chief executive, said: "West of Shetland is an important area for the future of the offshore industry, with activity expected to ramp up.
"The important thing for the harbour and the sector is that we are positioned and ready to back-up operators and contractors across their range of operations when required.
"The Atlantic complements our involvement in the North Sea over six decades and means all our eggs are not in one basket when it comes to the offshore market."
Servicing activity from west of Shetland has contributed to a welcome increase in traffic at Lerwick.
The latest figures show that in the first nine months of 2019 total cargo handled for the sector was up 77% at 67,537 tonnes, vessel arrivals increased by 14.2% to 289 and the tonnage of shipping jumped 46.8% to 1.5 million gross tonnes, compared to the same period in 2019.
Stretching nine nautical miles from its north to south entrances, including three nautical miles of inner harbour, Lerwick is a multi-user port where the 4,500 metres-plus of quays – up to 12.5 metres depth alongside – are operated by the port authority.
The availability of 130,000 sqm of laydown space is a key attraction for oil and gas firms.
Captain Grains added: "Our modern facilities are designed to be versatile and handle everything from seismic operations through exploration, development, production and decommissioning – as we continue to do for west of Shetland, as well as the North Sea.
"Building on the wealth of experience gained by ourselves and the supply chain in servicing the North Sea and Atlantic, the infrastructure provides the industry with a competitive hub with capacity and capability on its doorstep.
"While the Atlantic will feature in Lerwick's offshore-related activity for many years, what we all need now is a strong, sustained oil price to give the industry confidence to bite the bullet on more development projects."
Industry sources point to prospects including new well tie-ins and extra infrastructure for the Aoka Mizu FPSO on Hurricane Energy's Lancaster Field and potential developments, such as Siccar Point's Cambo project, and a revived Rosebank, operated by Equinor.