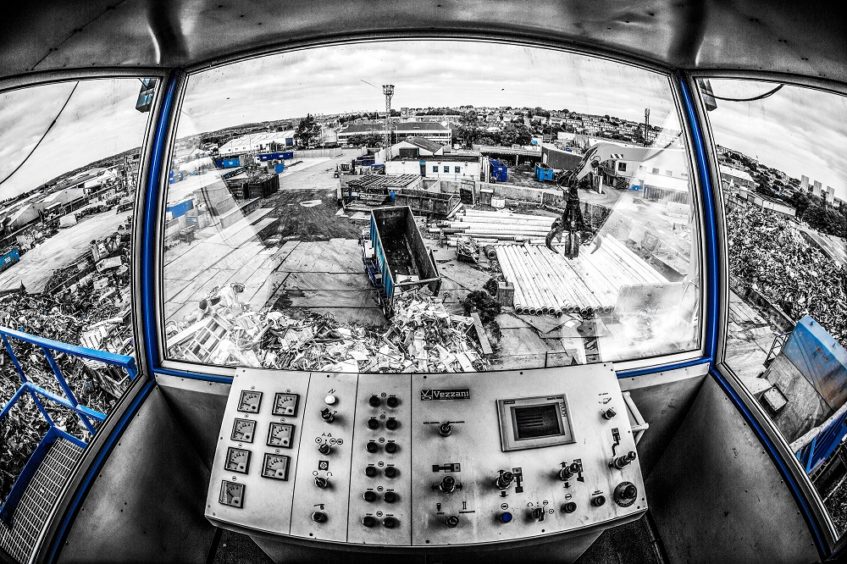 We are proud to be a part of an industry that has evolved considerably over the last 90 years, delivering real economic growth to the UK and worldwide economies whilst making an undeniably positive impact on the environment. As technology has evolved our knowledge, expertise and work ethic continues to play a vital role in the success of metal recycling.
'Scrap yards' is the term often used to refer to our metal processing facilities. Once upon a time, yes, that's what John Lawrie did. Our business got its name from the original John Lawrie himself, who did indeed tour the Aberdeen area in the 1930s picking up people's scrap and waste thrown out onto the streets. He gathered what he could and took them back to his yard for sorting and recycling.
A lot has changed since then and we're proud to have evolved the business over the last 30 plus years to not just gathering 'scrap' but playing a vital role in the processing and recycling of metals and other waste materials. Our aim is zero to landfill and to support our clients in meeting their net zero and sustainability goals. We do this by ensuring that all waste that comes through our gates is sorted and processed efficiently and appropriately, whatever kind of material it may be.
We receive quite a mix of material into our yards across Scotland, not all of them metals. Wood, plastic, concrete and the like are all part of some of the larger items we receive, and we always look to ensure these items are sent for recycling through our selective chain of key service providers. For example, all our plastic and wood are processed and sent to specialist re-processors for manufacturing into new usable products.
Direct link to operators
We work closely with many North Sea operators and their supply chain to handle and process metal waste from their day-to-day operational activities and the onshore dismantling of offshore structures and subsea infrastructure. Decommissioning is a key service we provide and that is not limited to the oil and gas industry. We also provide a site-clearing service utilising our specialist team and equipment to downsize various items of redundant plant and equipment for safe removal and recycling.
It's not just industrial sized structures we work with, however. All our yards work to service the local communities within which we work servicing the needs of local businesses and residents. Our facilities accept all types of ferrous and non-ferrous metal including scrap metal from construction and demolition projects, redundant oilfield and subsea related items, the agricultural sector, end-of-life vehicles, household scrap from Recycling Centres and any general metal products no longer fit for purpose.
Marine-related products such as new and used anchor chain, shackles and kenters, and used wire rope are also handled and, where possible, reused.
Direct links to steel mills
By processing and recycling the metal we receive, we are reducing the amount of waste being sent to landfill, thereby helping to create a circular economy by keeping waste materials in use for longer. After the material has been sorted and the metal has been processed, it is shipped from our local ports – all our yards are strategically located close to port facilities – direct to steel mills in Europe for smelting ready to be made into new products.
Preserving our environment
Using secondary raw materials in this way means the natural environment is being preserved as less ore is mined to create new steel products. We estimate that there is an approximate saving of around 30% of raw materials over recycling.
We have shipped more than 2 million tonnes of processed metal to European steel mills in the last 20 years, and considering we can save up to 0.96 tonnes CO2 for every tonne of metal recycled, this adds up to considerable environmental savings.
We're delighted to be able to pass these energy saving credentials on to our clients as these statistics can be included in their sustainability reports.
We are proud to be the largest metal recycler in the northeast of Scotland handling over 200,000 tonnes of metal every year across our five locations in Aberdeen, Montrose, Evanton and Lerwick, with Dundee due to open later in 2020. All our facilities are licensed, regulated and inspected by the Scottish Environment Protection Agency (SEPA) and consistently receive excellent status compliance assessment reports.
Recommended for you

Do Westminster and Holyrood appreciate Aberdeen's skills gold mine?