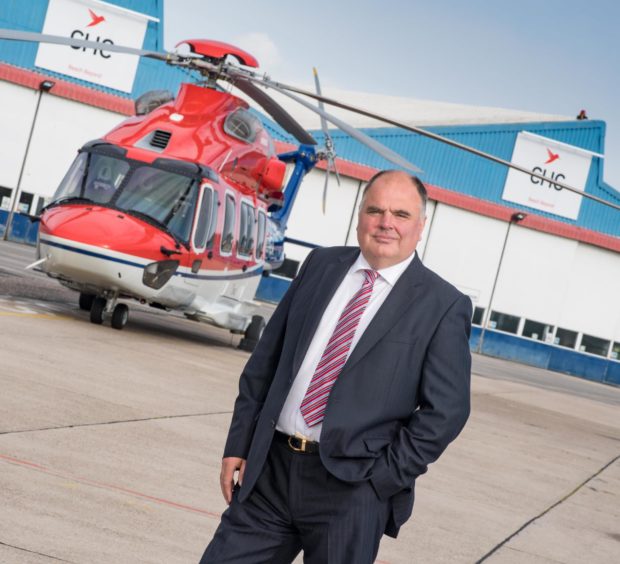 With everything the oil and gas industry has had to contend with in the last year, it would be easy for companies to lose sight of the wider picture.
But for helicopter operator CHC, it's still about continuing to deliver its most important service – safety.
Despite having to drastically adapt its offering in line with Covid-19 restrictions, it hasn't stopped the company providing its usual level of high service to oil and gas companies.
Mark Abbey, regional director for Europe, the Middle East and Africa (EMEA) at CHC, stressed that he and his team haven't lost sight of what they do for a living.
"People would say we're a helicopter operator but there's more to it than that – we deliver safety. Even though it's been difficult and ever changing, particularly within the oil and gas arena, our focus remains the same," he said.
Abbey added: "We have continued to focus, invest and come up with new solutions that allow us to improve what we do and how we do it. It's a very difficult market at the moment, but we haven't diverted from our prime objective which is an efficient, safe, reliable service."
As the pandemic began to sweep through Europe last year, industry acted quickly, with Oil and Gas UK's Pandemic Steering Group, of which CHC is a member, thrashing out safety plans for helicopter transport.
Abbey said the speed with which the sector implemented Covid measures was a "credit to everybody involved".
He said: "Safety is something that is already steeped in our nature. The industry is highly regulated and, most importantly, helicopter operators don't compete on safety.
"We were the first to move to try and curb Covid. CHC recognised immediately that, although there was early advice from governments around social distancing, a lot of the guidelines were nigh on impossible to carry out in a packed helicopter."
In March 2020, CHC became the first operator to deploy so called 'Covid copters', which were used to transport workers, either confirmed or suspected of having the virus, back onshore.
Abbey said: "It was quickly recognised that we needed to do something different. We developed ingrained and sustainable operations to deal with the pandemic very early on.
"That included developing the three categories for offshore passengers, introducing social distancing measures on the aircraft and protecting the crews on the helicopters.
"Moreover, the speed at which we rolled out separation screens across our fleet, was unheard of. Such a modification would ordinarily take months before approval was given – this took weeks. Our own engineers developed this solution.
"We introduced temperature checking, installed sneeze screens to separate check-in staff from offshore workers, put security with personal protective equipment in place and made facemasks a requirement in the terminal.
"We did everything possible to minimise the risk of transmission at CHC's bases, including arranging the engineers and pilots into cohorts and bio-cleaning the buildings and aircraft."
And for CHC, the benefits of the measures have been there for all to see.
There hasn't been a single case transmitted within the company's European offices and none of CHC's crew have contracted the virus while in the cockpit, Abbey said.
Looking ahead, the vaccine rollout gives cause for cautious optimism but, like the government, CHC's next move will be "driven by the data".
While some things are likely to return to normal, there are aspects of working life adopted during the pandemic that will endure.
Abbey said: "Virtual meetings and town halls have allowed us to reach out to hundreds of people at once and hold question and answer sessions.
"Like everyone, our staff members have had a lot on their minds over the last year. Holding these meetings allows us to ensure that safety is still at the forefront of people's thoughts."
Wellness and mental health has also been an area of increased focus for CHC.
All helicopter operators recently joined forces as part of a peer support scheme, building on CHC's Mental Health and Wellbeing programme, established in 2017.
The new initiative has been championed by Harm Bos, CHC's flight operations manager, who has more than 6,000 flying hours on his logbook and is currently completing his degree to become an accredited aviation psychologist.
Abbey added: "Thanks to a proactive approach to mental health and wellbeing, CHC leads the way when it comes to destigmatising the issue.
"We have employed psychometric testing of all crews for many years but the development of an extensive support programme now benefits all employees – and their families.
"Many problems can be solved by simply sharing concerns with a trusted peer, but where additional support is required, it's important to know it is available."
Training, development and improvement continue to be at the heart of CHC.
For more than a decade, the company has run a successful engineering apprenticeship programme and the latest cohort are due to complete their training in the coming months.
Abbey explained: "Investment in safety – in training and in technology – has continued. Only last week we announced a partnership with Shell Brasil and Leonardo Helicopters to launch the first global implementation of Leonardo's Enhanced Helicopter Terrain Awareness and Warning System (H-TAWS) on the CHC AW139 fleet operating in Brazil for Shell."
One way CHC is improving its safety is through the rollout of a "state-of-the-art" tool control system.
As Abbey points out, a "big part of an effective engineering hangar is having a place for everything and everything in its place".
The system, which was designed in house and is being piloted in Aberdeen, monitors and tracks even the smallest tools around the workshop, increasing efficiency as well as safety.
CHC has already seen enhancements and expects improvements in productivity to more than cover its "substantial investment" in the technology.
"I am very proud of the fact this project reflects all of our core values that CHC strives to implement, which are simplicity, agility, collaboration, innovation and ownership," Abbey said.
He added: "As a business we believe in investment in safety innovation as well as leveraging the next generation of technology and software.
"At CHC, our safety culture centres on taking care. We take care of each other, our passengers and our aircraft. Everyone — from our newest member of staff, to our most experienced employee — in our hangars, in the air or in the office – plays their part to promote safe and healthy working conditions, and a positive safety culture."
Reflecting on a "truly unprecedented" year, Abbey praised the continued dedication of CHC's staff.
He said: "I am so very proud of my team. They have once again gone above and beyond, responding to clients' needs. Even in these challenging times, CHC's team always strived to adapt, innovate and improve – safety is at the heart of our business and that will always be the case."
Recommended for you

'A true gentleman': Tributes paid to Ancala Midstream exec Eric Marston