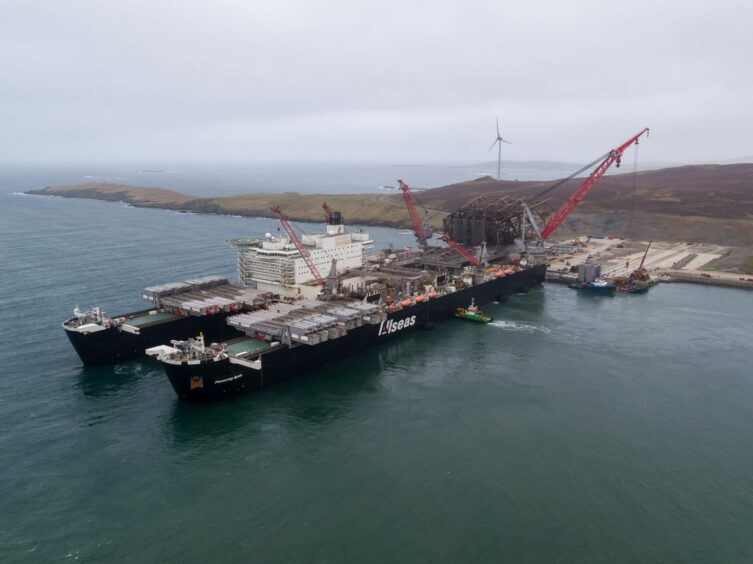 The successful two-phase Ninian Northern decommissioning project contributed to Lerwick Harbour's reputation as a leading centre, with the platform jacket disposal at Dales Voe Base by the Veolia/Peterson partnership, including being completed ahead of schedule.
Captain Calum Grains, Lerwick Port Authority chief executive, commented: "Finishing early is a bit like icing on the cake for everyone involved, with valuable additional experience gained along the way which will undoubtedly shape how things are done in the future."
Both the 14,200-tonne Ninian Northern topside and the 8,500-tonne deck were removed on location in single lifts by Allseas' Pioneering Spirit, the world's largest offshore construction vessel. Delivery of the topside was her first visit to a UK port. The structures were loaded into Dales Voe Base via barge transfer in the deep-water voe.
Pioneering Spirit also manoeuvred alongside a quay for the first time in removing project equipment from the base.
Veolia/Peterson used the 'blowdown' method with explosives to reduce the structures and minimise risks of working at heights and to speed up decommissioning.
Captain Grains added: "Even after Lerwick's many years at the forefront of decommissioning, it is still a learning curve for the industry as techniques and technology continue to evolve to meet changing requirements and new opportunities.
"Decommissioning is an excellent fit for Shetland in terms of the size of workforce available locally, matched with an efficient location and competitive supply chain."
Phoenix Decom is a newcomer at the port in 2022. Craig Smith, managing director, said: "We value Lerwick as an important geographical base for North Sea decom projects. These are facilitated by the excellent local supply chain and Lerwick Port Authority. We had a very successful first year which included obtaining SEPA permits to operate at Greenhead Base and receipt and management of nearly 800 tonnes of subsea waste into Lerwick. We anticipate an even busier 2023."
Captain Grains added: "Decommissioning remains a key focus for the authority to provide ongoing energy sector activity at the port. Our commitment includes continuing to progress with government and industry our plans for an ultra-deep-water Quay at Dales Voe which will transform UK capability, not only in decommissioning, but also in our support for offshore windfarm developments, along with our existing facilities."
The recent announcement of the NE1 locations for development on Lerwick's doorstep, positions the port as a key centre to service windfarms and is generating focused discussions with operators on using the harbour.
While tendering for future decommissioning projects at Lerwick continues, the recent 33rd round for oil and gas exploration off Shetland holds promise for the distant future, as well as more immediate operational support.
More at lerwick-harbour.co.uk/decommissioning.
Recommended for you

Images: Tyra jackets en route to Denmark for decommissioning