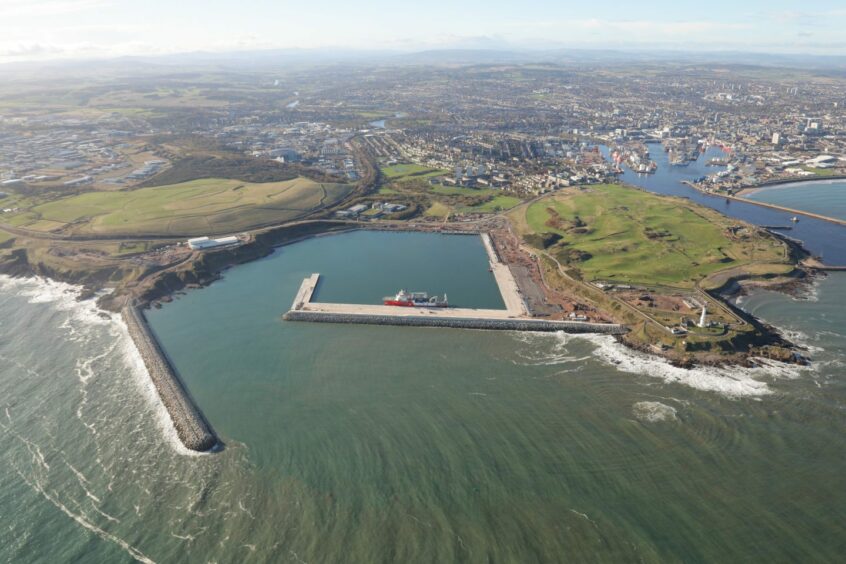 Port of Aberdeen is the UK's oldest – and newest – port. We are building on our almost 900 years of history and heritage to deliver a future-proofed expansion project.
The transformational £400 million development at Aberdeen South Harbour keeps us true to our purpose of creating prosperity for generations, and will help us achieve our vision of becoming Scotland's premier net zero port at the heart of the nation's energy transition.
Throughout 2022, we have continued to be a major driving force in maritime decarbonisation and energy transition, and have taken action to support future growth in the UK's trade and maritime sectors.
Focus on sustainability
Globally, the shipping industry generates emissions roughly equivalent to a country the size of Germany. Decarbonisation is a huge challenge, and we believe that Port of Aberdeen has an important role to play.
Our Green Port strategy is well developed, and we have a clear aim of becoming an exemplar in environmental stewardship and sustainability. We are pioneering green port innovation and facilitating energy transition solutions, reducing port emissions, and facilitating future fuels, targeting Net Zero by 2040.
In October, we were awarded more than £200,000 from the Department for Transport's Clean Maritime Demonstration Competition 2 (CMDC2) to accelerate our drive to Net Zero. The 'Port Zero' project will analyse future port power demands, assess low carbon energy sources for equipment – including cranes, tugs and pilot boats – and quayside infrastructure, and help develop a roadmap to decarbonise port operations.
In another CMDC2 project, we are supporting ACUA Ocean's world's first hydrogen-powered zero-emission crossing demonstration from Port of Aberdeen to Norway – an economically important potential green shipping corridor route – with their zero-emissions vessel powered by liquid-hydrogen, capable of open ocean transits and transportation of a 4.5 tonne payload.
We're also collaborating with Stillstrom by Maersk on a pioneering project to significantly reduce emissions from vessels on standby outside Port of Aberdeen.
Additionally we are supporting Vattenfall's world's first hydrogen-producing offshore wind turbine pilot project.
A bright future ahead
Aberdeen is perfectly located to be Europe's Net Zero capital, and our port expansion project will be at the heart of the development of high potential sectors, including offshore wind, green hydrogen and decommissioning.
More than 60% of Aberdeen South Harbour is now operational and available to port users. Castlegate Quay (West) is scheduled to open in December 2022 and the remaining Balmoral Quay will be brought into service in Q2 2023, making Aberdeen the largest berthage port in Scotland.
More than 30 vessels have berthed at Aberdeen South Harbour during a 'soft start' to operations which began in July. A host of new and existing customers are now benefitting from Aberdeen's safe and efficient port services and generous quayside space.
Our existing North Harbour offers world-class facilities and infrastructure, and the South Harbour expansion will add 1.4 kilometres of deepwater berthage, accommodate ships up to 300 metres in length, incorporate extensive heavy-lift zones up to 15 tonnes per square metre, and offer 125,000 square metres of flexible laydown space and expansive project areas.
CessCon Decom will establish a new decommissioning hub within South Harbour's Crathes Quay which will deliver dismantling, recycling, and reuse services with a key focus on subsea infrastructure. Up to 50 jobs are expected to be created over the next 12 months and CessCon will be encouraging applications from people living locally.
2023 will also see the arrival of larger cruise vessels into Aberdeen, unlocking the city and shire as a cruise tourist destination, and growth in general cargo is also expected through Aberdeen South Harbour.
When we reach the full potential of our expanded Port, it will bolster the regional and national economies by £2.4 billion GVA and support 17,500 jobs both local to the port and further afield.
Looking further ahead, we are delighted to be bringing the much-loved Tall Ships Race back to the Granite City in 2025 – for the first time in over a quarter of a century – in partnership with Aberdeen City Council and Aberdeen Inspired.
We are grateful to have strong relationships with our stakeholders that we work alongside, and after two years of navigating choppy waters, we're confident that smoother sailing lies ahead.
Recommended for you

Omnia signs up to decarbonise ammonia with PNE