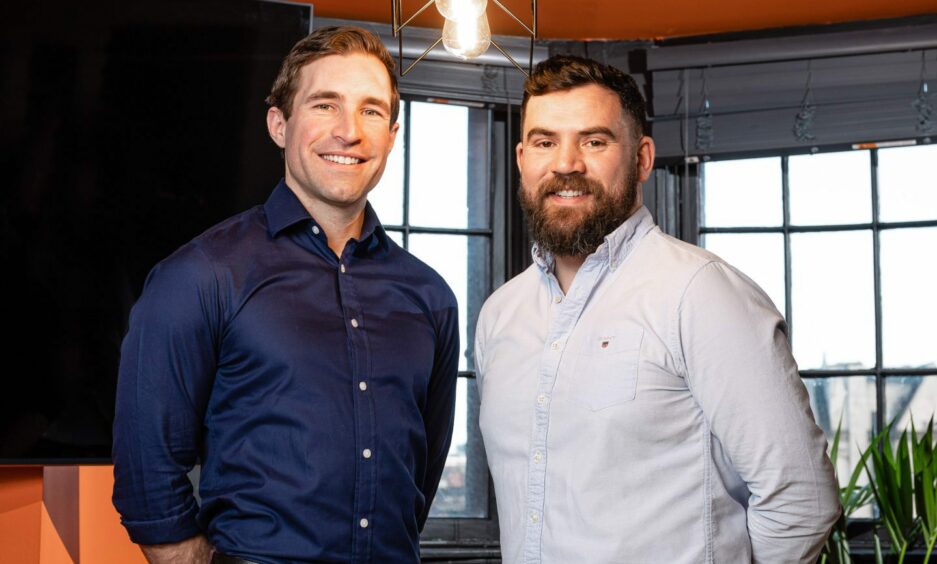 Scottish scaleup Krucial, which utilises space technology to provide digital solutions, has secured further funding of more than $3.7 million as it continues to expand into international markets.
The investment was led by existing investor the Scottish National Investment Bank, joined by the University of Strathclyde, Scottish Enterprise, and Dubai-based space and technology investor AzurX.
It takes the total amount raised by Krucial to date to more than $7.5 million following seed investment in July 2021 of $3.8m.
The investment will be used to accelerate growth in core markets including energy, rail, aquaculture and agriculture in the UK and internationally.
Krucial already works with clients in several industries and recently announced it was working with Mowi, the world's largest producer of farm-raised salmon, to continuously and accurately monitor key environmental parameters to benefit fish welfare.
The company has also recently announced a host of strategic partnerships with organisations including Netherlands-based Amphibious Energy, which provides renewable energy to offshore and onshore locations, and Scottish telecoms specialist Logicomms.
Krucial, founded by space experts Allan Cannon and Kevin Quillien, provides digital solutions that enable access to mission-critical data for industries with remote and hard-to-reach assets.
Using a combination of state-of-the-art satellite and cellular technology combined with internet of things (IoT) devices and cloud services, Krucial offers a full end-to-end digital infrastructure to connect operations from anywhere on earth.
In practice, this enables enterprises and solution providers to build solutions on the Krucial connectivity platform and deploy the latest IoT technology on sites and assets with no existing communications infrastructure – meaning operators can get continuous data insights no matter the location or conditions.
Krucial co-founder and CEO Allan Cannon said: "This funding is a clear vote of confidence in Krucial's cutting-edge solution – especially given wider macroeconomic conditions. The ambition, potential and performance of Krucial to this point has proven our value to investors, who are backing us to take the next steps towards digitising the planet.
"We know that tackling the most important issues of our time – from climate change to food security – requires innovative thinking and big ideas. This latest investment will unlock a host of new opportunities both in the UK and internationally in the $400bn enterprise IoT market. While we're a Scottish-based company, we're global in outlook, and are aware of just how excited international partners are by our solution.
"As we scale even further, our priority in the coming 12-18 months will be to accelerate growth by delivering on our ambitious business plan and continue providing solutions that are transforming enterprise performance and sustainability. The opportunity in front of us is significant, and we intend
on taking full advantage of the trust shown in us by our investors to continue delivering digital transformation for partners and customers globally."
Simon Comer, Director of Sustainable Investment at the Scottish National Investment Bank, said: "Krucial's continued growth is an excellent example of the exciting opportunities emerging from Scotland's technology ecosystem. The company's highly innovative solutions have an important role to play in improving connectivity in a wide range of industries across the globe. Its new partnerships with companies like Mowi and Logicomms demonstrate the diversity and expansion potential of its offering. Our funding will help maximise this potential, not only in the UK but enabling this Scottish-based business to increase its impact in the international marketplace."
Meryl Levington, Director of Innovation and Industry Engagement at the University of Strathclyde, said: "Strathclyde Inspire, the University's flagship entrepreneurship programme, offers entrepreneurial training and opportunities to every student, staff member and alumnus.
"Krucial is a hugely exciting spin-in company from Strathclyde whose innovative, space-based technology-led solutions offer real value to a wide range of customers and huge global potential.
"The University is delighted to support the company's growth and ambitions through our Strathclyde Inspire Investment Fund, and, through its links with our academic staff, to collaborate with the company on its research work."
Kerry Sharp, Director of Entrepreneurship and Investment at Scottish Enterprise said: "Supporting ambitious Scottish companies to scale and grow globally is something we at Scottish Enterprise are incredibly passionate about.
"Krucial's innovative technology has the potential to deliver enhanced digital connectivity across numerous industries and sectors. Scottish Enterprise has been pleased to provide a wide range of services to Krucial and we look forward to continuing work with the company as it continues its international journey."
Anna Hazlett, Principal and Founder at AzurX, said: "The Middle East region presents a significant opportunity for KRUCIAL products and services, and the requirement for IoT products and services in energy infrastructures is substantial. We also see great opportunity to support the evolution of 'smart cities' using digital infrastructure for day-to-day city and urban functions across the region, in addition to the global agricultural sector. This investment marks a first for AzurX in the $400bn enterprise IoT market, and one we are excited about developing with the team."
UK-based law firm Burness Paull advised on the investment.