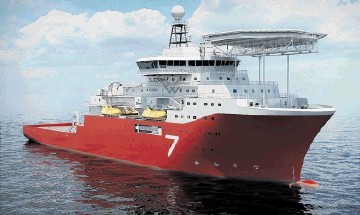 Subsea 7 has confirmed it has secured a major $1billion plus contract for the Beatrice offshore windfarm in the Moray Firth.
The engineering, procurement, construction and installation (EPCI) deal will see Subsea 7 deliver wind farm turbine foundations and array cables for the project which will eventually deliver 588 Megawatts of power once the wind farm becomes fully operational in 2019.
The company announced on Friday it had secured a "major contract" , but said it could not confirm who the client was because of contractual obligations.
A consortium of developers led by SSE have committed the final investment decision for the 84-turbine Beatrice project.
The new windfarm expects to provide an average annual gross employment in Scotland of over 890 jobs during construction and is one of Scotland's largest private infrastructure projects.
The project is expected to power roughly 450,000 homes; approximately three times the number of homes in the Moray and Highland regions
Subsea 7, in alliance with Seaway Heavy Lifting, will project manage, design, engineer, fabricate and install EPCI jacket foundations and array cables for the 84 wind turbines, and perform the transportation and installation of the offshore transmission modules.
Project management and engineering has already started at SHL's offices in Glasgow, Scotland, and Zoetermeer, the Netherlands, and at Subsea 7's office in Aberdeen, Scotland.
Offshore installation activities will be executed in 2017 and 2018 using SHL's heavy-lift vessels, Stanislav Yudin and Oleg Strashnov.
Both these vessels provide significant lift and installation capabilities ideally suited for the challenges of installing wind farm foundations, the companies said.
Subsea 7 chief executive Jean Cahuzac, , said: "This offshore wind farm project is our largest North Sea award to date.
"Subsea 7 and Seaway Heavy Lifting have a strong reputation in their respective areas of expertise.
"This contract recognises both companies' capability to execute contracts safely, on time and within cost targets and is another major step forward in establishing Seaway Heavy Lifting as a leading EPCI contractor in the offshore renewables market."
Recommended for you

Asia's offshore mega wind farms risk delays from ship shortage