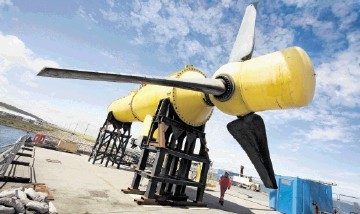 The second phase of an international study has been announced to boost the reliability of tidal and wave energy systems.
Orkney's European Marine Energy Centre's (EMEC) Reliability in a Sea of Risk (RiaSoR) research looks to increase investment in the marine energy sector by boosting performance of the equipment.
It will see the creation of a monitoring platform to test the performance of wave and tidal energy converters in rough seas.
The collected data will be used as case studies to inform a set of reliability guidelines, which will be distributed to the wider industry.
The organisation says it will help inform future array projects, where handling of data will be crucial in driving down operational costs.
EMEC's technical manager Elaine Buck said: ""Reliability testing is tough to do in the sea. RiaSoR 2 is about establishing a methodology and testing programme so we can gather data between device installation through to MTTF (mean time to failure).
"The instrumentation, condition monitoring methodology applied with Variation Mode and Effect Analysis (VMEA) methodology used in other more mature sectors such as the automotive and aerospace industry will be adapted in the RiaSoR project for the ocean energy sector and will provide valuable insight into prototype design development"
The research is funded by OceanERANET – a network of 15 research funding groups from 8 European countries.
Recommended for you

EMEC Orkney floating wind site 'worth £690m' to UK