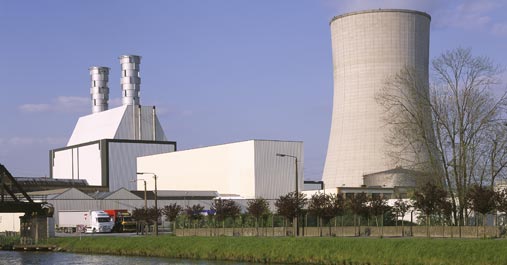 Belgium plans to switch off its last nuclear reactors by 2025, an ambitious move that will require significant investments in gas-fired power and renewables.
Over 50% of electricity generated in Belgium in 2019 was from the country's two nuclear power plants, Tihange and Doel. The same year, gas-fired electricity had a share of around 25% while wind and solar accounted for 15% of generation, data from national regulator CREG shows.
Belgium plans to completely phase out nuclear power by end-2025, which means it will lose 6 GW of generation capacity. Significant investments in gas-fired power plants and renewables – mostly wind – will be needed in order to fill the supply gap.
There are currently plans for 4 or 5 new gas-fired power plants in Belgium, including EDF subsidiary Luminus' CCGT project in Seraing and ENGIE's CCGT project in Vilvoorde.
However, volatile and unpredictable prices for power, gas and EU carbon allowances makes investments in new gas-fired plants a risky business. In other words, there are no guarantees that the plants' profit margins will be sufficient to pay back the investment. To this end, the Belgian government has designed a Capacity Remuneration Mechanism – or capacity payments – which effectively subsidises new CCGT plants.
Capacity auctions
The system is similar to that in the UK, which means plant operators can participate in auctions in order to secure capacity payments in return for making production capacity available in the future. The costs of the scheme will eventually be passed on to end-users.
ENGIE said it will not be able to go ahead with the new 870 MW CCGT plant in Vilvoorde without such capacity payments. However, the scheme will need approval from the European Commission under EU state aid rules before it can take effect. Capacity payments are seen as controversial and have created a fair amount of noise in the past. For example, the UK scheme was approved by Brussels in 2014 but was later brought before the EU Court of Justice by Tempus Energy which claimed it discriminated against demand-side operators. The court eventually requested the commission to reassess the scheme; capacity auctions in the UK were therefore suspended for over a year and did not resume again before at the start of 2020.
Belgium submitted its draft scheme to the commission in December last year, but is still awaiting approval. Legal experts have told the Energy Voice that a number of details still have to be clarified before the commission can make a final decision. One key difference between the UK and Belgian scheme is that the latter will only allow operators of new plants to participate in auctions – the UK scheme also allows older plants to participate.
If approved, Belgium will hold its first capacity auction in November next year. A renaissance of new gas-fired plants would of course be supportive of gas demand and Belgium is well-placed to facilitate an increase in imports. It boasts an LNG terminal at Zeebrugge, direct pipeline connections with Norway and interconnectors with the UK, Germany, the Netherlands and Luxembourg. Over half of Belgium's gas imports in the fourth quarter of 2019 were of Russian origin, according to data from the commission.
Renewables
The share of renewables in Belgium is relatively low, and there is limited potential for growth in large-scale onshore wind, solar and hydro partly due to population density and restrictive planning permissions.
Renewables accounts for 9-10% of final energy consumption, while the country's EU 2020 target is 13%. The country wants to increase the share of renewables to 17.5% by 2030.
However, Belgium is blessed with windy weather also offshore. Offshore wind power capacity in the Belgian part of the North Sea will account for around 2.3 GW of installed capacity by the end of 2020 – this could rise to 4 GW by 2030, according to government plans.
In 2019, Belgium was a net exporter of electricity to neighbouring countries for the first time in 10 years, largely owing to good availability of its nuclear fleet. Electricity flows on the 1 GW NEMO interconnector between the UK and Belgium mostly went in the direction of the UK. Come 2025, and the export/import balance may be very different.
Recommended for you

Kellas Midstream secures first hydrogen customer for H2NorthEast