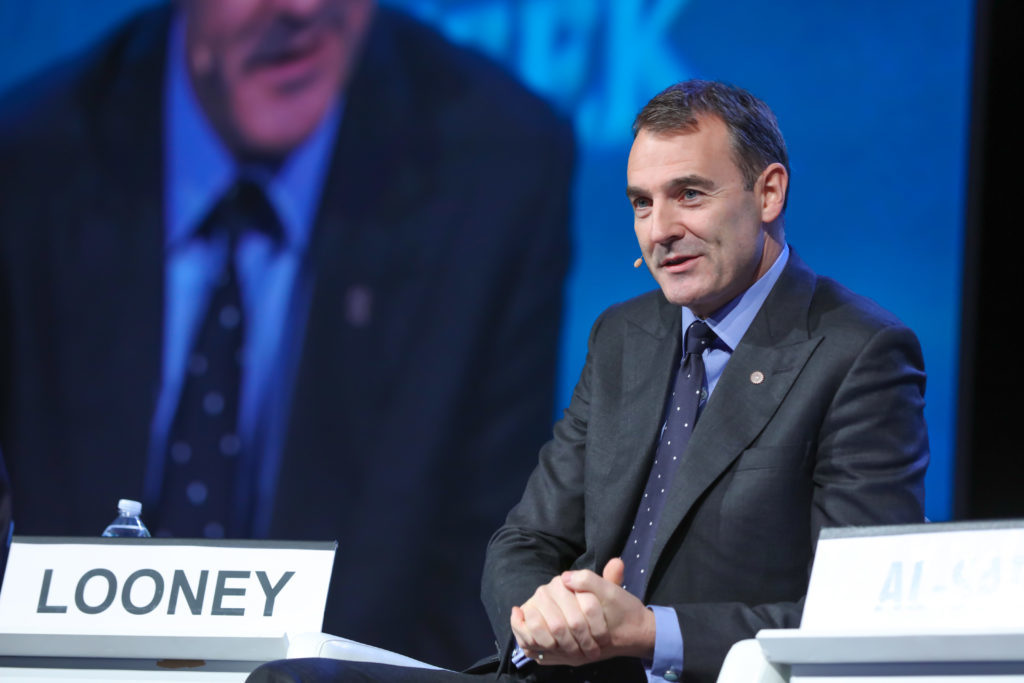 BP has cut its dividend in half in a bid to free up cash for its push to become an "integrated energy company".
The company said the reset dividend of 5.25 cents (4.01p) per share was a "resilient" level, as it unveiled its new strategy, packed with medium-term targets.
Within 10 years, BP will have cut its oil and gas production by 40%, or about 1 million barrels per day (bpd), and reduced emissions from its operations by about a third.
BP produced around 2.6m bpd last year.
The London-headquartered company also said it would invest 10 times more in low carbon technologies like hydrogen and carbon capture, taking it to £3.8 billion a year.
Over the same period, BP aims to have developed around 50 gigawatts of net renewable generating capacity, a 20-fold increase from 2019 levels.
Chief executive Bernard Looney said BP's strategy was a "compelling and attractive long-term proposition for all investors".
Mr Looney acknowledged the "impact" the reset dividend would have on investors, but insisted the decision was in the interests of stakeholders.
The firm did commit to returning at least 60% of surplus cash as share buybacks.
Investors seemed to welcome the news, as BP's shares rose 6% to £2.98 in London in early trading.
The company made the announcement at the same time as publishing its first-half results, which showed huge pre-tax losses of £19.9bn ($26bn), against profits of £6bn in the corresponding period last year.
Revenues fell 36% to £69bn in the first six months of the year due to a slump in oil and gas prices, caused by oversupply and the Covid-19 lockdown.
Mr Looney said the pandemic continued to create a "volatile and challenging trading environment" and warned the outlook for commodity prices and product demand "remained uncertain".
Writing was on the wall for dividend cut
The dividend cut was not unexpected. Mr Looney's long-standing predecessor Bob Dudley bowed out in February with a flurry by treating shareholders to a dividend of 10.5 cents in the fourth quarter, an increase of 2.4% year-on-year.
When the company delivered its first-quarter results in late April, BP maintained the dividend, despite recording pre-tax losses of £3.6bn for the three months.
A couple of days later, Shell cut its dividend for the first time since World War Two in response to the slump in oil and gas prices.
BP subsequently revealed plans to make 10,000 of its employees redundant, representing a 15% cut to its global headcount.
The company also said it would write off as much as £13.4bn of the value of its oil and gas assets in the second quarter, and has put a number of fossil fuel projects on hold, including Clair South, west of Shetland.
In the background, BP is trying to reinvent itself following Mr Looney's announcement in February that the company would become a net-zero emitter by 2050.
It's thought that drastically reducing the dividend would give him breathing room and extra cash to make the investments necessary to gather momentum for that push.
The firm previously said it would replace its longstanding upstream and downstream structure with 11 "teams".
Green critics mollified?
Even staunch BP critic Greenpeace seemed mollified by today's strategy update, saying the company had "woken up" to the immediate need to cut carbon emissions this decade."
Mel Evans, senior climate campaigner for Greenpeace UK, said: "Slashing oil and gas production and investing in renewable energy is what Shell and the rest of the oil industry needs to do for the world to stand a chance of meeting our global climate targets.
"BP must go further, and needs to account for or ditch its share in Russian oil company, Rosneft. But this is a necessary and encouraging start."
BP said Rosneft was a fundamental part of its portfolio, but said it would not seek to explore in countries where it does not already have upstream activities.
Recommended for you

BP CEO search to drag on into new year