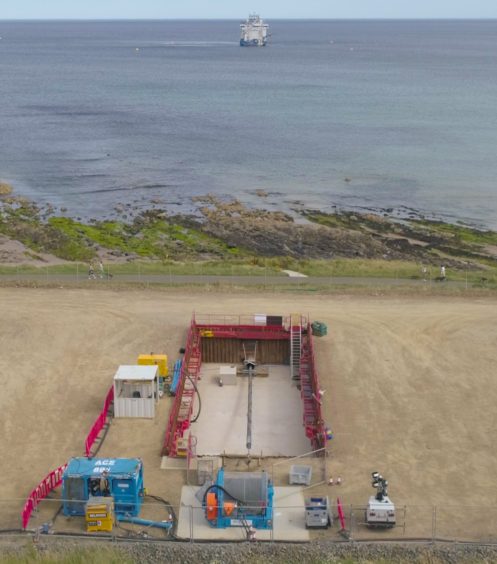 Moray East has marked its latest milestone after the first of three offshore export cables successfully made landfall in Aberdeenshire.
It was pulled from Danish cable firm NKT's Victoria ship through an underground duct below the seabed and brought onshore at Inverboyndie to try and minimise the environmental impact.
The wire will take power from the 100 turbine offshore wind farm in the Moray Firth to the onshore transmission grid near New Deer, where it will be fed into the National Grid.
It's the second landmark in a matter of days for the project after engineers successfully installed the first offshore substation platform over the weekend.
The Moray Offshore Windfarm (East) is one of Scotland's largest offshore wind developments and is forecast to provide enough low carbon power for over 950,000 UK homes.
The 950MW capacity project is due to be fully operational by 2022.
Marcel Sunier, project director said: "This is another significant milestone  for the project and I would like to congratulate all those who have made it happen safely, despite the challenging conditions we are all working under at the moment.   Because it is underground and under the sea bed, the export cable is an unseen part of the project; but no less vital for that.
"When our works are complete at Inverboyndie, visitors to the area will have no idea of the advanced engineering hidden below the ground which is bringing literally millions of watts of low-cost, low carbon power to homes and businesses across the land.
Tommy Sturesson, NKT project manager for Moray East said: "After several years of collaboration between NKT and Moray East we have finally reached this major milestone of installing the export cables. NKT is honoured being part of this major infra structure project and we are very much looking forward to this next phase of the project, connecting the Scottish public to the well-known winds in a modern fashion by also gaining electricity from it."
Recommended for you

50 jobs created as Global Energy Group lands Moray West contract