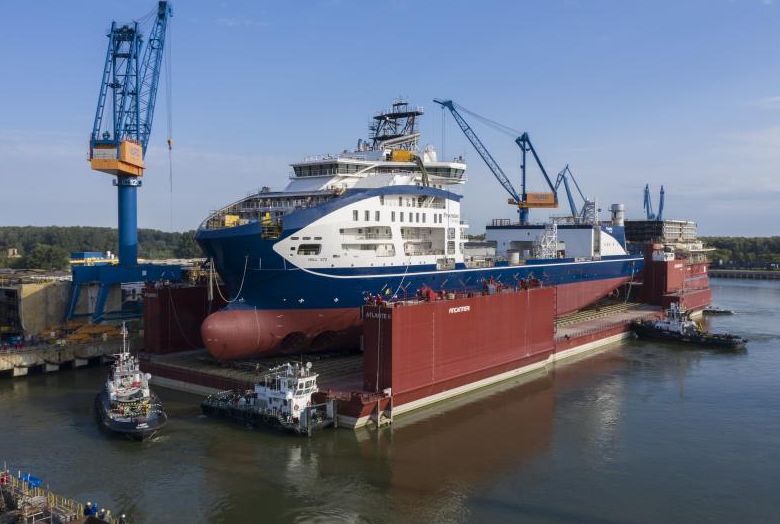 Scheduled to arrive in Norway mid-month under tow from Romania, Prysmian's new cable laying ship Leonardo da Vinci is apparently firmly on course to enter service during Q2 next year.
Norwegian shipyard Vard fabricated the vessel's hull at its yard at the inland port of Tulcea, on the Danube, then had it towed via the Black Sea, Bosphorus, Mediterranean and North Atlantic to the company's Brattvag facility near Alesund for fitting out, installation of main laying equipment and finishing.
Milan-headquartered Prysmian placed the order in April 2018 to capitalise on the burgeoning offshore wind industry, especially in the North Sea, where the company has carved out a sizeable share of the power export cables market.
Once delivered, Leonardo da Vinci will join Prysmian's CLV fleet which currently comprises Giulio Verne, Cable Enterprise, and Ulisse.
The new vessel represents a distillation of the latest thinking and technologies required, especially by the offshore energy industry, namely power and telecoms interconnectors to 3,000m (10,000ft) water depths.
The 170m Leonardo da Vinci is classed as a hybrid, featuring diesel-electric main propulsion and banks of lithium batteries to enable it to work silently and efficiently in DP3 mode when handing cables, even in poor weather conditions.
The banks can also provide 'peak shaving' to reduce emissions when steaming at speed. Grossed up power rating is 21 megawatts, which is enough to heat and light 7,000 average homes.
Turning to the cable storage, handling and lay systems, Prysmian claims Leonardo da Vinci will be unmatched.
Core items include:
•        A pair of rotating platforms respectively rated 7,000 and 10,000 tonnes capacity, apparently the highest carousel capacity in the market at present.
•        The capstan capacity will be up to 100 tonnes, double the cable-lay industry average.
•        Bollard pull of about 200 tonnes, which is more than double that of Giulio Verne.
•        Leonardo da Vinci will also have the highest pulling/towing capacity in its class and be capable of 90-day trips.
•        Other items to note are the two ROV hangars and a helideck certified for take-off and landing of Sikorsky S92 and AW 101 class helicopters.
There seems little doubt that Vard will deliver on time, Covid-19 notwithstanding, and that the Leonardo da Vinci will make a stylish and successful debut.
Now for something else new and, if the companies concerned pull it off, absolutely stunning.
Speculation is that, collectively, New York-listed Scorpio Bulkers and Norway's Offshore Heavy Transport (OHT) could invest up to $2.3 billion in Big Wind opportunities by building as many as eight turbine installation vessels.
Scorpio Bulkers has signed a letter of intent with South Korean shipbuilder Daewoo Shipbuilding and Marine Engineering for a GustoMSC NG-16000X class installation vessel.
The deal includes options for three further sister ships, which will be confirmed depending on market conditions.
The first vessel, due for delivery in 2023, will cost $265-290 million, depending on final design and equipment specifications.
OHT has signed for two vessels, also of Gusto design.
The OHT ships, to be constructed by Chinese shipbuilder China Merchants Heavy Industry, will be equipped with a 2,500-tonne capacity crane capable of installing turbines in water depths to 65m.
The first is also to be delivered in 2023, with the arrival of the second to be agreed on. The agreement includes options for two additional vessels.
China Merchants Heavy Industry is already building an installation vessel for OHT. Alfa Lift is scheduled to start work in 2022, transporting and installing monopile foundations for the first phase of the Dogger Bank wind complex, which will employ 12MW GE turbines.
OHT has been augmenting its previously oil and gas-centric heavy transport business with offshore wind-related opportunities. The company operates a fleet of five open-deck semi-submersible heavy-load vessels.
Islands opts for trio of greened-up retro-fits
As pressure mounts on the offshore energy industry to cut the size of its own carbon footprint and despite the offshore support vessel market being saturated with idle tonnage, Island Offshore of Norway has awarded a contract to Kongsberg Maritime to supply turnkey hybrid battery solutions for three platform supply vessels.
Kongsberg was selected for the job as it originally delivered design, propulsion, engines and other main equipment when the vessels were built.
A key challenge to be met was to enhance the economy and low carbon footprint of each vessel without impacting revenue cargo capacity. That necessitated locating battery containers on a mezzanine deck aft of the wheel house.
According to Kongsberg, battery packs allow for fewer diesel engines to be running, thus improving efficiency by increasing the load on the remaining engines while also instantly delivering power on demand.
This is considered  ideal in the context of low-load operations such as dynamic positioning in close quarters with a rig. Fuel consumption and running costs are predicted to also be reduced through conversion of the vessels to 'closed bus-tie operation'.
Closed bus-tie operation of power plants provides superior tolerance for dynamic positioning (DP) power plant faults. However, a vessel operating with closed bus-tie breakers is not guaranteed to retain thrusters during certain types of power system failures.
In these situations, rapid recovery of equipment is critical for meeting DP2 and DP3 minimum requirements in station-keeping.
Two of the three, Island Crusader and Island Contender were delivered in 2012 and originally fitted with dual-fuel diesel/LNG propulsion systems, while the third, Island Commander (built 2009) was diesel-fuelled only.
Now, they are being  equipped with battery packs and shore connections.
A quick check of Island's fleet data-sheets reveals that the 96m Crusader has already been fitted with a 896 kWh battery pack system and its classification updated to LNG Battery Hybrid PSV – DP II
A battery pack can be used as spare capacity and extra safety when the vessel is alongside a rig while also saving both fuel and generator running hours.
In the past, PSVs have typically run multiple engines (power station lay-out) to achieve redundancy, with consequent impacts on fuel performance, equipment health, and emissions
In addition the battery system can contribute with quick and effective 'peak shaving' power during transit, reducing the need to start up an extra generator for peak loads.
When the primary propulsion machinery is running on LNG, it performs best when running at constant loading, a situation where the combination with batteries is considered ideal.
The generators do most of the work while the battery packs absorb the variations up and down, resulting in smooth sailing without the need for additional engine power when punching head seas.
All three vessels are on long-term contracts with Lundin.
Recommended for you

Record-breaking cable instillation connects the UK and Denmark