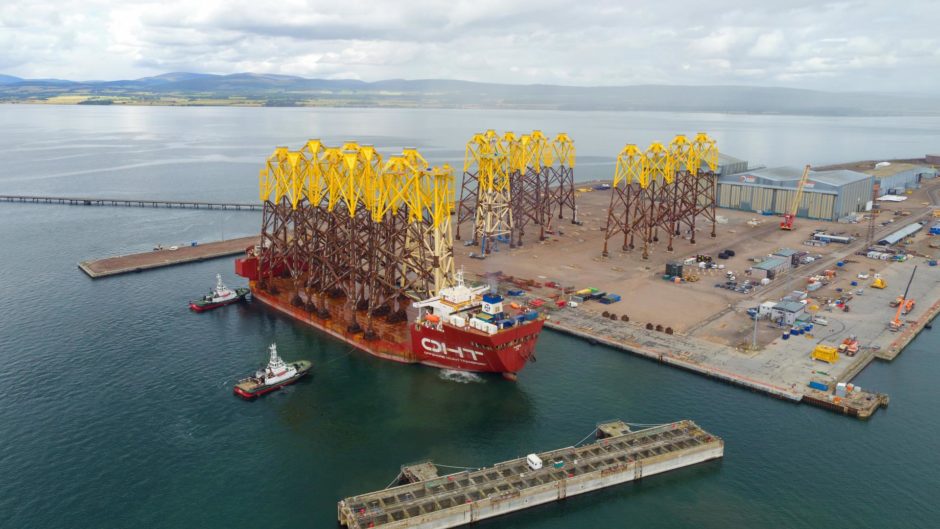 The Port of Nigg has been served a "green jobs boost" after it bagged a contract for work on what will be Scotland's largest offshore wind farm.
Global Energy Group's (GEG) facility near Inverness has been selected as the marshalling, storage and logistics base for the 114 wind turbine foundation structures destined for the Seagreen Offshore Wind Farm.
The multi-million pound contract will support 141 skilled jobs at the Cromarty Firth port during peak construction, 48 of which will be new positions.
Recruitment for the new roles is expected to get underway in the coming months.
Inverness-based GEG was appointed to carry out the work by Seaway 7, the project's foundation and inter-array cable engineering, procurement, construction and installation contractor.
Foundation installation at Seagreen, which is being built around 17 miles off the Angus coast, is expected to begin in the second half of this year and last for 12 months.
The 114 foundation structures for the development will be delivered to the Highland port via Heavy Transport Vessels, prior to shipping out to the North Sea.
After the jacket foundations are installed, Vestas V164-10 MW turbines will be positioned on each of the bases.
Paul Wheelhouse, Scotland's energy minister, welcome the contract award, describing it as a "further boost" to the country's offshore renewables industry and green recovery from Covid-19.
He added: "This, coupled with the launch of Crown Estate Scotland's first ScotWind leasing round, marks a significant step as we push forward with our ambitious and World-leading plans to reach net zero greenhouse gas emissions by 2045.
"The Scottish Government is committed to supporting the offshore renewables sector in Scotland and our recent Offshore Wind Policy Statement and our Sectoral Marine Plan for offshore wind are both geared towards seeing 11 gigawatts (GW) of offshore wind generation capacity being installed in Scottish waters by 2030, with scope for further growth beyond that.
"We are working hard to ensure that we support the supply chain to increase the contract value it secures from these future offshore wind opportunities and this latest contract win will help further enhance the Port of Nigg's strong track record and capabilities."
The £3 billion Seagreen project is a joint venture between SSE Renewables and French energy giant Total, which acquired a 51% stake in the development in 2020.
It will be Scotland's largest and deepest offshore wind farm when complete with an installed capacity of 1.075GW, enough to power more than 1.6 million homes.
According to SSE Renewables, Seagreen will displace over 2 million tonnes of carbon dioxide every year, similar to removing more than a third of all of Scotland's annual car emissions.
First power is expected by the end of this year, with the project expected to enter commercial operation in 2022/23.
SSE Renewables previously selected Port of Nigg for marshalling activities during the construction of its Beatrice Offshore Wind Farm off the Caithness coast.
Tim Cornelius, who was announced as GEG's new chief executive last month, said: "The heavy load bearing capacity and deep-water quayside together with the facility's strategic location and onsite, experienced, support services make the Port of Nigg the ideal choice for the execution of projects of this scale.
"We are delighted to be supporting Seaway 7 on the Seagreen Project on behalf of SSE Renewables and Total and look forward to welcoming the foundation structures to our facility."
There was widespread anger last year after SSE Renewables chose not to award any work for Seagreen to Fife-based turbine manufacturer BiFab, instead opting for overseas competitors.
The firm, which operated three yards across Scotland, subsequently collapsed into administration.
Paul Cooley, director of capital projects at SSE Renewables, added: "Today's announcement is great news for Scotland and puts Scottish offshore wind to the fore of the country's green economic recovery.
"This major construction contract at Port of Nigg for Seagreen Offshore Wind Farm will create 48 new local jobs out of a total 141 roles that will be required to support this important delivery phase of what will become Scotland's largest offshore wind farm when complete.
"Since the start of 2020 SSE Renewables has begun construction on three crucial offshore and onshore wind projects here in Scotland with a combined investment total of around £3.5 billion; including Seagreen, our joint venture with Total.
"Once operational these Scottish projects will provide clean power for more than half the homes in Scotland. And importantly, these low carbon projects are powering a green, economic recovery right now through their support of more than 1,000 high value green jobs in Scotland, including direct, contractor and supply chain roles."
Steph McNeill, executive vice president – renewables at Seaway 7, said: "We are looking forward to continuing our successful, collaborative relationship with SSE Renewables, Total and Global Energy Group as we help construct Seagreen.
"We have been active in the UK renewables sector for over a decade and are very pleased to continue to support the ongoing energy transition in the UK, bringing our offshore wind expertise to the largest offshore wind project in Scotland."
Recommended for you

'Novel approach' needed to meet ScotWind floating supply chain ambitions