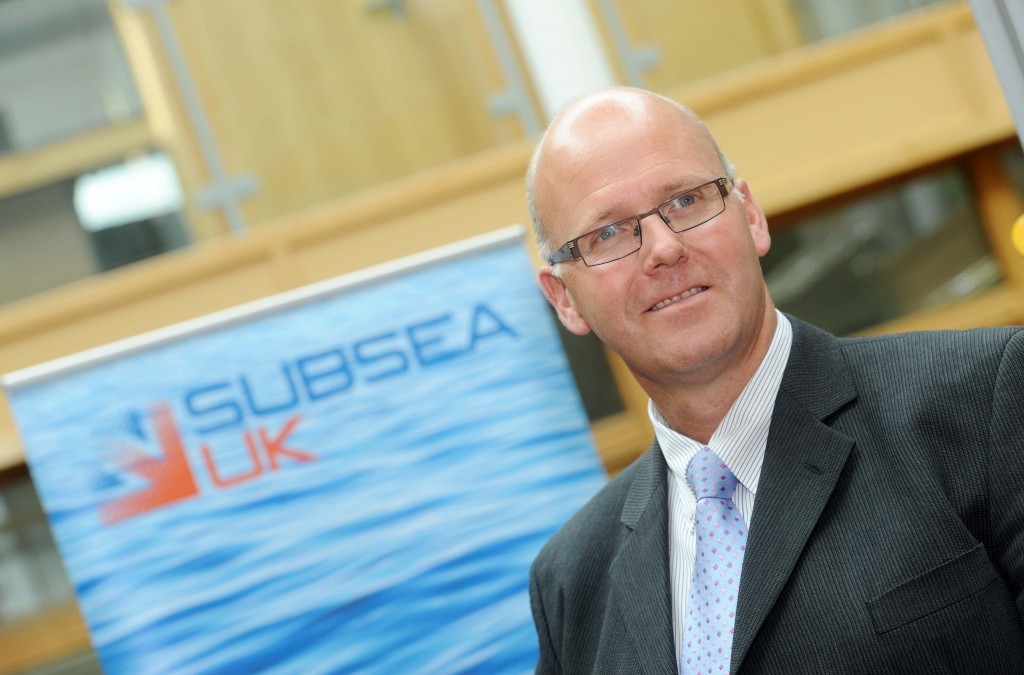 Subsea UK boss Neil Gordon says the industry body will embark on a "new era" when it becomes the Global Underwater Hub (GUH) later this year.
Mr Gordon said the multimillion pound GUH would build on Subsea UK's "rich heritage", depth of knowledge and connections to help the underwater technology and engineering sector thrive during the energy transition.
He will serve as chief executive of the GUH when it launches in Autumn, but a new board will most likely be appointed to reflect its extended reach.
Since it was founded in 2004, Subsea UK has championed the sector and provided services to create opportunities at home and abroad for its members.
While Subsea UK primarily focused on the offshore oil and gas and wind industries, the GUH will also work with companies in the fields of ocean science, defence and aquaculture.
Essentially, it will be a bigger and better-resourced industry body, capable of having a greater impact.
It will provide more businesses with more in-depth insight, market intelligence and information, helping them scale up and grow.
The "hub" will be headquartered in Westhill, Aberdeenshire, the current home of Subsea UK, with satellite offices based in the north-east and south of England.
Speaking at a Subsea UK event, Mr Gordon said the GUH would play a vital role in making sure opportunities are "visible" to members during what would be a long and, at times, "quite confusing" energy transition.
Mr Gordon, a trained commercial diver who has led Subsea UK for a decade, said: "We are embarking on a new era of support for the subsea industry and for our members.
"This journey will see Subsea UK transition into the Global Underwater Hub later this year, creating a new, strategic industry body which will span the length and breadth of the UK.
"The vision is to transform the globally competitive underwater sector in the UK, to accelerate the transition to net zero, drive innovation and growth and make a step change in the development and internationalisation of underwater technology and services."
The concept for the GUH was originally announced by former-Prime Minister Theresa May during her speech at the Scottish Conservative conference in 2019.
To date, the UK Government has pledged £6.3 million to the hub and the Scottish Government has allocated £6.5m.
Delivering the opening address at the Subsea Live virtual event, UK Energy Minister Anne-Marie Trevelyan said she expected the GUH to help the UK subsea sector "grow exponentially".
Ms Trevelyan said: "This sector is a success story – its skills, expertise and technology are recognised rightly as world-leading.
"It is an example of a sector which grew up in the oil and gas space and is now diversifying into many other marine parts of the economy, creating companies which are already playing a significant role in the development of offshore wind.
"And now, with plans for a Global Underwater Hub, backed by the UK Government, there is enormous potential for the UK's underwater engineering capability and capacity to grow exponentially."
Benj Sykes, UK offshore vice president at Danish green energy firm Orsted, also believes the GUH can be "crucial" in improving visibility and strengthening connections between project owner-operators and the supply chain.
Mr Sykes said it was easy to spout "lofty statements" with big numbers about how much offshore wind is going to grow.
The "real challenge" for companies lies in working out which technologies and services developers really need, he said.
He explained that offshore wind developers needed help reducing the costs of site surveys and cable installation and dealing with unexploded ordnance and corrosion, for example.