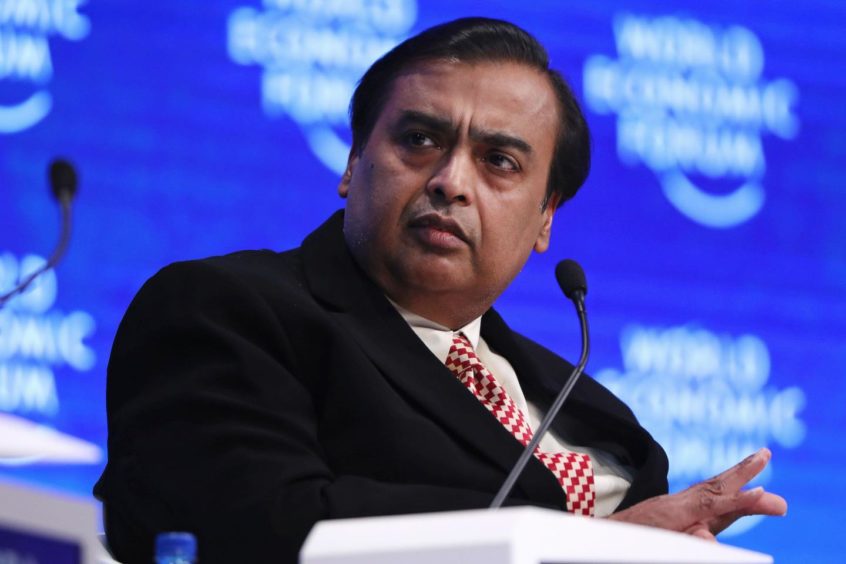 India's richest man, Mukesh Ambani, who has run one of the world's largest petroleum businesses for over two decades, yesterday announced that his company Reliance Industries, will invest 750 billion rupees ($10 billion) towards clean energy solutions over the next three years.
Reliance Industries, which operates the world's largest crude oil refining complex, plans to spend 600 billion rupees on four 'giga factories' to make solar cells, modules, hydrogen and fuel cells, as well as build a battery grid to store electricity generated from intermittent renewable energies. Another 150 billion rupees will be invested in value chains and other strategic partnerships, Ambani told shareholders on Thursday during the company's 44th annual general meeting, live streamed to a global audience.
The four factories will be developed as part of a 5,000 acre complex in Jamnagar, Gujarat, which is home to Reliance's oil refining complex.
"It will be among the largest such integrated renewable energy manufacturing facilities in the world," the 64-year old billionaire said during his speech.
Reliance, which already has strategic partnerships with UK supermajor BP in India, will create and "offer a fully integrated, end-to-end renewable energy eco-system," said Ambani.
Aggressive Targets
The proposed green transformation of Reliance's oil-to-petrochemicals empire aligns with the priorities of Indian Prime Minister Narendra Modi's government, which has been debating aggressive climate targets that would cut net greenhouse gas emissions to zero by mid-century, a decade before China.
"The world is entering a new energy era, which is going to be highly disruptive," said Ambani. "The age of fossil fuels, which powered economic growth globally for nearly three centuries, cannot continue much longer. The huge quantities of carbon it has emitted into the environment have endangered life on Earth."
One of Reliance's 'giga factories' that will manufacture solar modules, enabling 100 gigawatts of solar energy by 2030, including on rooftop installations in villages across the country; the second involves large-scale grid batteries to store electricity, for which Reliance will collaborate with global leaders on the technology; and, the third will build and install electrolysers for separating green hydrogen from water.
The fourth factory would be for fuel cells, which use oxygen from the air and hydrogen to generate electricity — a technology that's being promoted by carmakers including Hyundai, but famously dismissed as "mind-bogglingly stupid" by Tesla's Elon Musk.
"I envision a future when our country will be transformed from a large importer of fossil energy to a large exporter of clean solar energy solutions," Ambani said.
"All our products will proudly proclaim made in India, by India, for India, and for the world," he added.
If everything goes according to Ambani's ambitious plan, the new Reliance factories will help India fulfil a fifth of its renewable energy target by 2030.
Last year, prime minister Narendra Modi announced a target of 450 GW of renewable energy by 2030. At present, India's energy sector is heavily dependent on coal, however, the country still aims to achieve the ambitious target of net-zero greenhouse gas emissions by the end of the decade.
India is set for the largest increase in energy demand of any country over the next 20 years. This underscores the potential for policies and investment to accelerate the clean energy transition, the International Energy Agency (IEA) said in a report earlier this year.
The additional funding for clean energy technologies needed to put India on a sustainable path over the next 20 years is $1.4 trillion, or 70% higher than in a scenario based on its current policy settings. However, the benefits are huge, including savings of the same magnitude on oil import bills, according to the Indian Energy Outlook 2021 released in February.
Meanwhile, Ambani is not entirely turning his back on his legacy oil and petrochemicals business. On Thursday, he said that a delayed plan to bring Saudi Arabian Oil as an investor in the energy division – announced two years ago – will be finalised this year.
Recommended for you

Shell seals $1.55bn acquisition of Indian renewable energy group