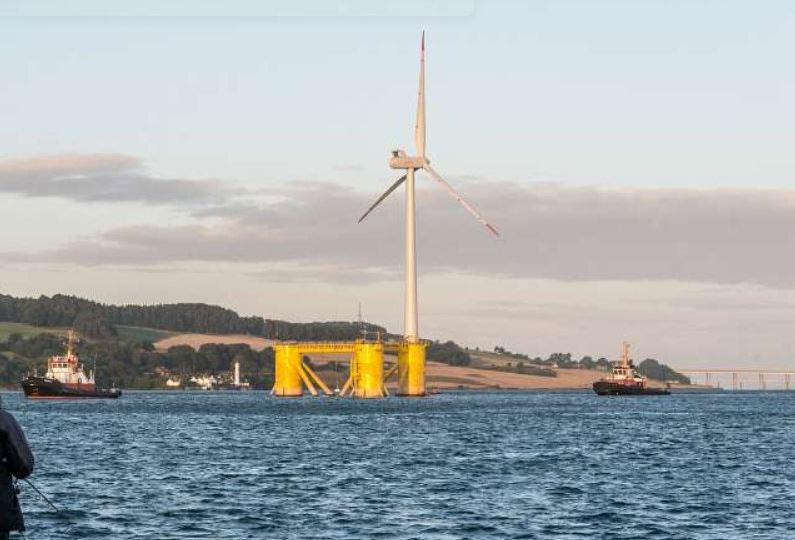 Floating wind firm Simply Blue Group has drawn a €7.5m (£6.3m) investment from Octopus Renewables.
Simply Blue has a pipeline of more than 9GW of floating offshore wind projects to date in waters off the UK and Ireland.
The firm also has ambitions for the 200 megawatt Salamander floating wind farm off Peterhead, which it is hoping to acquire a seabed lease for outside of the current ScotWind round.
Octopus Renewables, which was acquired by sister firm Octopus Energy earlier this year, is investing £6.3m in Simply Blue, bringing it a 12% stake in the business.
The firm is co-investing the cash with the Octopus Renewables Infrastructure Trust, an investment vehicle for renewable assets.
Chris Gaydon, investment director at Octopus Renewables, said: "We are delighted to be working with Simply Blue, a leading marine project developer with a highly experienced and best-in-class management team.
"Floating offshore wind is a particularly exciting renewable energy sector which is expected to undergo rapid growth over the years to come and is a key part of government decarbonisation plans in a number of European countries.
"We believe Simply Blue is very well positioned to capture this growth."
Earlier this month, Simply Blue, which is headquartered in Ireland, said it will work alongside Subsea 7 to establish whether the "Dolphyn" green hydrogen project could be incorporated into its Salamander scheme off Peterhead.
The scheme, unveiled by consultancy ERM last year, is aimed at producing hydrogen on a floating wind platform to be transported to shore via pipeline.
Simply Blue Group also announced a partnership earlier this year with Shell, who signed a deal to acquire a 51% stake in its Kinsale venture which was set up to establish the Emerald floating wind farm in the Celtic Sea off Ireland's south coast.
With a background in marine development, Simply Blue also has interests in wave energy and sustainable aquaculture.
The business is headquartered in Cork, Ireland.
Recommended for you

Salamander JV wants floating wind project 'in the water' as early as 2028