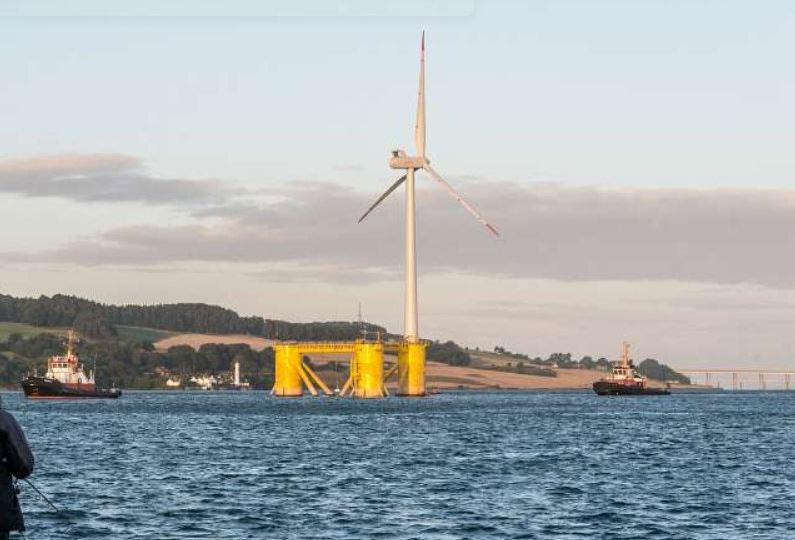 Energy firms behind ambitious plans to develop floating wind and green hydrogen projects off the north-east coast will work together to see if their schemes are an ideal match.
Irish firm Simply Blue Energy and Subsea 7 will explore whether it would be worth building ERM's "Dolphyn" technology into their Salamander wind farm.
Salamander partners said earlier this year they hoped to get a lease outwith the ScotWind round for a site off Peterhead where they would construct a 200 megawatt floating wind farm.
They are targeting a lease under the "innovation and decarbonisation leasing process" being considered by Crown Estate Scotland and the Scottish Government.
London-based consultancy ERM unveiled its own pioneering plans last year for Dolphyn, which combines electrolysis, desalination and hydrogen production on a floating wind platform, with the green hydrogen transported to shore via pipeline.
ERM told Energy Voice it intended to start up a 2MW prototype in 2024, followed by a 10MW unit in 2027.
At the time, ERM said both would sit within the Kincardine floating wind farm off Stonehaven, Aberdeenshire.
The parties said today that the 10MW demonstration project would come before Salamander.
They have now inked a memorandum of understanding, according to which they will carry out engineering work in the coming months to work out whether Salamander could provide a "stepping stone" for Dolphyn.
They believe that a marriage of the two projects could make a big impact on the UK Government's 10-point plan, with its ambition to deliver 1GW of floating wind power by 2030 and 5GW of green hydrogen by 2030.
Adrian de Andres, Salamander project director, said: "Considering the rapidly approaching 2030 deadline for the floating wind and green hydrogen targets, we now think the Salamander project could act not only as a stepping-stone for floating wind but also potentially for green hydrogen production, paving the way for multi-GW green hydrogen developments in the 2030s."
Steve Matthews, major projects director at ERM, said: "Salamander potentially provides an ideal first step for us and, with the valuable support of government and industry, it will help position Scotland and the UK at the forefront of green hydrogen generation."
ERM bosses said last year that they had picked the north-east for their Dolphyn project ahead of Orkney and Cornwall due to a number of factors, including the city's ongoing hydrogen efforts and some persuading by Sir Ian Wood, who wants to construct an Energy Transition Zone near the Aberdeen South Harbour expansion.
Sir Ian said: "The potential for the world's first combined floating wind and green hydrogen project to be located off the north-east Scotland is a hugely positive development and one that reinforces our region's credentials in becoming a globally recognised energy cluster.
"This is a pioneering project that will help enable the huge potential in green hydrogen production from floating offshore wind turbines and I commend ERM Dolphyn, working with Simple Blue Energy and Subsea 7, for moving this forward at pace."
Emma Harrick, Energy Transition and Supply Chain Manager at Scottish Renewables, said: "Smaller offshore projects like Salamander can provide a useful stepping-stone for suppliers hoping to upskill, learn and invest with the aim of benefiting from the multi-billion-pound opportunity of global decarbonisation."
Recommended for you

Aberdeen ETZ 'campus model' unveiled