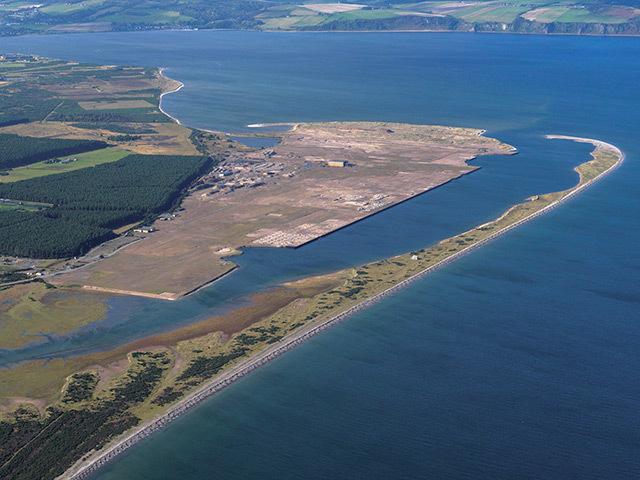 Ardersier Port Authority has signed a formal partnership deal with BW Ideol for manufacturing of floating offshore wind facilities.
The deal for "exclusive and long-term access" to the port will allow for manufacturing of concrete floating foundations, including the potential creation of a "serial production line" for BW Ideol's  "Damping Pool" floating barge technology.
It comes as numerous companies have made high-profile bids in the ScotWind offshore leasing round, with first awards expected in January 2022.
BW Ideol started trading earlier this year as a joint venture between Ideol and BW Offshore to supply floating foundations to the industry.
The anticipated value of the Ardersier deal and the number of jobs which might be created have not been disclosed.
Both parties said more details on the Port Masterplan would be provided during a signing ceremony to come.
Ardersier Port, the site of the former McDermott oil and gas fabrication yard, is the largest brownfield port in the UK, with 400 acres of port area and access to a 1.3mile quay.
BW Ideol said signing the exclusive deal gives it unique access to the strategic asset 14miles east of Inverness, underlining its ability to industrialise manufacturing of its technology.
Paul de la Gueriviere, chief executive of BW Ideol, said: "This pipeline of projects represents a unique opportunity to create a dedicated supply chain in Scotland.
"Faithfull to its industry-leading track record in terms of local value creation, BW Ideol hereby reaffirms its strong commitment to manufacture floaters in Scotland, creating a sustainable floating wind industry and maximizing local content in the process."
Ardersier Port was acquired by Steven Regan, the former CEO of civil engineering firm Careys, and business partner Tony O'Sullivan, in July for an undisclosed fee.
Mr Regan said: "The UK has set a world leading net zero target to build back better which means building back greener.
"This strategic partnership allows us to work towards bringing an essential manufacturing facility to Scotland which complements our vision of using circular economy practices to deliver the UK's Energy Transition plans.
"At Ardersier, we will deliver a world class multi-disciplinary facility of a unique scale that will provide long term sustainable benefits to clients and communities."
Mr Regan and Mr O'Sullivan set up Ardersier Port (Scotland) in May and registered the business in Fraserburgh.
In July the pair cited oil and gas decommissioning as well as offshore wind logistics and fabrication among their hopes for the port's activity.
Ardersier was opened in the early 1970s to build steel jackets for oil platforms, employing 4,500 people in its heyday before closing in 2001.
Kishorn Port on the west coast has also recently outlined its plans for manufacture of concrete floating foundations to capitalise on the ScotWind round.
Recommended for you

Ardersier hires ex-Orsted exec to create 'energy transition hub' in Highlands